Man's Epic Anti-Work Rant Sends Internet Into Meltdown: 'This Is Me Daily'
A video chronicling one man's furious rant against the world of work and the state of social media has taken TikTok by storm.
In a video titled "I Hate Working," which was posted online by khiiarii, disgruntled worker Khiari Barino can be seen raging against the realities of employment.
His rage-filling musings evidently struck a chord online, with the clip racking up over 10 million views in the space of just three days. For many, the video was symptomatic of the current state of play for many in employment.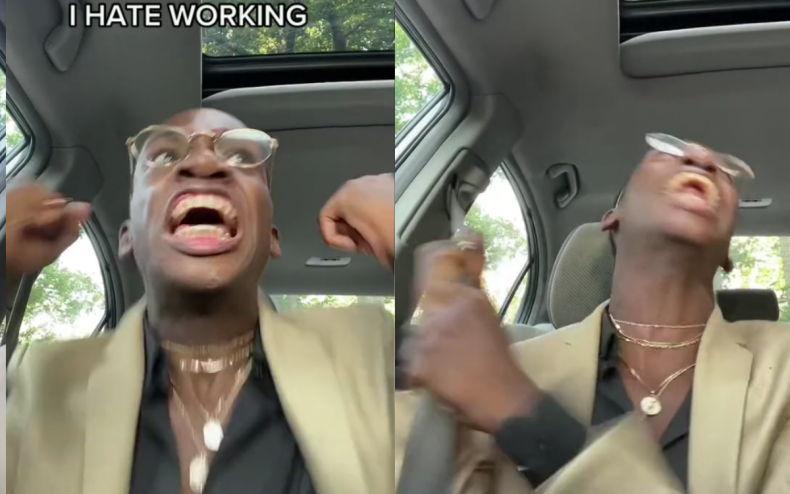 The Great Resignation, which saw employees resigning from jobs in record numbers over issues like low pay, poor treatment or general dissatisfaction with their place of work, is showing no signs of slowing down just yet.
In fact, a new survey from the Pew Research Center found 22 percent of workers said they are very or somewhat likely to look for a new job in the next six months.
Those familiar frustrations are all on display in Khiari's video which he told Newsweek was recorded right after he left a particularly unhappy shift at work.
"I work at a hotel where the guests usually give me and my co-workers a very hard time," he explained. "So coming home I was beyond frustrated, especially because I have so many talents that I can monetize."
In the clip, which was filmed inside his car, Khiari can be seen repeatedly screaming "I hate working" as he desperately tugs at the seat belt.
"There are men on this app, putting on crusty wigs pretending to be women making bands and bands and bands of money and I have to clock in, clock in, clock in," he said.
"There are people on this app doing absolutely freaking nothing and I have to clock in, clock in - I'm sick of it! I wanna do absolutely freaking nothing and make money. I don't wanna clock in."
"It's God's fault," he declares towards the end of the clip, pointing to the sky. "He did this to me."
Khiari's evident frustrations at the state of the working world and, in addition, the unabated rise of social media influencers, resonated with many of those commenting on the clip.
"Thank you for speaking our mind," one viewer wrote, with another commenting: "With tears in my eyes I felt everything you said."
A third said: "I've never related to a TikTok this bad in my life" with a fourth adding: "This is me daily." "I have this same realization every weekday morning," a fifth wrote.
Khiari told Newsweek the popularity of the video isn't necessarily a big surprise given the current state of play in the world of work..
"I knew the video would get some attention," he said. "Many young people have the same exact thoughts and views about working 9-5's. So I knew people would interact with it.
"However, I did not know it would be as engaging as it was. So I was very surprised. Not only did it go viral on Tiktok, but it went viral on Twitter and multiple brands have reached out for partnerships."
Khiari is now hoping his newfound social media fame will help him to gain a little more financial independence so he can focus on his first passion: music.