Manager Blasted After Calling Cops on Employee of the Month for Quitting
Some workers dream of a day when they can quit a job they hate and finally give their boss a piece of their mind. One man's decision to quit his job after more than five years angered his manager so much, that her reaction recently went viral.
Posting to Reddit's "Antiwork" forum on 28 July, Redditor u/PosterMcPoster explained how his decision to leave resulted in angry customers and a conversation with some confused cops.
Record Number of Rage Quitters
With the COVID-19 pandemic triggering the "Great Resignation," more employees than ever are searching for greener pastures. Workers want higher pay, more flexibility and a better work-life balance, and the pandemic showed that remote working can be done in many industries. As a result, a record number of Americans are leaving their jobs, with several "rage quitting" without notice.
A recent survey of 1,000 workers by Skynova found that 59 percent of people who "rage quit" didn't regret their decision. Of the 41 percent that did, 78 percent were able to get their jobs back. Rage quitters that took new jobs elsewhere received an average pay bump of $7,800 per year, but it's not all bad news for those who went back to their old job—returnees also got an average salary increase of $5,758 annually.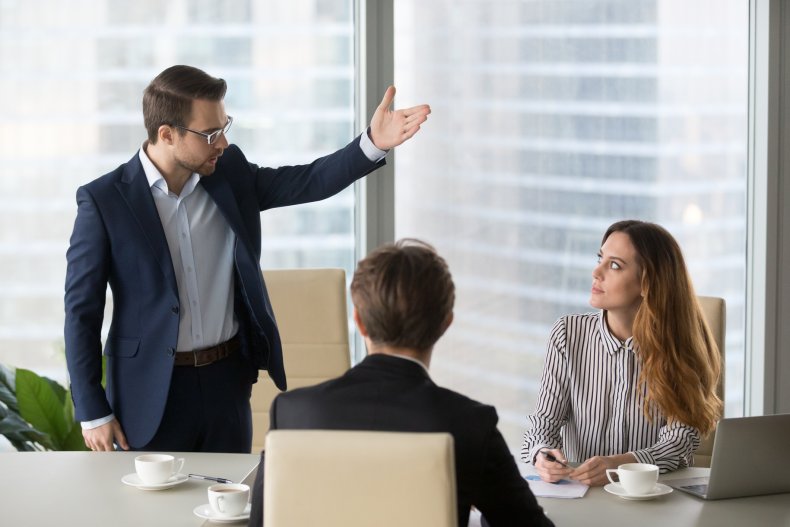 The top five reasons respondents chose to rage quit included poor management (47 percent), a toxic boss (44 percent), excessive work stress (40 percent), toxic coworkers (39 percent) and a culture of overworking (35 percent), according to the survey.
About 28 percent of people who rage quit "just walked out," while 20 percent left due to an argument and 21 percent went for a break and never returned. Common reactions to their leaving included yelling, bosses or coworkers throwing things or breaking things, and crying—whether that be the employee, boss or a coworker.
'Poor Choice of Response'
In his post, PosterMcPoster explained that he'd worked at a cell phone carrier store for more than five years and was a good employee, earning multiple "salesperson of the month" awards.
His new manager was hired as part of a "college new hire program," despite lacking experience. The poster said the woman "ran off" many long-time employees by "micro-managing" staff, and would complain that salespeople "took too long" to serve customers.
One day, while PosterMcPoster was serving a customer, he said the manager came over and whispered in his ear: "You're taking too long, you need to move faster!"
He wrote: "I explained that each customer has specific needs and I must make sure they are completely satisfied to avoid a bad review call and get written up.
"She didn't take a hint, so I turned around and asked her to come with me for a second to the back. I said, 'I think I'm done here, I cant work like this.' [T]o which she said 'if you leave you know you can't come back.' To which I simply said 'what a poor choice of response.'"
The man said he then handed the manager the keys to the store and walked away. Instead of heading home, the man said he decided to stick around for a while and watch the chaos unfold in his absence.
"I leaned on the public rail and watched through the window as she tried to deal with all the customers and I smoked a cig," he said. "She then went back to the back, pausing to [help] the customers, and called the cops. She then tried to tell them I was loitering and wouldn't leave. She also told them I was harassing the business."
After the cops arrived, the man shared his side of the story, with the police telling the woman "[he'd done] nothing wrong and was allowed to be there on public property."
"As she rolled her eyes at the police I reminded her that she's taking too long and the customers NEED her," he said. "I watched for another 10 mins and left."
PosterMcPoster told Newsweek that his employer has not been in touch since the incident.
"I don't regret leaving," he said. "I had to step away from it for my own mental health.
"When you're being degraded so often and treated less than human you feel horrible. I wish I had found the strength to tell her sooner."
Reddit users applauded the man's decision, with the post receiving over 47,000 upvotes and more than 1,200 comments.
"That's how it's done, folks," wrote brainwhatwhat.
"That's a really satisfying story," agreed Zerilentix.
"I am baffled by a college new hire program that will put kids in a position like that with no experience at all," said one commenter.
While djKiddVicious shared the time their former boss also called the police on them.
"New manager was a pompous a**hat. I showed up to his apartment to drop off the company equipment because I quit across the company work channel," djKiddVicious said. "He called the cops and some rookie shows up and immediately jumps out of his squad car ready to draw. As a veteran I asked him why the f**k he has his hand ready to draw when I'm clearly not a threat. He advises me to take my equipment to the office. I informed him this cheap a** company doesn't have an office and we all work from our cars."
Update 08/15/22, 5:22 a.m. ET: This article was updated to include a quote and additional information from the poster.