Epic Trump Takedowns Flood Twitter After Letitia James Announces Lawsuit
The announcement of a $250 million lawsuit filed against former President Donald Trump has caught fire on Twitter, as many users are celebrating the news.
On Wednesday, New York State Attorney General Letitia James filed the civil suit against Trump and three of his adult children, Donald Jr., Eric and Ivanka. The 214-page lawsuit seeks repayment of the money from allegedly fraudulent practices and to remove each of the Trumps from their current positions in the Trump Organization.
The filing alleges that the family enriched itself over a 20-year period with "numerous acts of fraud and misrepresentations," as well as "grossly" inflating the former president's net worth by billions of dollars. It also argues that between 2011 and 2021, the Trump Organization "knowingly and intentionally created more than 200 false and misleading valuations of assets on his annual Statements of Financial Condition to defraud financial institutions."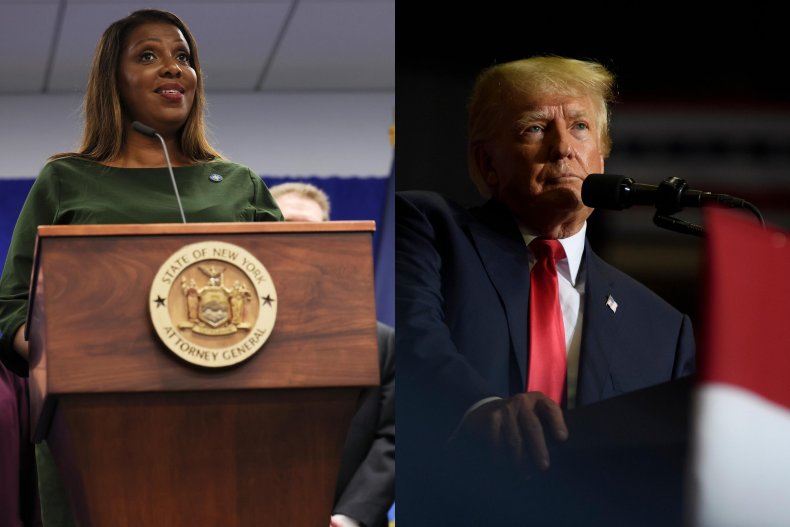 The lawsuit is the result of a three-year investigation that James has spearheaded, and many on Twitter had a lot to say about it on Wednesday.
"Trump's not on Twitter to see that New York Attorney General Letitia James is trending. But one has to imagine that she is also trending in his head," said journalist and author Dan Rather on Twitter. The former president was banned from the platform on January 8, 2021, two days after his supporters sieged the U.S. Capitol. He has since launched his own social media platform, Truth Social.
"This isn't the first time a woman has exposed Trump for inflating his assets," joked user Johnny Akzam.
Jon Cooper, former finance chair for ex-President Barack Obama, tweeted a reference to Trump's other adult child, saying, "When the dust settles, wouldn't it be HILARIOUS if Tiffany ends up taking over the remnants of the Trump Empire? 😂"
Trump's former lawyer, Michael Cohen, who served time in federal prison for campaign-finance violations, celebrated the news in a video on Wednesday. "I don't even know what to say right now, I'm so flabbergasted," Cohen said. "This is the largest case ever by the office of the Attorney General here in New York. I think it could possibly be the largest case ever in the history of the United States by an attorney general's office."
"Justice is coming," he continued. "They will all be held accountable for their dirty deeds. Rest assured, I'm going to continue to push forward, I am going to continue to assist and provide the information that's requested of me any day that it is needed ... This is truly an incredible day. Finally, Donald Trump will be held accountable and the adage, 'no one is above the law' will ring true."
Another user reposted Trump's response to the lawsuit, which he posted on Truth Social on Wednesday. Trump's statement read: "Attorney General Letitia 'Peekaboo' James, a total crime fighting disaster in New York, is spending all of her time fighting for very powerful and well represented banks and insurance companies, who were fully paid, made a lot of money, and never had a complaint about me, instead of fighting murder and violent crime, which is killing New York State. She is a failed A.G. whose lack of talent in the fight against crime is causing record numbers of people and companies to flee New York. Bye, bye!"
"News flash Trump," wrote Twitter user David Weissman, "you are a criminal and Letitia James is doing her job holding criminals like you accountable."
Another user referenced the rest of the Trumps named in the lawsuit, and joked about the family blaming each other, adding the hashtag, "TrumpCrimeFamily" to the tweet.
In a statement previously shared with Newsweek, a Trump Organization spokesperson said that James' lawsuit "has nothing to do with the facts or the law," but is instead the political targeting of Donald Trump and his company.
Eric Trump posted on Truth Social, sharing a screenshot of an August survey from the Trafalgar Group showing that James was slightly behind in the reelection race and writing, "Letitia James Polls - not shocking that she is filing a lawsuit against @realDonaldTrump 49 days before her election."
Donald Trump Jr. also responded to the lawsuit, posting a video of James on Twitter, with a caption, "The bulls**t Dem witch-hunt continues."
Newsweek has reached out to James' office and a representative for the Trump Organization for additional comment.