Trump Won't Go to Jail in Letitia James' Newest Legal Battle
A new $250 million civil fraud lawsuit filed by New York Attorney General Letitia James against former President Donald Trump and three of his adult children will not lead to jail time.
The 214-page lawsuit seeks the repayment of the money from alleged fraudulent practices and to remove all of the Trumps—including children Donald Jr., Eric and Ivanka—from their current roles at the Trump Organization. It would also ban them from future leadership roles in New York.
James is also seeking to permanently bar the four Trumps from serving as officers or directors in any New York corporation or similar business entity registered and/or licensed in New York state, and to bar the former president and the Trump Organization from entering into any New York real estate acquisitions for five years.
Allen Weisselberg, former CFO for the Trump Organization, and Jeff McConney, another longtime company executive, are also named as defendants in the lawsuit.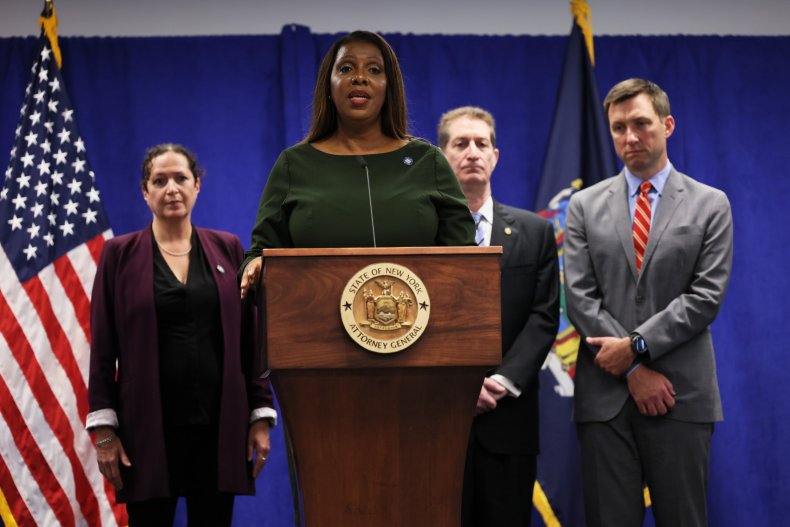 "For too long, powerful, wealthy people in this country have operated as if the rules do not apply to them. Donald Trump stands out as among the most egregious examples of this misconduct," James said in a statement. "With the help of his children and senior executives at the Trump Organization, Donald Trump falsely inflated his net worth by billions of dollars to unjustly enrich himself and cheat the system.
"In fact, the very foundation of his purported net worth is rooted in incredible fraud and illegality. Mr. Trump thought he could get away with the art of the steal, but today, that conduct ends."
James alleges that the family enriched itself over a 20-year period with "numerous acts of fraud and misrepresentations," as well as "grossly" inflating the former president's net worth by billions of dollars and cheating lenders and others with false and misleading financial statements.
The lawsuit alleges that between 2011 and 2021, Trump and the Trump Organization "knowingly and intentionally created more than 200 false and misleading valuations of assets on his annual Statements of Financial Condition to defraud financial institutions."
The statements were compiled by Trump Organization executives and issued as a compilation report by Donald Trump's accounting firm, the lawsuit states, and were "explicit that the preparation was the responsibility" of Trump until 2016, when the trustees of his revocable trust, Trump Jr. and Weisselberg, took over.
Weisselberg, who last month pleaded guilty to 15 felonies and admitted he conspired with the company to avoid taxes on corporate benefits, helped execute the alleged fraud according to the lawsuit.
"Mr. Trump made known through Mr. Weisselberg that he wanted his net worth on the Statements to increase—a desire Mr. Weisselberg and others carried out year after year in their fraudulent preparation of the statements," the lawsuit said. "The scheme to inflate Mr. Trump's net worth also remained consistent year after year."
Mar-a-Lago was described as one example of alleged fraud, as Trump's estate and golf property was valued as high as $739 million. The lawsuit claims that the real value should have been about $75 million.
Other examples included inflated valuations of the Trump Tower Triplex, valued as being 30,000 square feet when it was 10,996 square feet; Trump Park Avenue, where unsold residential condominium units owned by Trump and his organization allegedly "represented the lion's share of reported value," some cases in excess of 95 percent for entire years; and a ground lease at 40 Wall Street, where a bank-ordered appraisal for the commercial property was calculated to be $220 million as of November 1, 2012.
But according to the lawsuit, that same 40 Wall Street property was valued by the Trump Organization at $527 million and $530 million, "more than twice the value calculated by the independent, professional appraisers."
"These acts of fraud and misrepresentation were similar in nature, were committed by upper management at the Trump Organization as part of a common endeavor for each annual Statement, and were approved at the highest levels of the Trump Organization—including by Mr. Trump himself," the lawsuit reads.
The New York Attorney General's Office has referred the matter to the U.S. Attorney's Office for the Southern District of New York and the Internal Revenue Service (IRS) for criminal investigation.
In response, Donald Trump Jr. reposted a video of James on Twitter with a caption, "The bulls**t Dem witch-hunt continues."
Newsweek reached out to the Trump Organization for comment.
Update 9/21/22, 12:42 p.m. ET: This story was been updated with additional information.