ERCOT CEO Apologizes For Texas Power Outrages—'Could Have Done a Better Job'
The board of the Electric Reliability Council of Texas (ERCOT) convened an emergency meeting on Wednesday where the chief executive was forced to apologise, conceding his company "could have done a better job" after severe blackouts hit the southern state during its coldest winter in over 30 years.
The winter storm that hit Texas and other states on February 13 has killed at least 80 people, according to the Wall Street Journal, but officials have said that the full death toll will take time to establish. Millions lost power and experienced water shortages as 0 degrees Fahrenheit (-18 Celsius) temperatures caused widespread disruption.
ERCOT, which manages around 90 percent of the state's electricity, has been under fire in recent days, as residents of the state have brought lawsuits against it for failing to provide power during freezing temperatures. Texas is one of the few U.S. states to have an independent energy grid.
ERCOT's CEO, Bill Magness, faced questions on Wednesday from other board members about why the power outrages were so severe and why his company failed to foresee such a deadly outcome. In the emergency meeting, Magness showed slides revealing that 48.6 percent of the power generators in the state shut down at the peak of the outages.
"I mean, we saw something here that, you know, outstrips any extreme scenario," said Magness.
"This is the kind of thing that, you know moves the goalposts, number one, so that we have to know that we could see in other February 2021, event when we look at extremes," he added.
A fifth ERCOT board member resigned on Wednesday, after four others said they would step down the previous day. A sixth has withdrawn his application from the board. All of them live outside Texas.
Board chair Sally Talberg; vice chair Peter Cramton, finance and audit chair Terry Bulger, and human resources and governance committee chair Raymond Hepper, all stepped down after the Wednesday meeting. Vanessa Anesetti-Parra, the market segment director for the independent retail electric provider market segment, will also resign as a board member and Craig Ivey, who was due to fill a vacant unaffiliated director position, has withdrawn his application.
Talberg criticised the ERCOT chief by saying he did not do enough to warn the board of the possibility of a crisis before the storm hit earlier this month.
"I certainly could have done a better job emphasizing what was coming and had that communication with the board in more depth as well. So I understand your frustration," Magness said. He will face more questions from the House and Senate on Thursday.
Newsweek has contacted the energy provider for further comment.
Families in Texas are looking to sue ERCOT and other energy companies over the power outages. On January 22, a family in Conroe, Texas, announced it was suing ERCOT and Entergy for gross negligence that they say led to the death of their 11-year-old son. It was the first case to emerge of its type around the winter storm; more lawsuits are expected to follow.
Cristian Pavon Pineda was pronounced dead on Monday 15 January, hours after he spent half an hour playing in the snow. After spending the brief time in his garden with his mother the previous day, he returned to a freezing house with no power due to the winter storm. The prosecution says Christian died of hypothermia due to the lack of heating in the house, and the family is asking for more than $100 million in compensation. Medical examiners have yet to confirm the cause of death, but it is suspected to be from hypothermia.
The family and their attorney did not respond to a request for comment.
Entergy released the following statement on the lawsuit: "We are deeply saddened by the loss of life in our community. We are unable to comment due to pending litigation."
A statement by ERCOT added: "We haven't yet reviewed the lawsuits and will respond accordingly once we do. Our thoughts are with all Texans who have and are suffering due to this past week. However, because approximately 46% of privately-owned generation tripped offline this past Monday morning, we are confident that our grid operators made the right choice to avoid a statewide blackout."
Others have been suing ERCOT, as well as the American Electric Power Company, which operates generators in Texas. Plaintiff Donald McCarley, from Corpus Christi, claims the companies were aware of the potential risk extreme winter weather posed to power grids, but didn't adequately prepare for such an outcome. Dallas-based law firm Fears Nachawati is representing McCarley, who is seeking unspecified damages.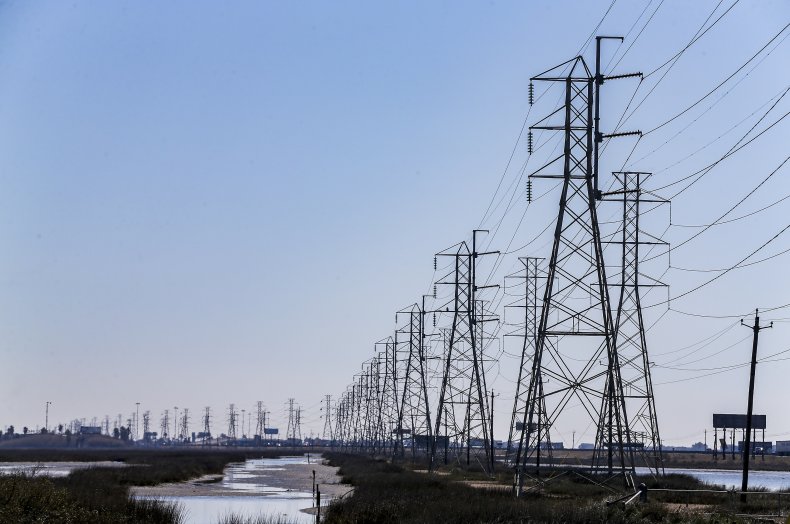 On February 19, Texas Attorney General Ken Paxton launched an investigation to determine how ERCOT responded to the crisis. ERCOT, a private non-profit corporation overseen by the Texas Legislature and the Public Utility Commission, has sovereign immunity, which protects it from lawsuits. It is the only power grid manager in the country with these protections.
However, the Texas Supreme Court is expected to rule this year on a case between Dallas utility Panda Power and ERCOT that could take away the Texan grid operator's sovereign immunity. If the court rules against ERCOT, it will mean that families who have suffered power outages in Texas due to the winter storm will be in a stronger position to bring lawsuits against it.
On February 20, President Joe Biden approved a major disaster declaration in the southern state, which has been hardest hit by the storm. Several other U.S. states have also seen sub-zero temperatures, including Kentucky, Oklahoma and Utah.
On February 18, the White House said the storm was triggered by climate change, rejecting assertions by Texas officials that "green energy" failures caused the power blackouts.