ERCOT Investigating Power Plant Breakdowns as Texas Faces Blackouts
The Electric Reliability Council of Texas (ERCOT) has vowed to investigate why a large number of power plants have unexpectedly shut down, seemingly unprepared for the summer heat.
The company, which controls about 90 percent of the state's power, urged residents to reduce their electric use throughout the week, saying demand was reaching supply levels.
The conservation alert comes only four months after the state plunged into a freezing blackout that left millions without power in winter storms that killed at least 150 people.
In a press release, officials said the problem was the result of "a significant number of forced generation outages combined with potential record electric use for the month of June."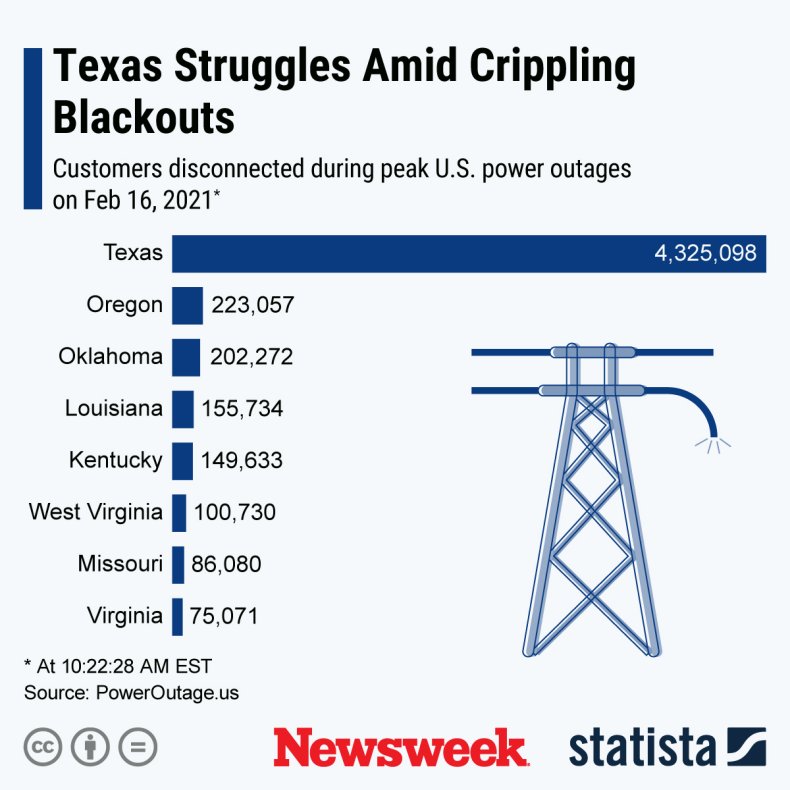 Several plants have been taken down for repairs and maintenance issues, around three to four times the usual number for this time of year, according to NBC5.
The broken plants put Texans at risk of power outages and blackouts as temperatures are expected to continue to rise.
"We will be conducting a thorough analysis with generation owners to determine why so many units are out of service," ERCOT Vice President of Grid Planning and Operations Woody Rickerson said. "This is unusual for this early in the summer season."
"We are deeply concerned about the issues associated with these plants that are offline at this time and we will be doing a thorough investigation to understand what the issues are and to assess what the implications are for the grid," Warren Lasher, ERCOT senior director of system planning, told reporters over a conference call on Monday afternoon.
However, ERCOT had been anticipating record-breaking electric demand for the summer due to the hot and dry conditions forecast for the upcoming months. It had implemented new summer inspections in an effort to increase public confidence in the grid.
"ERCOT is identifying low-probability, high-impact situations similar to the February winter event in its seasonal assessments, to ensure all market participants and government officials have a comprehensive view into market conditions," the council said in a press release last month.
Among the plants that shut down were four that ERCOT said it recently inspected to make sure they would be ready for summer, as many question whether the grid is fully prepared for the months ahead.
Last week, Governor Greg Abbott signed sweeping energy legislation aimed at preventing another weather disaster. One requires electricity providers operating on the state's independent grid to weatherize their equipment for all seasons and improve communication during outages by creating an alert system.
"We want to make sure that the solutions that have been provided address both the summer weather and the winter weather, and we feel that all of us, as well as leaders of the Public Utilities Commission and ERCOT believe that we have achieved success with regard to weatherizing for both summer and winter," Abbott said at a June 8 press conference.
ERCOT previously said the risk of power outages was less than 1 percent this summer and that rolling blackouts would only happen if one of several extreme scenarios occurred.
"Consumers in Texas could be very confident that these are extremely unlikely scenarios," Lasher said in an ERCOT teleconference in early May.
However, some experts believe rolling outages may be more likely and have less faith in ERCOT's promises.
"Things that you usually think, 'I've got that handled. I don't need to worry about it. We do need to worry about it,'" former Texas Public Utility Commission advisor Alison Silverstein told NBC5.
ERCOT is currently asking Texans to turn thermostats to 78 F or higher, turn off lights and avoid using large appliances like ovens and washing machines.
The graphic below, provided by Statista, illustrates the breakdown of Texas' electricity sources.
Newsweek has contacted ERCOT for comment.