Fact Check: Is Green Energy to Blame for Texas' Power Outages?
A bout of extremely cold weather affecting vast swathes of the United States has left millions of people without power in Texas.
According to poweroutages.us, more than three million customers had no power as of Wednesday morning, as the state experienced frigid temperatures that were well below freezing in some areas.
The Claim
Some conservative commentators and lawmakers have focused their blame for the outages in Texas on the failure of green energy sources, such as wind turbines.
Among those was Senator Steve Daines (R-Mont.), who said in a tweet on Tuesday: "Texas is frozen solid as folks are left w/ no power to stay safe & warm. This is a perfect example of the need for reliable energy sources like natural gas & coal."
U.S. Representative Dan Crenshaw (R-Texas) said in a Twitter thread Tuesday that the number one reason the state was experiencing electricity blackouts was "frozen wind turbines," while acknowledging other factors could be playing a role.
"This is what happens when you force the grid to rely in part on wind as a power source. When weather conditions get bad as they did this week, intermittent renewable energy like wind isn't there when you need it," he said.
Fox News host Harris Faulkner said in a teaser on Tuesday: "Millions of Americans in the cold and dark say the lack of power is because of green energy policies and the vilification of oil, gas, and coal—the stuff that really keeps you warm."
Also on Tuesday, Texas Agriculture Commissioner Sid Miller wrote on Facebook: "We should never build another wind turbine in Texas. The experiment failed big time. Governor Abbott's Public Utility Commission appointees need to be fired and more gas, coal and oil infrastructure built.
"To heck with green energy or climate change. They are overhyped and scientifically challenged. This tragic failure to prepare is killing people."
The Facts
While some wind turbines have been forced to shut down due to the extreme cold weather, the Electric Reliability Council of Texas (ERCOT), which operates the state's power grid, said Tuesday that failures in natural gas, coal and nuclear energy systems were the cause of significantly more power outages.
Dan Woodfin, a senior ERCOT director, said on Tuesday according to Bloomberg: "We've had some issues with pretty much every kind of generating capacity in the course of this multi-day event."
In a press call on Tuesday, Woodfin said that of the 45,000 megawatts of power that were offline across Texas, thermal sources, which include gas, coal and nuclear plants, accounted for around 30,000 megawatts.
Renewable sources, meanwhile, accounted for around 16,000 megawatts of the power that was offline. Wind energy in particular was responsible for less than 13 percent—between 3,600 to 4,500 megawatts—of the total outages, Woodfin said, according to Bloomberg.
The graphic below, provided by Statista, illustrates the breakdown of Texas' electricity sources.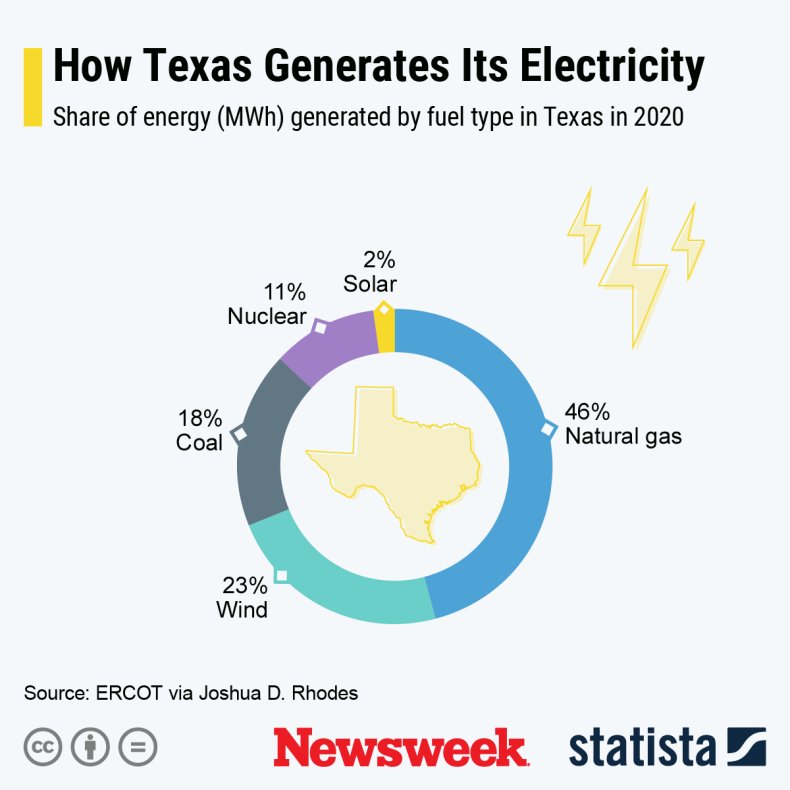 "The performance of wind and solar is way down the list among the smaller factors in the disaster that we're facing," Daniel Cohan, associate professor of environmental engineering at Rice University, told Bloomberg. Blaming renewables for the blackouts "is really a red herring," he said.
Wind energy provides only about 25 percent of Texas' total power throughout the year, according to ERCOT data—natural gas sources account for 35 percent—although the turbines tend to generate less power in the winter.
The Texas Tribune reported that only 7 percent of ERCOT's forecasted winter capacity was expected to come from wind power sources in the state. Meanwhile, around 80 percent of ERCOT's total winter capacity is generated by natural gas, coal and nuclear power.
"It's not like we were relying on it to ride us through this event," Joshua Rhodes, a research associate at the Webber Energy Group at the University of Texas at Austin, told the Associated Press, referring to wind energy sources. "Nor would it have been able to save us even if it were operating at 100 percent capacity right now. We just don't have enough of it."
The Ruling
Mostly False.
While the failure of green energy sources has contributed to the power outages in Texas, it is not the main factor.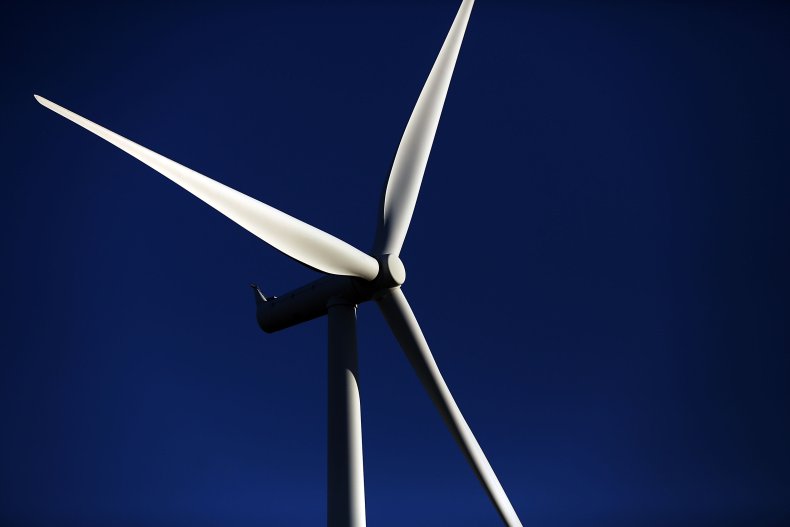 Update 2/18/21, 9:15 a.m. ET: This article was updated to include an infographic.