ERCOT Power Outage Map, Updates As Texas Freeze Leaves Over 200,000 Without Heat
More than 200,000 energy customers in Texas are still without power, after millions endured outages earlier this week as the state was hit by a winter storm and freezing temperatures.
Power Outage US reports that approximately 211,000 customers in Texas are now without power, with most outages impacting major companies such as Oncor, American Electric Power Texas and Austin Energy.
Emergency conditions remain in effect, but the Electric Reliability Council of Texas says it has been able to balance generation and load on the system, without having to issue additional outages.
ERCOT Senior Director of System Operations Dan Woodfin said in a statement: "The generating units that were online this morning have remained on throughout the day. With generation holding steady, we are hopeful that more generation will continue to become available."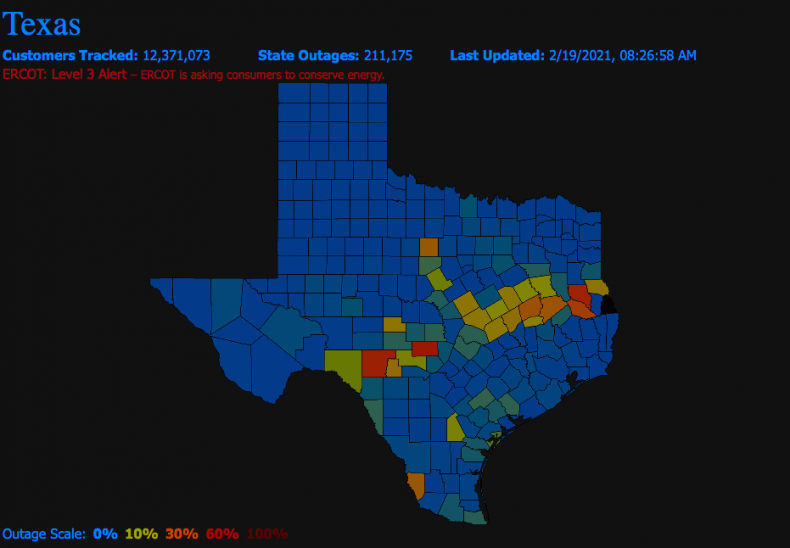 However, ERCOT also warned of the possibility of outages on Friday morning to keep the grid stable, as Texas expects more cold weather.
The customers likely to remain without power are those in areas affected by ice storm damage, areas that need to be restored manually and large industrial facilities that voluntarily gave up their power.
Meanwhile, millions of people have been ordered to boil their water before drinking it, as freezing temperatures damaged infrastructure. Water pressure also dropped after people left faucets running in an attempt to prevent pipes from freezing. Texas residents have since been asked to turn off their faucets.
The water crisis is not only affecting Texas. Cities in Mississippi and Louisiana have also faced shortages.
Oncor
Customers of Oncor, the largest energy delivery company in the state, make up more than half the current outages, with about 114,000 without power. Most outages are in Bell County, which has around 22,000, followed by Dallas County with 17,000. Angelina and Tarrant counties both have about 12,000 outages and there are 10,000 in Nacogdoches County.
Oncor said that at 7 p.m. local time on Thursday approximately 145,000 customers were without power. Around 63,000 of these outages were caused by cold weather and the lack of generation that hit the state earlier in the week, a "substantial amount" of which Oncor intends to restore by Friday evening.
Around 82,000 outages were caused by Thursday's storm in the Palestine, Lufkin and Nacogdoches areas.
American Electric Power Texas
Around 28,000 American Electric Power Texas customers are facing outages. Some 7,800 are in Hidalgo, which is the company's worst affected county. Cameron and Nueces counties each have more than 4,000 outages and there are around 1,500 outages in both Val Verde and Zapata counties.
The company said that as of 10.30 p.m. CST it had restored 93 percent of outages. Jeff Stracener, vice president of distribution region operations, said in a statement: "We know our customers are braving one of the coldest winter storms our state has ever seen.
"Our crews will continue working to keep restoring as many customers as we can."
Austin Energy
Austin Energy is experiencing around 23,000 outages, with the majority in Travis County. There are just over 250 in Williamson County.
Austin Energy posted on Twitter on Thursday that it hopes to have power restored for most of its customers in the "next several days," adding that some outliers may require longer, depending on the damage.