Erdogan Accuses Greek Authorities of Killing Migrants Trying to Cross Border Amid Growing Tensions
Turkish President Recep Tayyip Erdogan accused Greek authorities of killing two migrants trying to cross the border and severely wounding a third after his government announced that it would no longer prevent migrants, asylum seekers and refugees from trying to cross over to Europe.
According to Reuters, as of Monday, more than 10,000 migrants, asylum seekers and refugees—many from Syria and Afghanistan—had made their way to Turkey's border with Greece after the former country opened its border to Europe last week, allowing them to pass through.
In the bid to reach European soil, Erdogan claimed that two migrants had been killed by Greek soldiers, while another was seriously wounded.
It is unclear where Erdogan received his information from. However, earlier on Monday, a video had circulated on social media claiming to show a Syrian man who had been killed on the Greek side of the border and taken back to Turkey for burial, according to Bloomberg.
Newsweek subscription offers >
A young boy was also reported to have drowned after a boat that was transporting him and other refugees from the Turkish coast capsized off Lesbos.
Shortly after Erdogan's claim, Greek government spokesman Stelios Petsas took to Twitter to deny accusations of wrongdoing, asserting that "no shots have been fired by Greek border forces against any individuals attempting to enter Greece illegally."
"The contrary amounts to no more than gross and deliberate misinformation: Fake News," Petsas said.
Erdogan's claims came amid growing tensions between the two countries, with the Turkish president standing firm behind his government's decision to open its borders with Europe on Tuesday.
Newsweek subscription offers >
During a press conference, Erdogan said his government had repeatedly warned the international community that it could not continue to shoulder the burden of hosting growing numbers of migrants, asylum seekers and refugees.
Instead of taking action, however, he said, Greece and other European countries appear to be trying to escape from their "international responsibilities."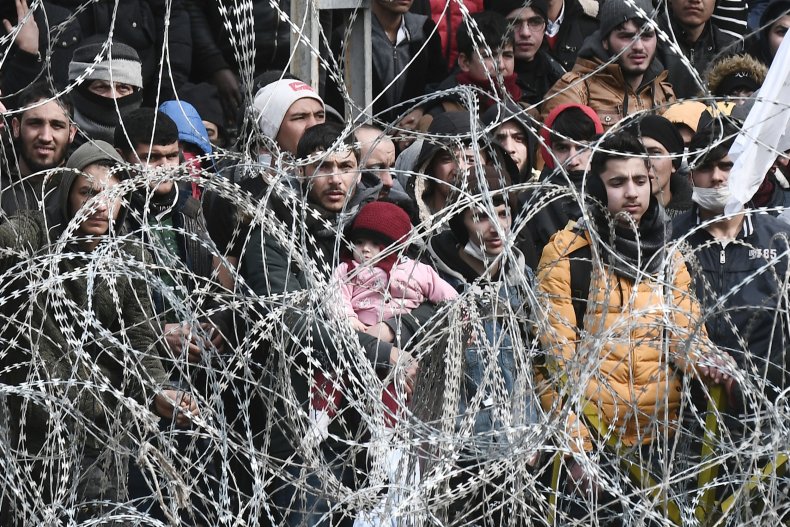 As a result, Erdogan said, Turkey was forced to stop standing in the way of migrants, asylum seekers and refugees seeking to enter Europe.
"We cannot keep the refugees in our lands by force," he said, in a translated statement, before calling on European Union countries to "provide international protection to the refugees and the asylum seekers who are demanding for it."
While Turkey has pointed the finger at the European Union, Germany's Angela Merkel took aim at the country's own leadership on Monday, accusing Erdogan's government of using refugees to send a political message.
While Merkel said she understood Turkey's plight, she said it was still unacceptable that Erdogan and his government "are not expressing this dissatisfaction in a dialogue with us as the European Union, but rather on the back of the refugees. For me, that's not the way to go forward."
Erdogan Accuses Greek Authorities of Killing Migrants Trying to Cross Border Amid Growing Tensions | World