Eric Adams to Challenge Mask Removal for Kids as NYC Rolls Back Mandates
New York City Mayor Eric Adams said on Friday that his legal team will challenge a ruling by a Staten Island justice who sought to end mask mandates for children under 5 years old, citing an uptick in Omicron subvariant BA.2.
Adams said during a press conference, where he was joined by Health Commissioner Ashwin Vasan, that the city is seeking to ask for a stay to allow the mask mandate to continue in public schools.
"Our legal team is going to put in place an appeal and ask for a stay," he said during a press conference on Friday. "We truly believe this is within our powers to execute what is best for the city. The legal team is going to take the necessary steps to ensure we are able to do that to keep the city safe."
His remarks came after Richmond County State Supreme Court Justice Ralph Porzio on Friday ruled to end mask mandates for children under 5, challenging the city's mandate, which was set to expire Monday, according to the Daily News.
Porzio said that the city's mask rule is "arbitrary, capricious and unreasonable" and ruled the mandate "void and unenforceable."
During the press conference, Vasan announced that ending mask mandates for children under 5 might be delayed given the rise in COVID cases.
"Ten days ago, we announced that masks might become optional for children under the age of 5 in New York City childcare settings. We said then that if we saw concerning changes in our data, we may be 'having this conversation again,'" Vasan said.
"We are making decisions safely in stages and guided by the data on what we know is happening now and from prior waves. That's why we are recommending to wait a little longer before making masks optional for this age group," he added.
Though Adams said that the city is seeing a "slight uptick" in COVID cases and that "we want to be prepared, not panicked," he confirmed that masks can't be required for children under Porzio's order.
"We will make the notification after we apply for the stay and apply for the appeal. We are not in control of the judicial system. Based on what the judge tells us, we are going to follow what the judge states," Adams said.
Meanwhile, Vasan warned against an increase in infections, saying "cases are definitely rising, and it's gotten our attention."
"They will continue to rise over the next few weeks. And it's likely that over these weeks, we will move into a different level of overall risk across the city," he added, recommending that New Yorkers mask up, get vaccinated against COVID, and receive a booster shot if they are eligible.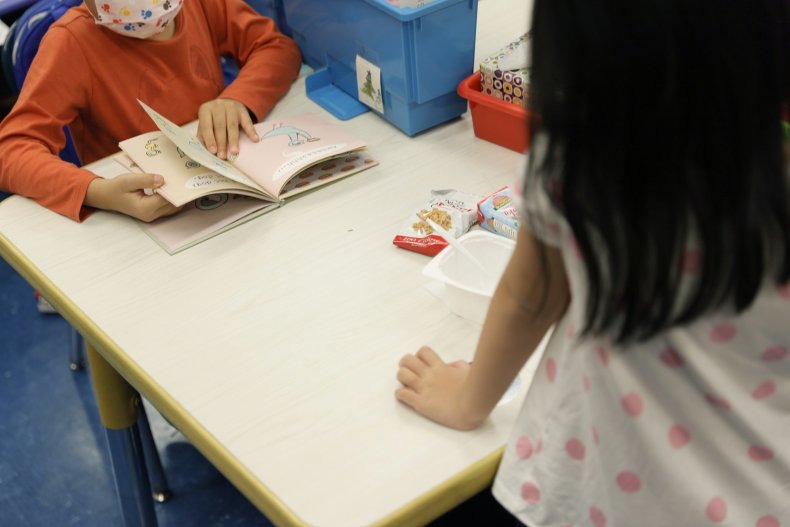 Last month, the mayor announced that New York City will be lifting school mask mandates and proof of vaccination requirements for several indoor settings. Masks were no longer mandatory for K-12 schools, but were still required for children under 5 years old.
Newsweek contacted the court's attorney and the secretary to Justice Porzio for comment.