Eric Garner Death: NYPD Trial 'Opportunistic' Says Black Lives Matter Leader
The New York Police Department has vowed to move ahead with disciplinary proceedings against the officer involved in the death of Eric Garner if the U.S. Department of Justice does not announce a decision on whether it will press federal charges by the end of August.
The NYPD's decision to move forward with its trial came on Monday, a day before the four-year anniversary of Garner's death.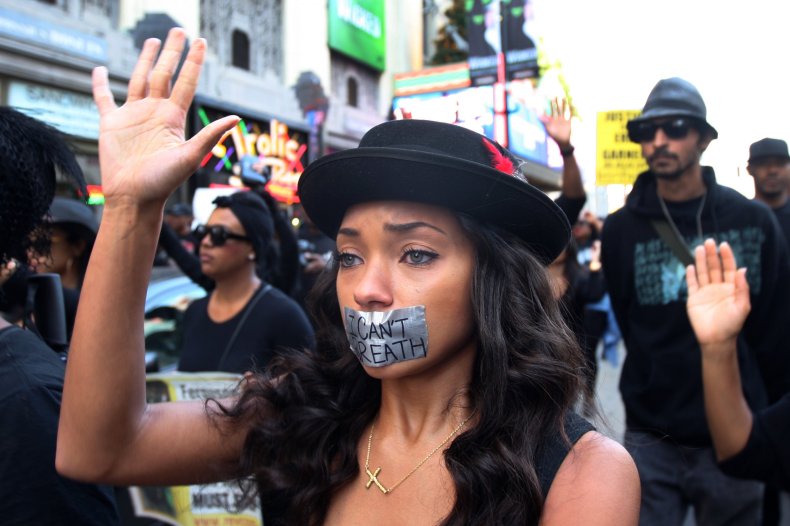 The 43-year-old father of six died after NYPD officer Daniel Pantaleo tried to arrest him for selling cigarettes illegally on Staten Island on July 17, 2014.
Video of the incident showed Garner, who was black, repeatedly warning "I can't breathe" as Pantaleo, a white officer, held him down on the ground in a choke-hold move banned by the department.
Garner's death, as well as the refusal of a grand jury to indict Pantaleo over the death, sparked national outrage and fueled the early flames of the Black Lives Matter movement.
While Pantaleo was taken off active duty, he has remained on the NYPD's payroll since the incident.
In a letter addressed to Department of Justice Principal Deputy Chief Paige Fitzgerald and viewed by Newsweek, NYPD Deputy Commissioner of Legal Matters Lawrence Byrne said the police department had delayed starting the disciplinary process at the request of the Department of Justice, after the department reasoned that an internal trial could affect its own investigation.
"However," said Byrne, who indicated that he had spoken on the phone with Fitzgerald last week, "based on our most recent conversations, it has become clear that a definite date by which time a final decision by the U.S. DOJ will be rendered in this matter cannot be predicted."
He said that due to the "extraordinary passage of time," delaying the trial "can no longer be justified."
Black Lives Matter: 5 years on, what has the movement achieved and where will it go from here?
Hawk Newsome, a civil rights activist who also heads Black Lives Matter of Greater New York, an unofficial chapter of the BLM movement, told Newsweek he believes the four-year delay in proceedings is already unjustified.
"It's opportunistic and political," Newsome said, remarking on how the department appeared to have planned the news release as the four-year mark since Garner's death approaches.
"Why did it take this long?" he asked.
"The Mayor started this proceeding now because black people are apathetic and they need a win to restore their face in the American system," he said.
"The mayor knew that the Black Lives Matter needed a win and that the Democrats needed to show blacks that they are still with them and are capable of protecting them from police brutality, so the mayor waits until the anniversary of Eric Garner's death to make this decision," he lamented.
"It couldn't be any more scripted if they tried. It is laughable. This isn't justice, this is politics," Newsome said, before adding: "I will take it either way."
New York-based activist group Communities United for Police Reform shared the same sentiment, branding the letter "political theater" by New York City Mayor Bill de Blasio and the NYPD "to distract from the fact that four years after Eric Garner was killed, they have failed to hold any of the multiple officers responsible for the killing and related misconduct accountable."
"It lays bare the lie that the NYPD's hands were tied from disciplining officers, when the truth is that the NYPD previously fired an officer prior to a federal indictment," the group said in a statement published on its website, referring to the police-involved deaths of Anthony Baez and Walter Scott.
Read more: When police go to prison—Walter Scott ruling 'very rare,' experts say
In his letter to Fitzgerald, Byrne acknowledges that "understandably, members of the public in general and the Garner family in particular have grown impatient with the fact that NYPD has not proceeded with our disciplinary proceedings," adding that "they have difficulty comprehending a decision to defer to a federal criminal investigation that seems to have no end in sight."
Patrick J. Lynch, president of the Patrolmen's Benevolent Association, the union representing NYPD officers, said he agreed with the police department's decision, but said he believed Pantaleo would be "vindicated" after an "impartial consideration of the facts."
In a statement published online, Lynch said: "We agree that the Justice Department's leadership should move to close Police Officer Pantaleo's case and put an end to what has been a highly irregular fishing expedition by those seeking an indictment at all cost."
However, the union chief said the decision "should not trigger a race by the NYPD to reach a pre-determined outcome in its own disciplinary processes," adding that "Officer Pantaleo is entitled to due process and an impartial consideration of the facts" and "if that is allowed to occur, we are confident that he will be vindicated and will finally be able to move forward."
If the DOJ does not make an announcement before August 31, the NYPD will be expected to move forward with its internal trial, Byrne's letter states.
DOJ spokesperson Kelly Laco told Newsweek that department officials had already informed Byrne this spring that the NYPD "may move forward with their disciplinary proceedings as they deem appropriate."
"Mr. Byrne's letter does not have any bearing on the decision-making timeline at the Justice Department, and the Department cannot comment further at this time," Laco added.