Eric Greitens' Chances of Winning Republican Primary in Missouri: Polls
Republican Senate candidate Eric Greitens appears to be the front runner in the Missouri GOP primary Senate, as his controversial RINO "hunting" ad draws backlash from Democratic and some conservatives.
Greitens—who served as Missouri's governor from January 2017 to June 2018, when he resigned amid sexual assault allegations—released a campaign ad on Monday. In the video, the Republican contender said, "Today, we're going RINO hunting." The GOP hopeful slid the action of the shotgun he was holding as he made the remark. RINO is an acronym for Republican in name only.
The ad drew swift backlash from Democrats and some within the GOP, who accused Greitens of glorifying violence. Twitter placed a warning on the video after its release. Facebook removed the ad from its site.
Meanwhile, recent polls show that Greitens is well positioned to win the GOP primary in Missouri. Survey results also suggest that he could go on to defeat his Democratic opponent in the November midterm election.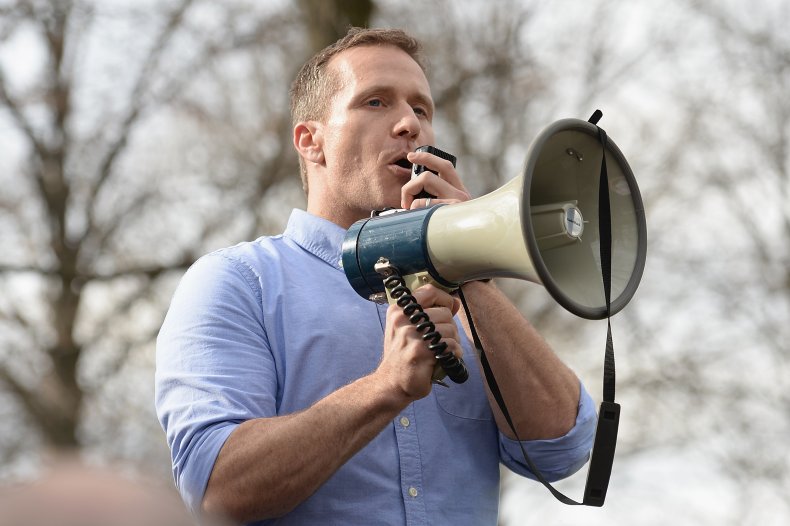 The current Real Clear Politics average of recent polls for the Republican primary Senate race shows the former Missouri governor with the support of about 24.8 percent of likely voters. His closest GOP challenger is Missouri Attorney General Eric Schmitt at an average of 21.3 percent. Following Schmitt in third place is Representative Vicky Hartzler with the backing of about 18.3 percent.
In the most recent survey, carried out from June 2 to 5 by The Hill/Emerson, Greitens leads his closets Republican rival by 6 points. The former Missouri governor had the support of 26 percent of likely GOP voters, compared with 20 percent for Schmitt and 16 percent for Hartzler. That poll surveyed 1,000 likely voters and had a margin of error of plus or minus 3 percentage points.
Previously in mid-May, poll results form Trafalgar Group showed a closer race between Greitens and Hartzler, with Schmitt in third place. That survey, conducted from May 16 to 18, showed Greitens at 26 percent, Hartlzer at 23 percent and Schmitt at 19 percent. The poll included 1,065 likely voters with a margin of error of plus or minus 2.9 percent.
Polling data from KOAM-TV/Survey USA in May showed Greitens leading his potential Democratic challengers as well. As Missouri's Democratic and Republican primaries won't be held until August 2—which candidates will ultimately face off in the general election remains uncertain. However, the recent poll showed Greitens with a notable lead over Democratic candidates Beer heiress Trudy Busch Valentine and Lucas Kunce, the former director of national security at the American Economic Liberties Project.
The survey had Greitens at 42 percent against Kunce's 36 percent—a lead of 6 points for the GOP hopeful. Up against Valentine, Greitens was at 43 percent compared with her 37 percent. Again, that represented a lead of 6 percent for the Republican contender.
Whether the controversial campaign ad dampens Republican support for Greitens remains to be seen. Despite previous scandals, however, the former Republican governor has remained the front runner in the GOP Senate primary.
In March, the former Missouri governor was accused by his ex-wife in a court filing of committing acts of violence against her and their children. Sheena Greitens filed for divorce from her husband in 2020.
In 2018, the Republican politician resigned in disgrace from being Missouri's governor after he was accused by a former mistress of sexual conduct during an affair. The woman accused Greitens of bringing her to his basement, tying her up, removing her clothes and photographing her without consent.
Correction June 21, 2022 at 1:08 p.m. ET: This article has been updated to reflect that Kunce is the former, not the current, director of national security at the American Economic Liberties Project.