A new campaign ad showing Missouri GOP Senate candidate Eric Greitens going "RINO hunting" is getting backlash on social media, where critics have accused him of promoting political violence.
In the video, Greitens, a former Missouri governor and Navy SEAL, is seen holding a gun while warning about RINOs. The term, which refers to "Republicans in name only," is often used against the party's more moderate members. Greitens describes them as feeding "off of corruption" and "marked by the stripes of cowardice." The candidate, along with men wearing tactical military gear, barges into a home where they shoot their weapons. He then invites his supporters to "get a RINO hunting permit."
"There's no bagging limit, no tagging limit, and it doesn't expire until we save our country," Greitens says. His campaign tweeted the video on Monday, alongside a link allowing campaign donors to receive a sticker that says "RINO hunting permit."
In response, many critics quickly called out the video for promoting political violence. Since the U.S. Capitol assault on January 6, 2021, federal lawmakers have received death threats, and earlier this month a man allegedly plotted to kill Supreme Court Justice Brett Kavanaugh.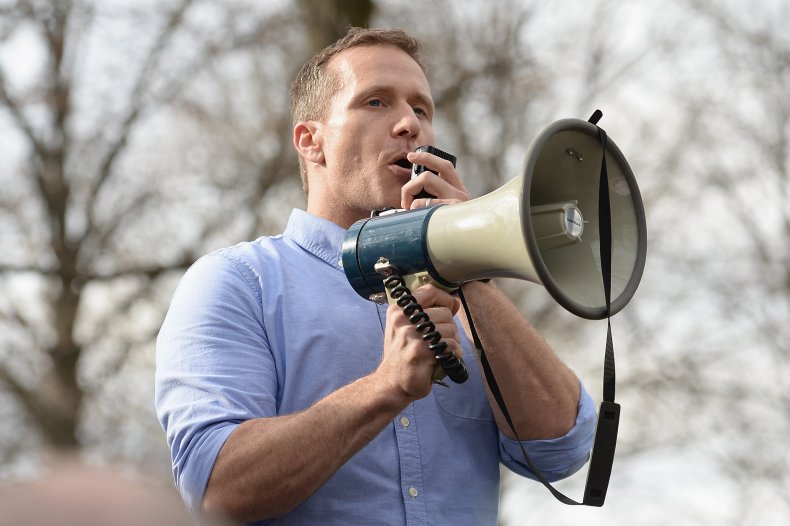 Some critics also noted the video was inappropriate because of domestic assault allegations made against Greitens. Sheena Greitens, his ex-wife, has accused him of physically abusing her and their children. She has also alleged that he purchased a gun, did not tell her where he kept it and threatened to kill himself "unless I provided specific public political support."
Greitens has said the allegations against him are false and "politically motivated."
Justin Kanew, founder of the progressive news website Tennessee Holler, was one of the critics who condemned the ad on Monday.
He wrote: "Truly shameful stuff here, on every level. Modeling and encouraging violence against those you disagree with. This s*** gets people killed."
Niles Francis tweeted, "That Eric Greitens ad has an alarmingly good chance of getting somebody hurt or worse. If we have learned anything in the last 6 years it's that the audience of those ads take those messages to heart."
Shannon Watts, founder of gun safety organization Moms Demand Action, wrote, "After former Missouri governor Eric Greitens was charged with violent sexual misconduct, his ex-wife says he bought and hid a gun. He also threatened to shoot himself unless she supported him publicly. Now he's threatening to kill his political opponents."
On Sunday, a day before Greitens released the advertisement, Representative Adam Kinzinger, an Illinois Republican who voted to impeach former President Donald Trump and has since been called a RINO, posted to Twitter a threatening letter targeting his family as well as himself.
Kinzinger, one of two Republicans on the House select committee investigating the January 6 Capitol riot, responded to the video by calling Greitens a "very bad man."
Newsweek reached out to the Greitens campaign for comment.