McConnell Outrage Over Plot to Kill Kavanaugh Compared to Uvalde Response
After a man was arrested outside Brett Kavanaugh's Maryland home, allegedly telling police that he wanted to kill the Supreme Court justice, Senate Minority Leader Mitch McConnell pushed for the quick passage of a bill that would ramp up security for the justices and their families and called the plot "disturbing."
But his comments drew backlash from some social media users who compared his urgency for Supreme Court security to what they said was a lack of urgency or openness on gun reform in the wake of a mass school shooting in Uvalde, Texas, that left 19 children and two teachers dead.
The criticism of the Republican senator from Kentucky is one of the newest developments in a contentious gun control debate that has seen most Republicans object to Democratic calls for gun reform. Though McConnell opened the door for bipartisan talks on gun legislation after the Uvalde shooting, it remains unclear whether he and other Republicans will ultimately sign off on any meaningful action on gun laws.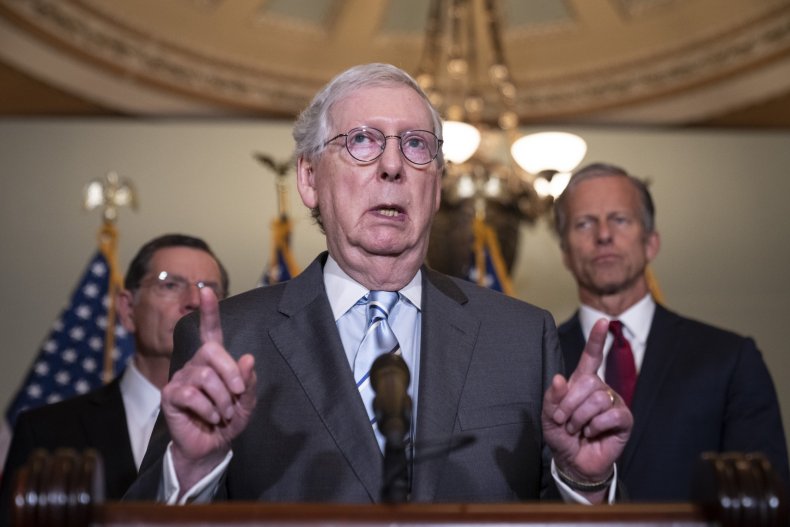 The Supreme Court safety bill passed the Senate last month, but the House of Representatives has yet to do the same. McConnell pointed to his congressional colleagues across the aisle when he took to the Senate floor Wednesday.
"House Democrats need to pass this bill and they need to do it today," he said. "No more fiddling around with this. They need to pass it today. They need to stop their multi-week blockade against this Supreme Court security bill and pass it before the sun sets today."
In response, Twitter user Dr. Jorge A. Caballero wrote: "Imagine hearing an 11-year-old saying that they smeared themselves with the blood of dead classmates to save their own life during a mass shooting—and then going to the floor of the United States Senate to demand passage of a bill to protect SCOTUS Justice Brett Kavanaugh."
Caballero was referring to an 11-year-old survivor of the Uvalde shooting who said that she used her friend's blood to appear dead during the attack.
Another Twitter user wrote that McConnell is "more invested in protecting SCOTUS judges who already have personal security details than he is in protecting your children at school."
Alex Howard, the director of the Digital Democracy Project, suggested a deal in which Congress enacts several gun reform measures like universal background checks and an assault rifle ban in exchange for increasing protections for Supreme Court justices and their families.
In the weeks since the Uvalde shooting, more than a dozen other mass shootings have taken place across the U.S.
McConnell has reportedly expressed openness to increasing the age requirement for purchasing assault weapons, Politico reported, citing people familiar with the talks. This measure is supported by Democrats, but the sources said that McConnell is not pushing for its inclusion in the bipartisan talks.
Newsweek reached out to McConnell for comment.