Trump Urges 'Protection' of Second Amendment as McConnell Floats Gun Reform
Former President Donald Trump repeated his support for a constitutional right to bear arms before his scheduled speech Friday at a National Rifle Association (NRA) event. Meanwhile, the Senate's top Republican, Minority Leader Mitch McConnell, has signaled his openness to "a bipartisan solution that's directly related to the facts" in response to Tuesday's mass school shooting in Texas.
Calling into Sebastian Gorka's America First radio show on Thursday, Trump said the Second Amendment, which gun rights advocates say protects gun ownership, is crucial to Americans' safety and well-being.
"But on Friday night, I'll be in Houston and we'll be making a speech and discussing a lot of the things which you would agree to and, you know, you have to protect. You have to protect your Second Amendment. You have to give that Second Amendment great protection because without it we would be a very dangerous country, frankly," Trump said.
On Tuesday, 19 children and two teachers were killed in the shooting at Robb Elementary School in Uvalde, Texas. The gunman, an 18-year-old dropout named Salvador Ramos, was eventually killed by a U.S. Border Patrol agent inside the school. The killings have renewed demands for federal gun control legislation, which has encountered Republican opposition after similar events, such as Connecticut's Sandy Hook school shooting in 2012. Twenty children and six adults died in that incident.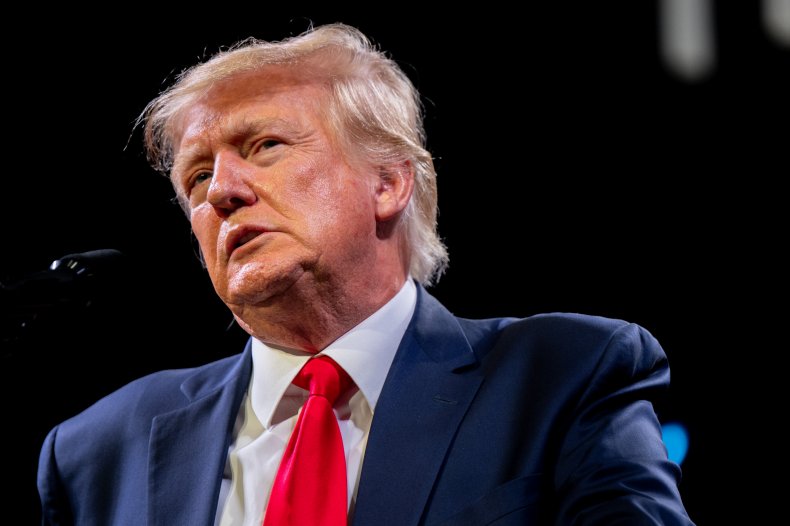 On the same day as Trump's remarks, McConnell said he directed Texas GOP Senator John Cornyn to talk to two Democratic senators, Arizona's Kyrsten Sinema and Connecticut's Chris Murphy, as well as "others who are interested in trying to get an outcome that is directly related to the problem" of gun violence, according to CNN.
McConnell added, "I am hopeful that we could come up with a bipartisan solution."
Following the shooting, Murphy spoke on the Senate floor Tuesday and, in a video that has been viewed more than 2 million times, passionately asked the chamber's members, "What are we doing?"
He went on to ask his colleagues why they spend so much time and effort becoming senators "if your answer is that as the slaughter increases, as our kids run for their lives, we do nothing."
During his interview with Gorka, who was Trump's deputy adviser on national security issues, the former president noted the timing of his upcoming speech to the NRA. "You know I'm making a speech at the NRA in Houston. It'll be very interesting. It's, you know, an interesting time to be making such a speech, frankly."
Trump also touched on other subjects, such as election integrity; the documentary 2000 Mules, which claims to have evidence of voter fraud in the last presidential race; and Representative Liz Cheney. The Wyoming Republican has been an outspoken critic of the former president and is on the House committee investigating the January 6, 2021, riot at the U.S. Capitol.
"Then, on Saturday night, I'm going to Wyoming to campaign against Liz Cheney, who's absolutely atrocious, the job she's done," Trump said.
Newsweek reached out to McConnell's office and a Trump representative for further comments.