McConnell Was 'Hopeful' for Gun Law Middle Ground Before Blocking Democrats
Senate Minority Leader Mitch McConnell and other Senate Republicans blocked the advancement Thursday of the Domestic Terrorism Prevention Act, a measure that was pushed by Senate Majority Leader Chuck Schumer just a day earlier as something that "will let us take action on guns."
Before Thursday's Senate vote, McConnell told reporters that he was "hopeful" for a "bipartisan solution that's directly related to the facts" of the mass school shooting in Uvalde, Texas, on Tuesday. But the Senate's vote tally landed at 47-47, falling short of the 60-vote threshold the bill would have needed to proceed, according to CNN. All votes against the measure came from Republicans and from Schumer, who changed his vote to "no" as a procedural move toward the end of the voting process.
While many Americans and lawmakers have been united in grief and anger following the deadly shooting at Robb Elementary School, where 19 children and two adults were killed, Democrats and Republicans have clashed over how best to respond to the incident. Democrats have renewed a push to limit gun access to potential aggressors, but some Republicans have suggested ramping up security within schools.
On Wednesday, Schumer blocked a separate bill pushed by Wisconsin Senator Ron Johnson that sought to codify a clearinghouse of information for school safety practices into law. While delivering remarks on his decision to block the measure, Schumer said that Americans want "real solutions to our nation's gun violence epidemic" and said that Johnson's bill alone "is not in any way, shape or form a sufficient solution."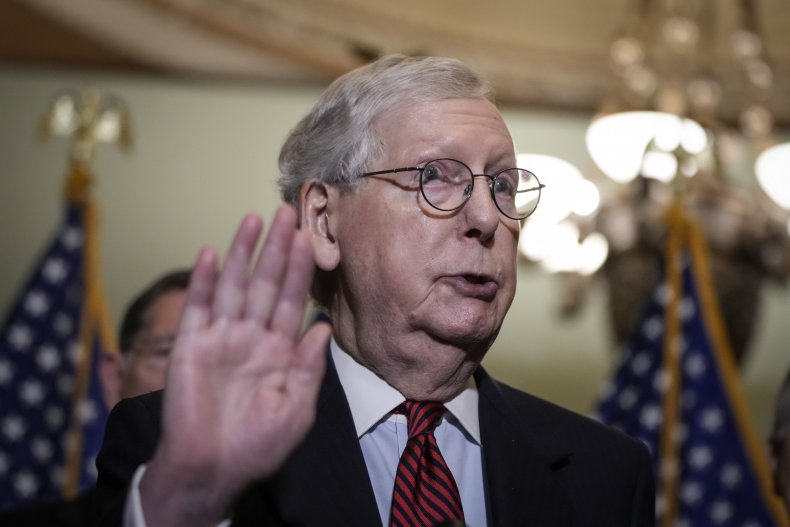 "Hardening schools would have done nothing to prevent this shooting. In fact, there were guards and police officers already at the school yesterday when the shooter showed up." Schumer said Wednesday. "The shooter got past all of them."
Schumer had been pushing for Republicans to vote in favor of advancing the Domestic Terrorism Prevention Act, saying that doing so would clear a path for debate on different points of view.
"Let me be clear: We are going to vote on gun legislation," Schumer said on Wednesday. "And the Republicans could let us start doing that as soon as tomorrow if they simply voted yes on the motion to proceed. And I give them a pledge that we will then start debating gun amendments."
The Domestic Terrorism Prevention Act would put in place "new requirements to expand the availability of information on domestic terrorism, as well as the relationship between domestic terrorism and hate crimes." Among other measures, it gives the green light for "domestic terrorism components" within the Department of Homeland Security, Justice Department and FBI to monitor, assess, investigate and prosecute instances of domestic terrorism.
It passed the House last week in the wake of another recent mass shooting at a grocery store in Buffalo, New York.
McConnell told CNN on Thursday that he met with Texas Senator John Cornyn and "encouraged him to talk with Senator [Chris] Murphy and Senator [Kyrsten] Sinema and others who are interested in trying to get an outcome that is directly related to the problem. I am hopeful that we could come up with a bipartisan solution."
Newsweek reached out to McConnell and Schumer for comment.