Chuck Schumer Blocks School Safety Bill Named After Parkland Victims
Senate Majority Leader Chuck Schumer on Wednesday blocked passage of a bill named after two victims of the 2018 Parkland, Florida, school shooting, which would codify a clearinghouse of information for school safety practices into law.
Instead, the Senate is "going to vote on gun legislation," the New York Democrat said, asserting that Americans "are tired of moments of silence, tired of the kind words offering thoughts and prayers." Schumer said he would be open to considering Republican Senator Ron Johnson's Luke and Alex School Safety Act, but he wanted to first focus on proceeding with his proposed Domestic Terrorism Prevention Act. That bill, he said, "will let us take action on guns."
The school shooting in Uvalde, Texas, on Tuesday, in which 19 students and two teachers died, inspired grief and anger throughout the country, but Democrats and Republicans have already begun clashing on the best course of action to help prevent similar incidents from happening again. Some Republicans have suggested bolstering security inside schools, while many Democrats are calling for gun reform to make it harder for potential aggressors to possess deadly weapons.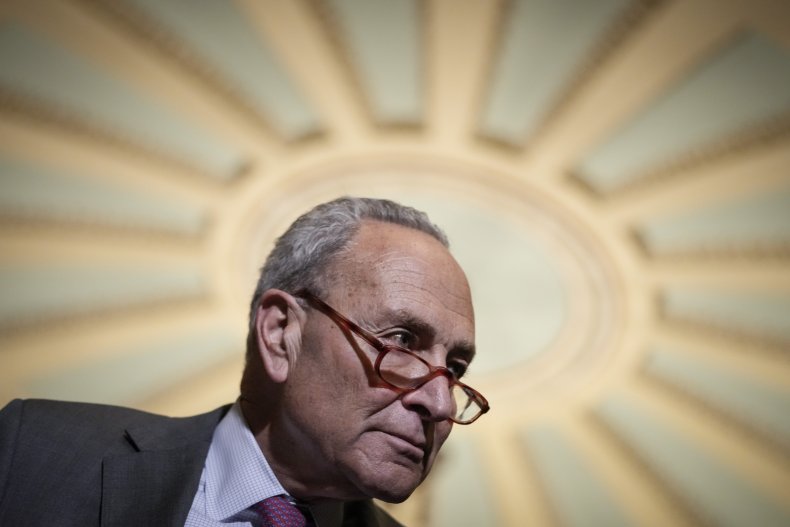 Johnson's bill is named after two Parkland school shooting victims, but he spoke Wednesday about Americans' reaction to the Texas shooting.
"There's nothing partisan about it," the Wisconsin Republican said while delivering remarks on the Senate floor. "Being a parent and grandparent, I cannot imagine the grief felt by the parents of those children. Unless you've experienced it, none of us can. What's the solution? There is no 'one' solution. Let's be honest about that."
After Schumer blocked the passage of his bill, Johnson said that he "will not engage in partisanship, other than to say it is just sad."
"This one applies to schools, and yet it's inappropriate, according to the majority leader, to pass this nonpartisan bill by unanimous consent," Johnson said.
Schumer, meanwhile, stressed that the American people want "real solutions to our nation's gun violence epidemic" and said that Johnson's bill alone "is not in any way shape or form a sufficient solution."
"Hardening schools would have done nothing to prevent this shooting. In fact, there were guards and police officers already at the school yesterday when the shooter showed up." Schumer said Wednesday. "The shooter got past all of them."
Schumer has opened the door to considering measures with a "different point of view," such as Johnson's, on how to protect schools. He urged his Republican colleagues to vote yes on a motion to proceed with his Domestic Terrorism Prevention Act and clear a path for debate on such legislation.
Newsweek reached out to Schumer and Johnson for comment.