Cops Accidentally Got Child Shot While Trying to Stop Texas Shooter—Student
A fourth-grader who survived the Uvalde, Texas school shooting has claimed police accidentally got a child shot while trying to stop the gunman who killed 19 children at the elementary school.
Authorities said the gunman, identified as Salvador Ramos, barricaded himself inside a classroom at Robb Elementary School in Uvalde on Tuesday and at least 40 minutes elapsed before a tactical unit was able to get inside, eventually killing Ramos.
A boy, who said he had hidden under a table with a tablecloth, said the gunman had shot a girl shortly after she responded to officers when they asked people to yell if they needed help.
"When the cops came, the cop said: 'Yell if you need help!' And one of the persons in my class said 'help'," the boy told local news station KENS.
"The guy overheard and he came in and shot her," the boy said. "The cop barged into that classroom. The guy shot at the cop. And the cops started shooting."
As Newsweek has previously reported, the boy also told of how his teachers— Eva Mireles, 44, and Irma Garcia, 46—sacrificed themselves by standing in front of students.
They "went in front of my classmates to help. To save them," the boy said.
The new report comes as the police response to the shooting has been questioned, with video on social media showing heavily armed officers standing outside the school as anguished parents urged them to charge into the building and save their children.
Authorities have defended the handling of the shooting.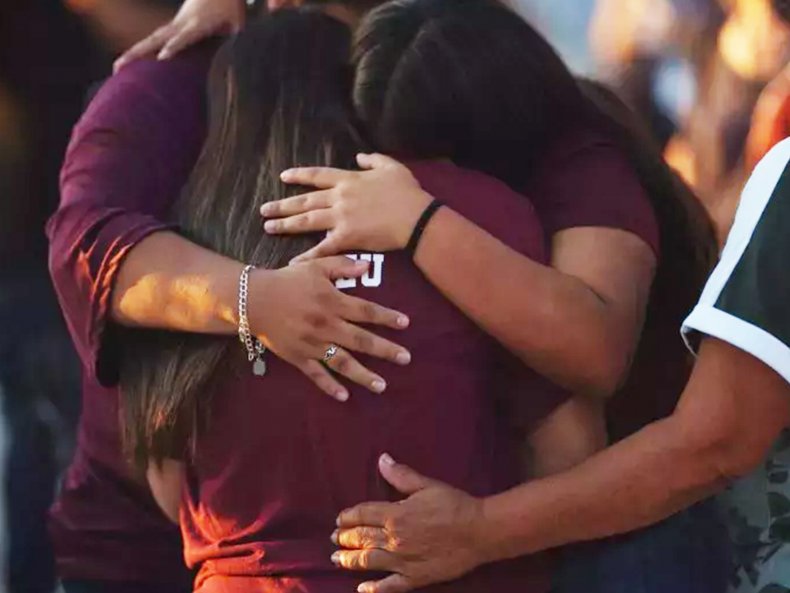 In the video footage, parents can be seen yelling and screaming, and one parent was apparently pinned down on the ground by several officers while another holding a Taser kept bystanders at bay.
Juan Carranza, who lives across the street from the school, told The Associated Press that he saw people urging police to go into the school.
A woman had shouted "Go in there! Go in there!" shortly after the shooting began, Carranza said, but police remained outside.
Javier Cazares, whose daughter Jacklyn Cazares was killed, accused police of not doing enough to stop the shooting.
According to the AP, he had raced to the school when he heard about the shooting, and arrived to find police were still gathered outside. He grew frustrated that police were not moving and suggested charging into the school with other bystanders.
"Let's just rush in because the cops aren't doing anything like they are supposed to," he said. "More could have been done."
Steve McCraw, the director of the Texas Department of Public Safety, defended the actions of law enforcement.
"The bottom line is law enforcement was there," McCraw said. "They did engage immediately. They did contain (Ramos) in the classroom."