Ted Cruz Blasts Beto O'Rourke's Outburst: 'It Was Disgusting'
Texas Senator Ted Cruz has called Beto O'Rourke's actions "disgusting" after the Democrat interrupted Greg Abbott's press conference on the mass shooting at a school in Uvalde to criticize the governor for doing "nothing" to prevent such tragedies occurring.
Speaking to Fox News' Jesse Watters Primetime, Cruz condemned O'Rourke for trying to turn the press conference about the shooting in Robb Elementary School (which left 19 children and two adults dead) into a "political rally."
On Wednesday, O'Rourke, who is challenging Abbott for the governor of Texas in the midterms, approached the stage and told Abbott "the time to stop the next shooting is right now, and you are doing nothing."
O'Rourke was then ushered away while being criticized from the stage.
Uvalde Mayor Don McLaughlin called him a "sick son of a b***h." Cruz, who was also present on the stage, told O'Rourke to "sit down."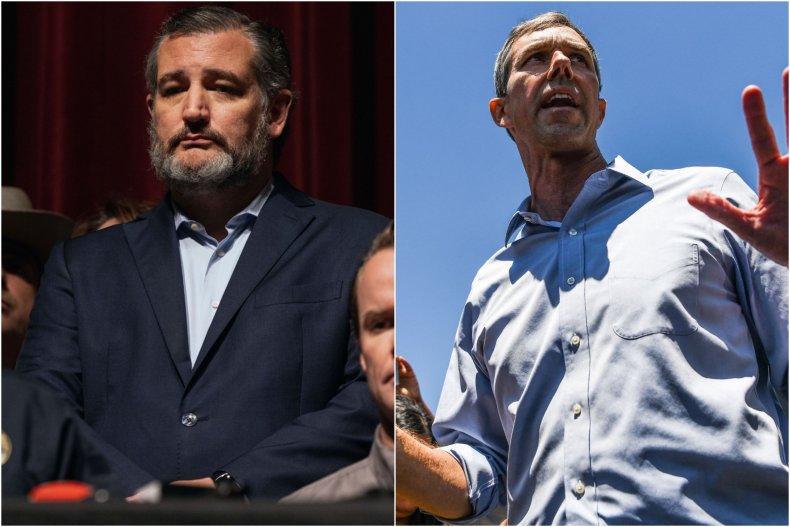 When asked about the incident, Cruz told Waters he was "shocked" by O'Rourke and suggested the stunt was motivated because the Democrat's "campaign is flailing [and] he's going to lose" November's gubernatorial election.
"We were going through a briefing listening to law enforcement about precisely what had happened about what the next steps were, and it was disgusting," Cruz said.
"You've got grieving families, you've got a community that is broken to pieces, and to try to politicize it and turn it into a rally the way Beto did, it was really—I've seen a lot of crass behavior, that was embarrassing, it was disgusting."
O'Rourke has frequently called for stricter gun laws such as mandatory assault weapon buyback programs during his political career, especially in the wake of other high-profile mass shootings in Texas, such as at Santa Fe High School in 2018 and at an El Paso Walmart in 2019.
In September 2019 while running for president, O'Rourke famously said "Hell yes, we're going to take your AR-15, your AK-47" during a televised debate.
In comparison, Abbott has pushed back on implementing stricter gun laws in Texas.
During Wednesday's press conference, the governor—who is due to appear at an NRA conference in Houston, Texas, along with Cruz and Donald Trump—claimed that violence in cities such as Chicago, New York and California show that restricting guns is ineffective.
"There are more people who are shot every weekend in Chicago than there are in schools in Texas," Abbott said. "And we need to realize that people who think that 'Well, maybe we just implement tougher gun laws' is going to solve that—Chicago and LA and New York disprove that thesis."
As noted by the Associated Press, citing data from the Centers for Disease Control and Prevention, California and New York both have lower rates of firearms deaths than Texas.
Even with the rising levels of gun violence in Chicago, Illinois also registers a lower firearms death rate than Texas.
In the wake of the Santa Fe high and El Paso shootings, Abbott signed a number of bills which loosened gun laws in the state.
The gunman who murdered 19 children at Robb Elemtary School, Salvador Ramos, was able to legally purchase two AR-style rifles soon after he turned 18 before carrying out the attack.
O'Rourke has been contacted for comment.