Donald Trump To Speak at Texas NRA Meeting 3 Days After School Shooting
Donald Trump is still scheduled to speak at an NRA meeting in Houston, Texas, just days after a mass shooting in the state left 19 children and two adults dead.
The former president is set to join fellow Republicans, including Texas Governor Greg Abbott, Senator Ted Cruz, and Congressman Dan Crenshaw, at the annual NRA Institute for Legislative Action Leadership Forum over the weekend.
The pro-gun lobbyist group is still intending on holding on the meeting at the George R. Brown Convention Center from Friday to Sunday, despite the massacre at the Robb Elementary School in Uvalde.
Michael Heckman, CEO of Houston First, the government corporation that oversees the convention center, said he was not aware of any plans to cancel the event or change the schedule in the wake of the school shooting.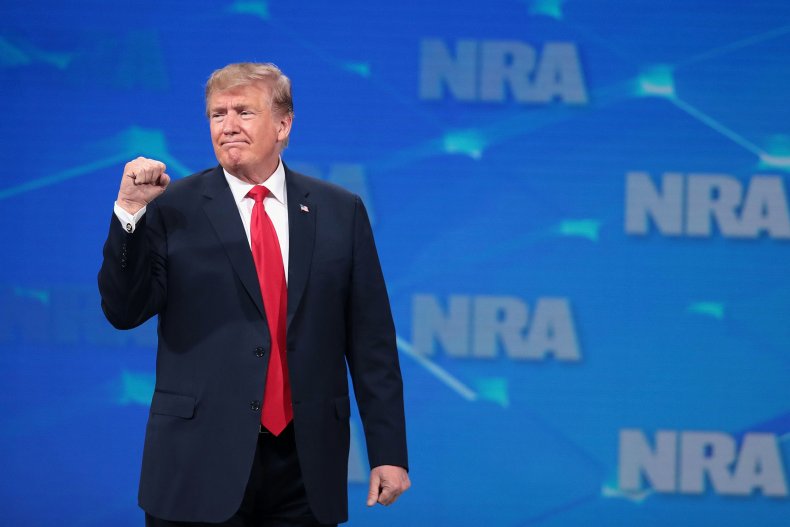 "From entertainment to special events, it's all happening in Houston over Memorial Day weekend," the NRA's website detailing the event states.
"Make plans now to join fellow Second Amendment patriots for a freedom-filled weekend for the entire family as we celebrate Freedom, Firearms, and the Second Amendment!"
However, Texas Senator John Cornyn, who was scheduled to speak at the event, confirmed he will no longer be attending as a result of the massacre.
"Prior to the tragedy today in Uvalde we had already informed the NRA he would not be able to speak due to an unexpected change in his schedule," Cornyn's spokesperson said in a statement. "He now has to be in D.C. for personal reasons on Friday."
Sheila Jackson Lee, a Democrat who represents Huston's 18th congressional district, called on the NRA to cancel the event while speaking at a candlelit vigil for the Ulvade victims, saying "it's not the time" for it to be held.
The NRA promoted the former president's appearance at the event on Monday, one day before the gunman carried out the attack at Robb Elementary school.
It is unclear if Trump still plans on attending the NRA event, where he was due to speak on Friday afternoon.
Trump and the NRA have been contacted for comment.
Following the latest shooting at an elementary school in the U.S., President Joe Biden gave a speech at the White House where he asked "when in God's name are we going to stand up to the gun lobby?" without directly mentioning the NRA.
"When in God's name will we do what we all know in our gut needs to be done?" Biden added.
"Why are we willing to live with this carnage? Why do we keep letting this happen? Where in God's name is our backbone to have the courage to deal with it and stand up to the lobbies?"