Watch: Texas Official Explodes on Beto O'Rourke Over Uvalde Shooting
Texas GOP officials slammed Democratic gubernatorial nominee Beto O'Rourke on Wednesday after O'Rourke heckled Texas Governor Greg Abbott during his update on the Uvalde school shooting.
As Abbott spoke on the need for people to seek mental health treatments in the wake of Tuesday's tragedy, O'Rourke was seen shouting at the governor from the bottom of the stage for "doing nothing" about gun control. Texas Lieutenant Governor Dan Patrick could be seen calling O'Rourke "an embarrassment" as Uvalde Mayor Don McLaughlin repeatedly told the Democrat he was "out of line" for approaching Abbott and shouted at him to "leave this auditorium."
"I can't believe you're a sick son of a b**** who would come to a deal like this to make a political issue," McLaughlin yelled at O'Rourke.
O'Rourke was heard telling Abbott that the shooting was "totally predictable," given the governor's record on guns.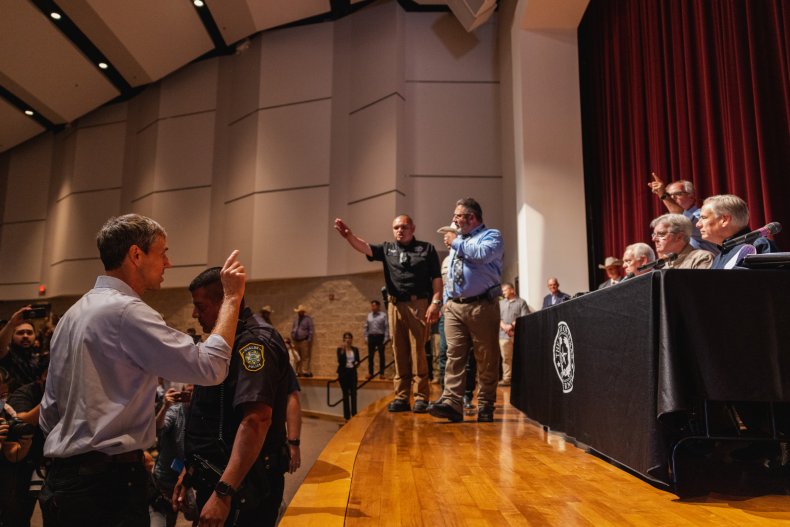 On Tuesday, a gunman stormed a fourth-grade classroom at Robb Elementary School, killing 19 children and two teachers in the deadliest school shooting since Sandy Hook in 2012, in which 27 people, including 20 children, died.
"The moment to stop Uvalde was right after Sandy Hook. After Santa Fe High. After El Paso. Instead, Abbott made it easier to carry guns in public," O'Rourke tweeted after the shooting.
Abbott, who opposes gun control measures, has faced immense criticism in the wake of the tragedy and has been blamed for the proliferation of firearms in Texas, which has the highest number of licenses issued per year by state since 2015. It is estimated that 45.7 percent of adults in Texas live in homes with guns.
The governor has passed 22 gun laws that reflect his views on gun rights since being elected to statewide office.
O'Rourke, who will go head-to-head with Abbott for the governorship in November, has called on his Republican opponent to withdraw from his scheduled attendance at the NRA convention in Houston in the wake of the shooting,
"Governor Abbott, if you have any decency, you will immediately withdraw from this weekend's NRA convention and urge them to hold it anywhere but Texas," the Democrat tweeted.
Former President Donald Trump and Texas Senators Ted Cruz and John Cornyn are also scheduled to appear at the NRA conference.
During Abbott's update on Wednesday, the governor said that the gunman in the Uvalde shooting made several Facebook posts on the day of the attack that stated his plans to shoot his grandmother and open fire on the school.
Correction 05/25/22 3:25 p.m. An earlier version of this story said Patrick called O'Rourke a "sick son of a b****."