NRA Bans Firearms During Donald Trump's Speech at Texas Event
The National Rifle Association (NRA) told attendees they will not be able to carry firearms during an event with former President Donald Trump at its Texas conference that will be held just days after a deadly mass shooting at an elementary school in the state.
On its website, the pro-gun organization declared that people would not be able to bring their firearms into the General Assembly Hall during its upcoming Annual Leadership Forum in Houston on Friday, May 27. In a notice, the NRA said firearms, toy guns and "weapons of any kind" would not be allowed inside the hall. It also listed several other items, such as laser pointers and signs among things that were prohibited.
The NRA described its annual leadership forum as being "one of the most politically significant and popular events in the country." But a shadow has been cast over the conference after 19 children and two adults were fatally shot at Robb Elementary School in Uvalde, Texas on Tuesday.
The NRA said the hall was under the jurisdiction of the United States Secret Service as Trump would be speaking during the event. Trump is one of several speakers who are slated to attend the conference this week. Others include Texas Governor Ted Abbott and Senator Ted Cruz, both Republicans and fierce pro-gun advocates.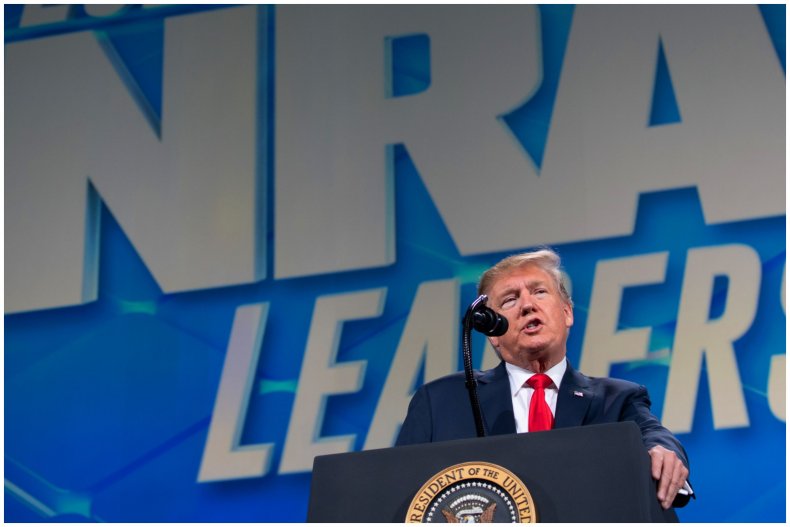 The organization also banned guns from its event where Trump gave a speech in 2018, according to NPR.
Following the shooting, Cruz rejected calls for gun control during an interview with MSNBC. "Inevitably when there's a murder of this kind, you see politicians try to politicize it," he said. "You see Democrats and a lot of folks in the media whose immediate solution is to try to restrict the constitutional rights of law-abiding citizens. That doesn't work."
During a speech at the White House, President Joe Biden said the U.S. needed to stand up to the gun lobby, but did not directly name the NRA.
He said: "When in God's name will we do what we all know in our gut needs to be done? Why are we willing to live with this carnage? Why do we keep letting this happen? Where in God's name is our backbone to have the courage to deal with it and stand up to the lobbies?"
Sheila Jackson Lee, a Democrat representing Houston's 18th congressional district, called on the NRA to cancel the upcoming event.
The massacre at Robb Elementary is the deadliest school shooting in the U.S. since the 2012 shooting at Sandy Hook Elementary School in Connecticut, where 26 people—including 20 children—were killed. It remains the deadliest mass shooting at an elementary school in U.S. history.
According to the campaign transparency organization OpenSecrets, the NRA spent $2.2 million in lobbying in 2020. It also spent the overwhelming majority of its contributions on Republican groups or candidates.
Newsweek reached out to the NRA for comment.