Uvalde School Shooting: How You Can Help After 20 Killed at Elementary
Residents of South Texas were urged to donate blood in the immediate aftermath of the horrific school shooting that claimed at least 20 lives on Tuesday, while those in other areas were asked to donate to provide assistance in future tragedies.
At least 18 children and two adults were left dead after an 18-year-old suspected gunman opened fire at Robb Elementary School in Uvalde, Texas, at around 11:30 a.m. on Tuesday, according to the Texas Department of Public Safety. An additional unspecified number of victims were wounded during the incident, with demand for donor blood surging as a result.
The South Texas Blood & Tissue Center quickly called for emergency blood donations after the shooting. The center said in a statement obtained by Newsweek that early donations had facilitated the delivery of "15 units of blood to Uvalde via helicopter to be available at the site of the shooting and at the area hospitals."
"Later this afternoon, we received a request and sent an additional 10 units of blood to a hospital in Uvalde," the statement read. "We will continue to work with hospitals in the area to make blood available as it's needed and to rebuild their supply for other patients in need."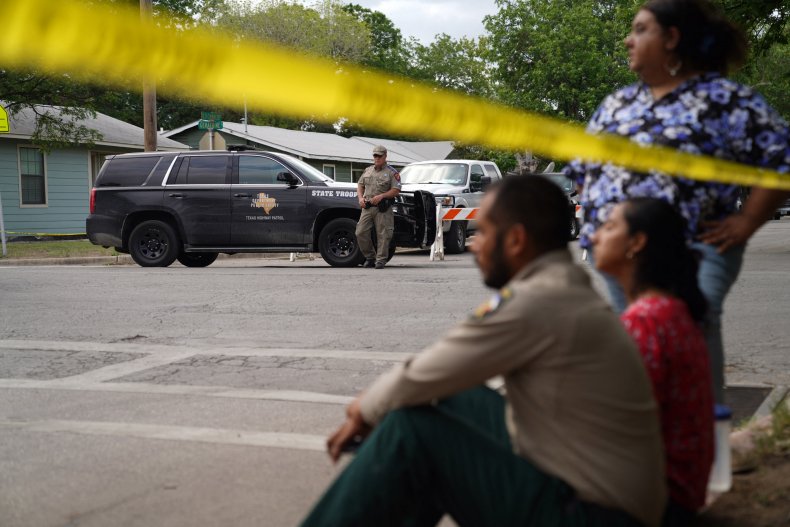 "The public is urged to schedule a blood donation at their community blood center, and for those in our community of South Texas, at SouthTexasBlood.org or by calling 210-731-5590," it continued. "Same-day appointments and walk-ins are available at donor rooms, with locations open with normal business hours during the holiday weekend."
An emergency blood drive was scheduled to take place at Herby Ham Activity Center in Uvalde between 9 a.m. and 2 p.m. on Wednesday. Although online appointment slots for donations were all taken as of Tuesday evening, walk-in donations will be accepted.
The center also urged those hoping to help in other areas of the country to donate blood locally, saying that "this tragedy highlights the importance of always having blood available on the shelf and before its needed" and that a "historic need for blood" existed nationwide heading into the Memorial Day weekend.
University Hospital in San Antonio issued its own call for local blood donations on Twitter, informing area residents that its donor room had "availability the rest of the week" and that donations "can help ensure we have supplies immediately available for the victims of this tragic shooting."
The American Red Cross said in a statement to Newsweek that it was working to "coordinate our efforts with the Department of Public Safety, the City of Uvalde, and Uvalde County to assist family members of the victims."
The nonprofit organization, which always accepts donations online to support its mission of providing aid during emergencies, said that it had all of the resources it needed as of Tuesday night but was working with local groups to determine needs in the coming weeks.
"The thoughts and deepest sympathies of the entire American Red Cross family are with the people of Uvalde and those affected by the tragic shooting on May 24," read the organization's statement. "The Red Cross and its volunteers continue to coordinate our efforts with the Department of Public Safety, the City of Uvalde, and Uvalde County to assist family members of the victims."
"We appreciate the outpouring of support and of community members reaching out to the Red Cross to offer their help during this challenging moment," it continued. "At this time, we have all the resources and assistance we need. We will continue to coordinate with local officials and community partners to determine how we can best support the Uvalde community in the days and weeks ahead."
The Uvalde shooting was the 27th mass shooting at a U.S. school during 2022 alone, according to Education Week. The shooting came only 10 days after a mass shooting at a supermarket in Buffalo, New York, claimed 10 lives.