Fact Check: Buffalo Shooting Suspect Misleadingly Linked to Ukraine 'Nazis'
Multiple posts on Twitter have attempted to foment narratives about purported "Nazi" links between Buffalo shooting suspect Payton Gendron and Ukrainian fighting forces.
Photos shared on social media show Gendron and a Ukrainian soldier, both of which featured a controversial Nazi-associated symbol known as the Black Sun.
The tweets were also published by several accounts linked to the Russian government, which continues to promote an unsubstantiated narrative that Ukraine is guilty of encouraging Nazism.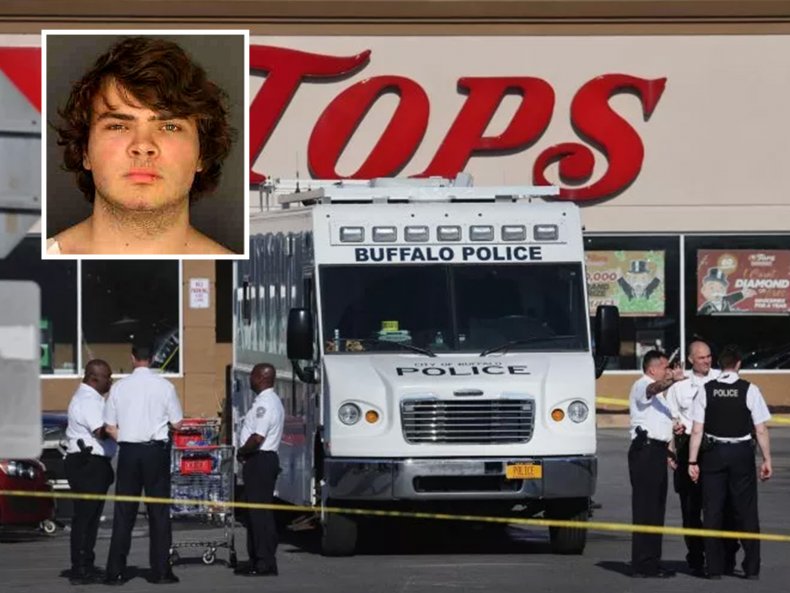 The associations of far-right ideology within some sections of Ukrainian forces is complex, but the links made by on Twitter are broadly misleading.
The Claim
In May 2022, photos appeared on social media showing Payton Gendron, wearing what appears to be a Black Sun emblem. It was placed alongside another photo—of a Ukrainian soldier wearing the same symbol.
The tweets also include a screenshot of a document allegedly written by Gendron, which included the Black Sun.
Russia government official, Dmitry Polyanskiy, who has made other misleading claims recently, also shared the photos.
While not explicitly linking the ideology, the Russian Embassy in South Africa also posted the same set of photos on its Twitter page.
The Facts
These social media posts imply that Ukrainian forces and Payton Gendron are ideologically linked.
Gendron, 18, is alleged to have killed 10 people at the Tops Friendly Market in Buffalo, New York, on 14 May 2022. Gendron was arraigned on murder charges appearing before a judge the same day.
Following the events in Buffalo, photos emerged of Gendron wearing military style fatigues with a Black Sun emblem. A deeply racist "manifesto" he is said to have written, and shared online, included the same symbol.
The symbol, known in German as "Schwarze Sonne" or "Sonnenrad," has its origins in ancient Norse pagan pictographics, but was widely adopted in Nazi occultism. It has been used by far-right elements across the globe, including in Ukraine, where it has featured on the official logo of the National Guard's Azov Regiment.
As we have previously reported, some elements of Ukraine's forces have been described as far-right, most notably parts of the Azov regiment.
In March a since-deleted photo posted on NATO's official Twitter account showed the Black Sun on the chest of an Azov soldier's military fatigues. A NATO official said the post was removed after the alliance noticed the symbol.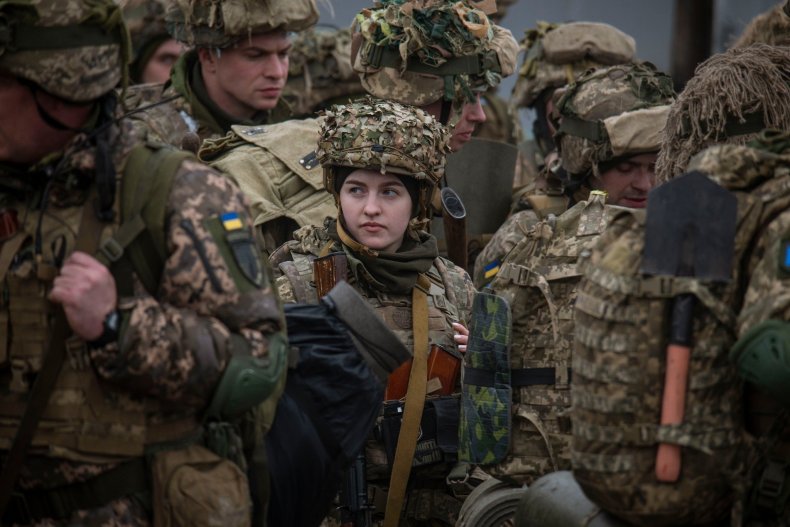 The regiment, incorporated into the National Guard of Ukraine in 2014, does have far-right origins, but only a minority of its estimated 900 members are believed to have far-right affiliations.
The regiment itself makes up a tiny portion of Ukraine's quarter-of-a-million strong army.
And as we have also previously reported, far-right ideology is not unique to the Azov regiment. Such symbology has been spotted in other parts of the world including the U.S. and Latin America, and even Russia itself, which its government has repeatedly failed to address.
The purported link between Gendron and the Ukrainian forces appears to be based on the Black Sun alone. Yet what evidence is available appears to contradict any meaningful association between the two.
Newsweek was able to obtain a copy of Gendron's "manifesto," which does include a Black Sun symbol, but does not mention the conflict in Ukraine. In fact, the word Ukraine is only used once, but not in the context of the conflict or any context relevant to the country, its politics or history.
Furthermore, evidence suggests Gendron felt contempt for Ukraine, not admiration. BBC journalist Shayan Sardarizadeh, tweeted what he claims was a copy of text published by Gendron on social media app Discord, where he described the country as a "corrupt s*** hole."
As highlighted elsewhere on social media, the "manifesto" does not mention Azov, but does call for Turkish President Recep Tayyip Erdoğan, to be "killed" in order to help Russia and fracture NATO.
The social media posts present no substantive evidence that Gendron has ties to, or even supports Ukraine.
Newsweek contacted the Russian South African Embassy and the Russian Ministry of Defense for comment.
The Ruling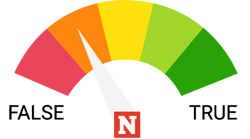 Mostly False.
There is no known link between Payton Gendron and pro-Ukrainian forces. Some of Azov's relatively small group of fighters are on the extreme right and have used the same Nazi symbolism, as the alleged Buffalo shooter, specifically the Black Sun. But this single aesthetic link is as far as any substantive connection between the two goes. In fact, evidence shared online since the shooting suggests Gendron was opposed to the U.S. arming and supporting Ukraine. Russia's misleading narratives around "denazification" of Ukraine have little basis in fact, and fail to mention substantial evidence of neo-Nazi and White Supremacist ideology within other militaries around the world, including Russia's.
FACT CHECK BY NEWSWEEK