Putin Keeps 'Nazism' Focus on Ukraine as Russians Point to NATO Hopeful
Russian President Vladimir Putin reportedly said Monday that Ukraine is the only country that encourages "Nazism" at the state level, and some Russians are now accusing NATO hopeful Sweden of having similar sympathies.
"But nowhere at the state level are the Nazis glorified. Nowhere," Putin said during a Moscow summit, according to Russian-state-owned news agency Ria Novosti. "And nowhere in civilized countries are thousands of neo-Nazi torchlight processions with neo-Nazi symbols encouraged by the authorities. This is not done anywhere. Unfortunately, this is happening in Ukraine."
Putin has repeatedly declared that one of Russia's goals in invading Ukraine is the "denazification" of its neighbor, but Ukraine, whose president is Jewish, has strongly refuted the allegations that its government is led by Nazis. Meanwhile, as Putin has focused on purported Nazis in Ukraine, posters have reportedly emerged on Moscow's streets accusing some famous Swedish figures of supporting Nazism.
Two posters at a bus stop outside the city's Swedish Embassy showed photographs of Swedish King Gustaf V, writer Astrid Lindgren, film director Ingmar Bergman and IKEA founder Ingvar Kamprad, Al Jazeera reported. The posters read, "We are against Nazism, they are not."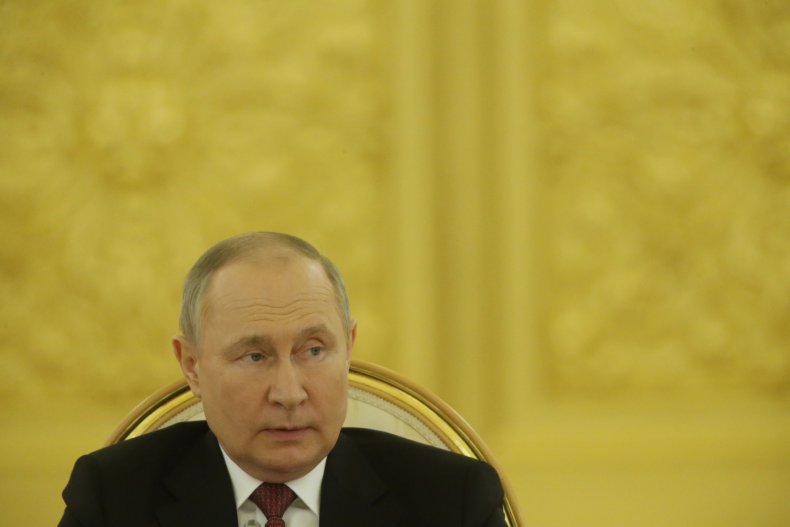 While Putin himself has not accused Sweden of supporting Nazism, he has recently attacked the nation and Finland over their desire to join NATO. As Russia's invasion of Ukraine has increased European countries' concerns about their security, the leaders of the two Nordic nations have confirmed that they want to join the military alliance.
"NATO membership would strengthen Finland's security. As a member of NATO, Finland would strengthen the entire defence alliance," Finnish President Sauli Niinistö and Prime Minister Sanna Marin said in a joint statement last Thursday. On Monday, Swedish Prime Minister Magdalena Andersson said her nation should join NATO to "ensure the safety of Swedish people," according to CNN.
But Russia, which views NATO as a military threat, has said that it will not accept the admission of the nations to the alliance, and Putin has even warned of "retaliatory steps."
Putin may in fact see Finland and Sweden barred from joining NATO, thanks to the opposition of Turkey's president. Turkey is a NATO member, and all states in the alliance must support adding a member if an application is to be approved.
Besides Ukraine and Sweden, Poland has been the target of ramped-up rhetoric from Russia. A top ally of Putin and a member of his political party, United Russia, suggested last week that Russia should look next at Poland, a NATO member, for alleged ties to Nazism.
Poland should be "in first place in the queue for denazification after Ukraine," Oleg Morozov said in a Telegram post, according to an English translation.
Newsweek reached out to the foreign ministries of Ukraine, Russia and Sweden for comment.