Turkey Poised to Deliver a Massive Win to Putin on NATO Expansion
If Turkey opposes the admission of Finland and Sweden to NATO, as President Recep Tayyip Erdoğan indicated Friday he would do, his country would deliver a massive win to Russian President Vladimir Putin.
On Thursday, Finland expressed its intention to rapidly apply for NATO membership, and Sweden is expected to decide soon whether it will do the same. Erdoğan told reporters in Istanbul Friday that he has been following those developments but added that "we don't hold positive views" on them, according to Reuters.
Turkey is one of NATO's 30 member states, and every member has to back the admission of a new member for an application to be approved. Erdoğan's opposition to Finland and Sweden entering the military alliance would therefore derail any attempts by the two Nordic countries to join. That would be a major victory for Russia's president, who has strongly objected to NATO expansion and this week vowed to take "retaliatory steps" after Finland's leadership announced plans to apply.
Erdoğan also told reporters that he believes it was a mistake to admit Greece to NATO and that Turkey doesn't want "to repeat similar mistakes," according to Reuters.
"Furthermore, Scandinavian countries are guesthouses for terrorist organizations," he said. "They are even members of the parliament in some countries. It is not possible for us to be in favor."
Erdoğan's statements indicate that his objections to NATO membership for Finland and Sweden derive from Turkey's expressed belief that Nordic countries harbor extremist Kurdish groups as well as supporters of Fethullah Gülen. Gülen is a U.S.-based preacher whose supporters, Turkey alleges, attempted to carry out a coup in 2016. Gülen and his supporters have denied the accusation.
But Putin's reasons for objecting to NATO gaining new members are different. Russia has been highly concerned about the alliance's eastward expansion, especially near its borders, according to the Council on Foreign Relations, a U.S. think tank.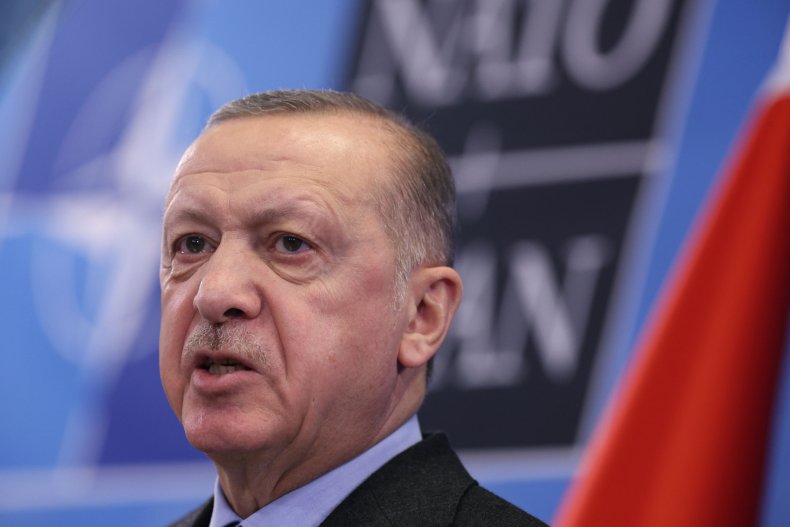 Putin has cited concerns that Ukraine could join NATO as one of his justifications for Russia's invasion of its neighbor in late February. But the war seems to have backfired on Russia by inspiring Finland and possibly Sweden to seek NATO membership out of fears about Russian aggression.
"NATO membership would strengthen Finland's security. As a member of NATO, Finland would strengthen the entire defense alliance," Finnish President Sauli Niinistö and Prime Minister Sanna Marin said in a joint statement Thursday.
Newsweek reached out to Turkey's presidential office and Russia's Foreign Ministry for comment.