What Donald Trump Has Said About Gun Control as He Heads to NRA Convention
Former President Donald Trump is scheduled to speak at the National Rifle Association (NRA) annual meeting in Houston, which is taking place just days after a mass shooting at a school in Uvalde, Texas.
Trump confirmed he would be appearing at the NRA Institute for Legislative Action (NRA-ILA) Leadership Forum despite the fact that the event was occurring just days after 19 children and two teachers were shot dead at Uvalde's Robb Elementary School.
Trump, who got an early endorsement from the NRA before he was nominated as the Republican presidential candidate in 2016, gave mixed signals over his views on gun reform in the U.S. while in the White House
During Trump's time as president, the U.S. saw a number of high-profile mass shootings, including a shooting at Marjory Stoneman Douglas High School in Parkland, Florida, attacks in El Paso, Texas, and Dayton, Ohio, and in Las Vegas, where a gunman killed 60 people after opening fire at a country music festival, making it the deadliest mass shooting in modern U.S. history.
Below, Newsweek has compiled some of Trump's statements on gun reform during his time as president, ranging from increasing background checks and banning bump stocks, to arming teachers.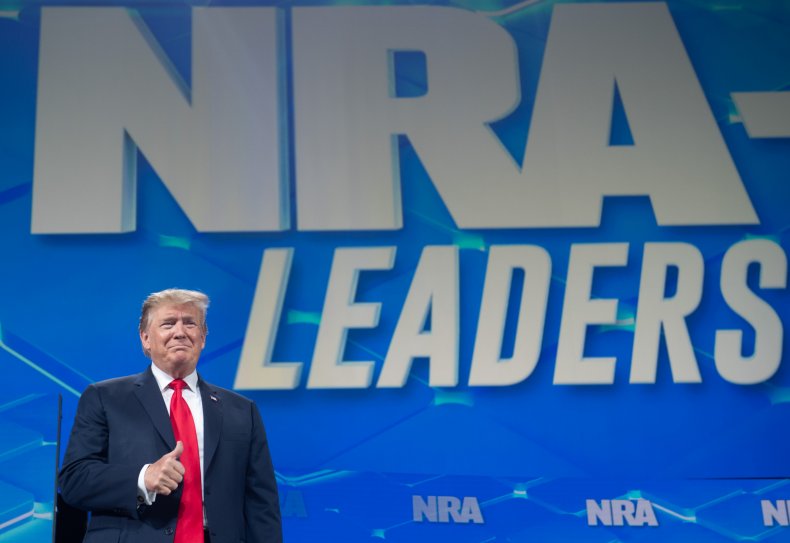 Increased Background Checks
Trump has frequently called for improved background checks on individuals in order to prevent mass shootings from occurring.
Speaking in August 2019 in the wake of the El Paso and Dayton shootings, which left 23 and nine people dead respectively, Trump said there was "no political appetite" for an assault weapons ban, but there is for stricter background checks.
"There's a great appetite and I mean a very strong appetite for background checks. And I think we can bring up background checks like we've never had before," Trump said. "I think both Republicans and Democrats are getting close to a bill—to doing something on background checks.
"I think background checks are important. I don't want to put guns into the hands of mentally unstable people or people with rage or hate, sick people," Trump added. "I'm all in favor of it."
Trump also suggested Republicans and Democrats "must come together and get strong background checks" along with vague promises to tie them in with immigration reform.
However, one year after the shooting at Parkland's Marjory Stoneman Douglas High School which left 17 people dead, Trump threatened to veto two Democratic bills which would have expanded federal background checks on gun purchases.
The White House said at the time the bills would infringe on people's Second Amendment rights and result in "burdensome delays" for those looking to legally purchase a firearm.
The bills ultimately never passed after being approved by the House.
Red Flag Laws
In the wake of the Dayton attack, Trump also called for "red flag" laws to prevent further tragedies.
The laws would allow guns to be removed from those who may be a danger to themselves and others.
"We must make sure that those judged to pose a grave risk to public safety do not have access to firearms, and that, if they do, those firearms can be taken through rapid due process," Trump said in August 2019. "That is why I have called for red flag laws, also known as extreme risk protection orders."
Florida introduced such laws in the wake of the Parkland shooting. So far, 18 other states and the District of Columbia have also enacted red flag laws to combat gun violence.
Bump Stock Ban
Trump was successful in banning bump stocks, the controversial accessory which effectively turns semi-automatic rifles into rapid-fire machine guns, during his time in office.
Trump brought forward measures to ban bump stocks after Las Vegas gunman Stephen Paddock used one to alter his AR-15 assault rifle to kill 58 people, with the death toll eventually rising to 60, and injuring more than 500 at the Route 91 Harvest country music festival in October 2017.
"Bump stocks, we are writing that out. I am writing that out," Trump said in February 2018. "I don't care if Congress does it or not, I'm writing it out myself.
"The bullets come out fast, but you don't know where the hell they're going. That's why nobody even really, too much, came to its defense. He [Paddock] used it in Las Vegas. He was using bump stocks in Las Vegas, as you know. So, I'm getting rid of them."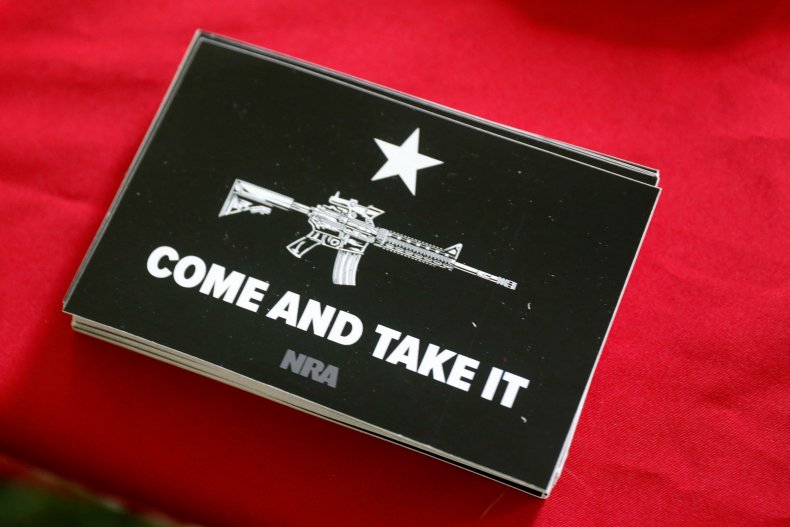 Arming Teachers
Trump also said he would consider a proposal to allow teachers to have guns on campus would prevent mass shootings in the wake of the Parkland attack, a suggestion which is still being mentioned following the Uvalde shooting.
"An attack has lasted, on average, about three minutes," Trump said during a meeting in the White House also attended by parents of Parkland victims. "It takes five to eight minutes for responders, for the police, to come in. So the attack is over. If you had a teacher who was adept at firearms, they could very well end the attack very quickly."
Trump later denied his remarks were calling for giving teachers firearms to prevent school shootings.
"I never said 'give teachers guns' like was stated on Fake News CNN & @NBC," Trump tweeted in February 2018.
"What I said was to look at the possibility of giving concealed guns to gun adept teachers with military or special training experience—only the best. 20 percent of teachers, a lot, would now be able to."