NRA Convention 2022 Attendees—Full List of Republicans Appearing in Texas
A number of Republicans are still scheduled to attend a National Rifle Association event in Houston, Texas, just days after the Uvalde school shooting.
The NRA Institute for Legislative Action (NRA-ILA) Leadership Forum will be held at the George R. Brown Convention Center from Friday to Sunday.
The annual event by the pro-gun lobby group is being held as the debate on gun reform in the country has been reignited in the wake of the mass shooting at Robb Elementary School, which left 19 children and two teachers dead, as well as criticism of the influence the NRA has over lawmakers in the country.
As with previous years, the NRA meeting will feature a number of Republicans as guest speakers, as well as the NRA's head, Wayne LaPierre, and Jason Ouimet, the executive director of the group's lobbying arm.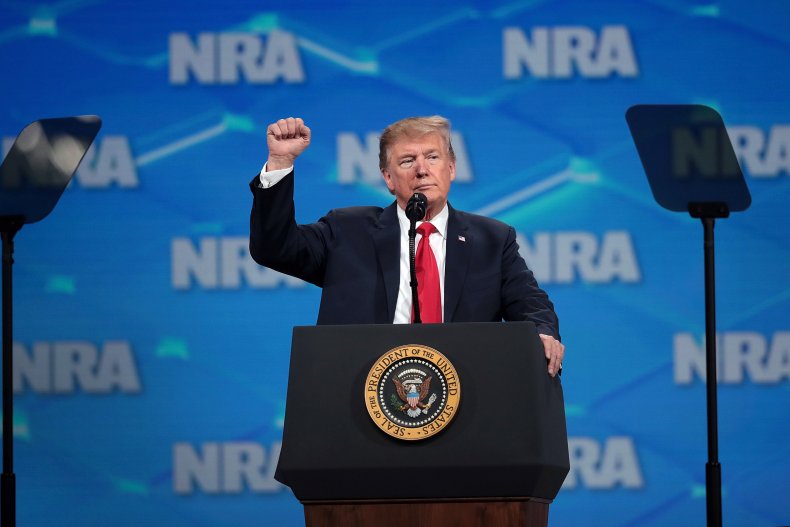 The biggest name scheduled to speak is Donald Trump, who confirmed he will still be attending the event despite it being held just days after the Uvalde massacre.
"America needs real solutions and real leadership in this moment, not politicians and partisanship," Trump wrote on Truth Social.
"That's why I will keep my longtime commitment to speak in Texas at the NRA Convention and deliver an important address to America. In the meantime, we all continue to pray for the victims, their families, and for our entire nation—we are all in this together!"
Trump has previously said he is a proud member of the organization, even lauding his two adult sons as lifetime members who are "serious NRA."
"We love the Second Amendment, folks. Nobody loves it more than us, so just remember that," Trump told his supporters in February 2016.
However, one person who will now no longer be appearing in person is Texas Governor Greg Abbott.
Instead, Abbott's spokesperson Mark Miner confirmed that the governor will be addressing the crowd in Houston through a prerecorded video.
Texas Senator John Cornyn, who was also scheduled to speak at the event, previously confirmed he would no longer be appearing for personal reasons.
"Prior to the tragedy today in Uvalde we had already informed the NRA he would not be able to speak due to an unexpected change in his schedule," Cornyn's spokesperson said in a statement.
"He now has to be in D.C. for personal reasons on Friday."
Rep. Dan Crenshaw, also listed to speak at the event, told Fox News on Wednesday that he will also be backing of the convention because he is traveling to Ukraine and "wouldn't be back in time."
Full List of Republicans Appearing at the NRA Event in Texas
Former President Donald Trump
Texas Senator Ted Cruz
South Dakota Governor Kristi Noem
North Carolina Lt. Gov Mark Robinson
Elsewhere, three musicians who were set to sing at the event over the weekend— Don McLean, Larry Gatlin and Larry Stewart—have pulled out due to the Uvalde mass shooting.
"I just did not believe it was the right thing to do," Gatlin told CNN.
"It would have been kind of a classy move on the NRA's part, and they need some good PR right now, if they'd cancel the whole thing and said, 'Hey, we're going to go in here for one big moment and say a prayer for those folks or have a moment of silence, and we'll come back and do this later. We can always have our big convention.'"
Cruz, Noem and Robinson have been contacted for comment.
Correction 05/27/2022, 7:20 a.m. ET: This article has been amended to state that Rep. Dan Crenshaw has pulled out of attending the NRA event.