Las Vegas Shooting Anniversary: City Reflects on Mass Shooting That Killed 58 One Year Ago Today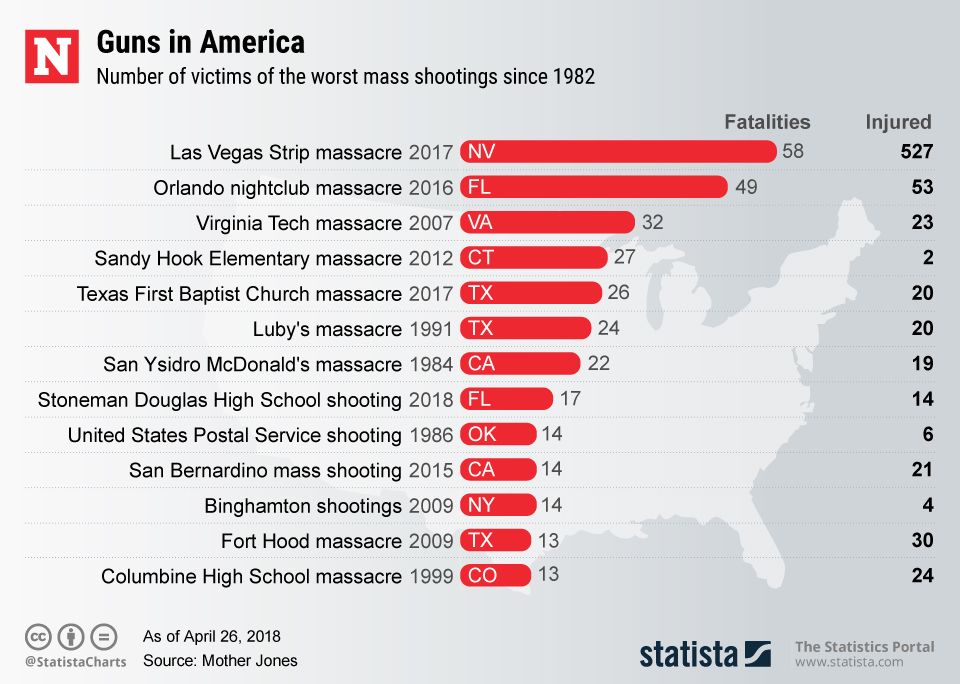 A series of events and ceremonies are due to take place to mark the one-year anniversary of the Las Vegas shooting, which left 58 people dead.
A full day of tributes is planned citywide on October 1 to pay respects to the dozens of victims who died in the deadliest mass shooting in modern United States history.
A sunrise remembrance will be held at 6:30 a.m. local time at the Clark County Government Amphitheater to honor those who were killed at the Route 91 Harvest country music festival last October.
The event will feature a 58-second silence and the release of 58 doves, as well as speeches from Nevada Governor Brian Sandoval, Clark County Sheriff Joe Lombardo and Mynda Smith, whose sister Neysa Tonks was killed in the massacre, reported Las Vegas Now.
Later, the Las Vegas Police Department is scheduled to hold a prayer meeting at the City Hall, with a remembrance event also due to take place 6:30 p.m. at the Community Healing Garden, a memorial in downtown Las Vegas created after the shooting.
Later, at 10:01 p.m, the lights along the famous Las Vegas strip will go dark in a display of respect, with names of all 58 victims being read out during a ceremony at the Community Healing Garden at 10:05 p.m.—the time when gunman Stephen Paddock opened fire at the crowd from his hotel room at the Mandalay Bay Hotel and Resort.
Elsewhere, Governor Sandoval has ordered flags across the state to fly at half-staff, reported USA Today. He is also encouraging state employees and all Nevadans to wear "Vegas Strong" clothing to honor the victims.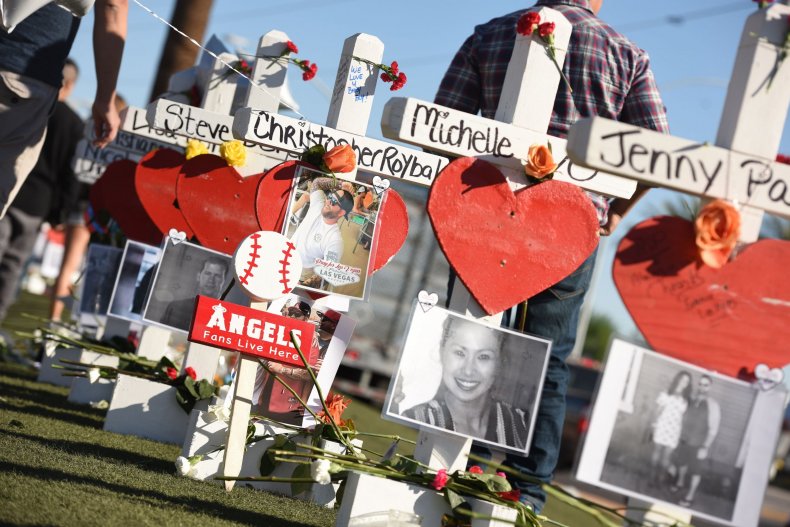 "Our great state has shown the country, and indeed the world, what Vegas Strong is every day for nearly a year," Sandoval said in a statement. "The events of October 1 affected so many, and I think it is only right to show the world again how Vegas Strong Nevada is on the one-year anniversary."
The attack in Las Vegas once again raised the issue of gun control in the United States, which has experienced three of its five deadliest shootings in the last two years.
The previous one occurred when Omar Mateen killed 49 people after opening fire at the Pulse nightclub in Orlando, Florida, in June 2016.
The third and fourth deadliest mass shootings occurred in education facilities: Thirty-two people were killed in 2007's Virginia Tech attack, and 27 people, mostly children, died in the Sandy Hook shooting in Newtown, Connecticut, in 2012.
November 2017's massacre at the First Baptist Church in Sutherland Springs, Texas—just one month after the Las Vegas attack—is the fifth deadliest mass shooting in modern U.S. history, with 26 people, inducing children, gunned down.
Questions were raised as to why Paddock was able to purchase an arsenal of weapons he took to his room at the hotel before carrying out the attack.
Police found 23 assault-style rifles, one handgun and thousands of rounds in the room after Paddock killed himself.
More than half the rifles, including AR-15s, had been modified with a bump stock, turning the weaposn into rapid-fire machine guns able to fire up to 800 rounds per minute.
Authorities later confirmed that all 55 firearms Paddock obtained between October 2016 and September 2017, including those used in the attack, had been purchased legally.
Read more: Las Vegas Shooting: Remarkable Images Captured by Photojournalist Who Happened to Be at the Scene
The motive behind the attack may never be known. The Las Vegas Police Department confirmed in August it was shutting down its official investigation into the shooting, with no answer to why the 64-year-old committed the atrocity.
Police were unable to find any evidence of radicalization or of Paddock following a hate group or terrorist organization. He did not express any strong political or religious views, and friends and family said they'd never witnessed him being violent.
Paddock's behavior may have indicated signs of a troubled mind in the months leading up to the shooting, but police said there was nothing that would have raised any suspicions. The gunman did not leave a manifesto detailing his reasons for the massacre.
Announcing the closure of the investigation, Sheriff Lombardo said Paddock had never committed a crime until he fired his first shot into the crowd last October.
"By all accounts, Stephen Paddock was an unremarkable man whose movements leading up to October 1 didn't raise any suspicion," Lombardo told a press conference.
"What we have been able to answer are the questions of who, what, when, where and how," he continued. "What we have not been able to definitively answer is the why Stephen Paddock committed this act."
The infographic below, provided by Statista, shows the level of gun violence in the United States.