Bump Stock Inventor Slide Fire to Shut Down 8 Months After Las Vegas Shooting
The inventor and biggest manufacturer of the controversial bump stock firearm accessory has announced it is shutting down its business and will no longer be taking orders next month.
Slide Fire Solutions, which makes the device that effectively turns semi-automatic rifles into rapid-fire machine guns, said its website will close on May 20 and will cease taking orders for its products.
"Orders placed prior to May 20, 2018 will all be processed and shipped. We thank you for your support," a statement on its website added.
Slide Fire and bump stocks were heavily criticized last year after it was found that gunman Stephen Paddock used one to alter his AR-15 assault rifle to fire up to 800 rounds per minute at the crowd attending the Route 91 Harvest country music festival last October, killing 58 and injuring more than 500.
A further 12 devices were found among the arsenal of weapons and several thousand rounds of ammunition in Paddock's hotel room.
Slide Fire's Jeremiah Cottle, who patented the design of the bump stock, has been forced to defend it several times in court. "I built something, and a madman is taking it all away," Cottle told Bloomberg in the wake of the Las Vegas attack.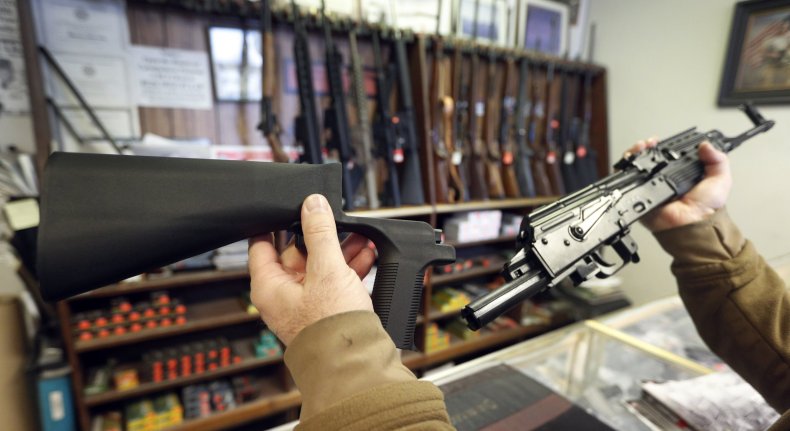 President Donald Trump announced his administration will ban "all devices that turn legal weapons into illegal machine guns" in the wake of the Las Vegas massacre and the Marjory Stoneman Douglas High School shooting in Parkland, Florida which left 17 people dead.
"Obama Administration legalized bump stocks. BAD IDEA," Trump tweeted on March 23. "As I promised, today the Department of Justice will issue the rule banning BUMP STOCKS with a mandated comment period."
The Brady Center to Prevent Gun Violence filed a lawsuit against Slide Fire and other bump stock manufacturers following the Las Vegas attack.
The group claimed the shooting resulted from "military-style arsenal that the defendants manufactured, marketed, and sold to the public, without any reasonable measures or safeguards."
Avery Gardiner, co-president of the Brady Center to Prevent Gun Violence, described the announcement from Slide Fire as a "positive development."
"Whether it was our lawsuit, business realities, or the impending federal regulation against bump stocks that led to this decision, we don't know yet," she told USA Today.
"I'm sure in the lawsuit, we'll learn more about their announcement about closing their website and what they plan to do with their assets, including their patent."