Eric Greitens, GOP Senate Candidate, Accused of Domestic Abuse By Ex-Wife
Eric Greitens, a former governor of Missouri and a candidate for the U.S. Senate, was accused of domestic abuse by his ex-wife, Sheena Greitens, court documents show.
The documents in which Sheena Greitens accused her ex-husband of "unstable and coercive behavior" and abuse are part of a child custody dispute, the Associated Press reported. The allegations outlined in the court documents include Eric Greitens allegedly hitting his then-3-year-old son.
The allegations could have an effect on Greitens' chance of winning the Senate race, which has received national attention since Republican Roy Blunt announced this month that he would not seek re-election.
Eric and Sheena Greitens divorced after a 2018 sex scandal that led to Greitens' resignation as governor. The Republican faced charges of felony invasion of privacy after being accused of sexually assaulting a woman he was having an affair with and using nude photos of her as blackmail. Though he admitted to having the affair, he denied the assault allegations. The charges were eventually dropped.
In an affidavit obtained by AP, Sheena Greitens wrote that in April of 2018, she and her then-husband got into an argument and he knocked her down and took away her cellphone, wallet and keys "so that I was unable to call for help or extricate myself and our children from our home."
"I became afraid for my safety and that of our children at our home," she wrote, adding that his "behavior included physical violence toward our children, such as cuffing our then-3-year-old son across the face at the dinner table in front of me and yanking him around by his hair."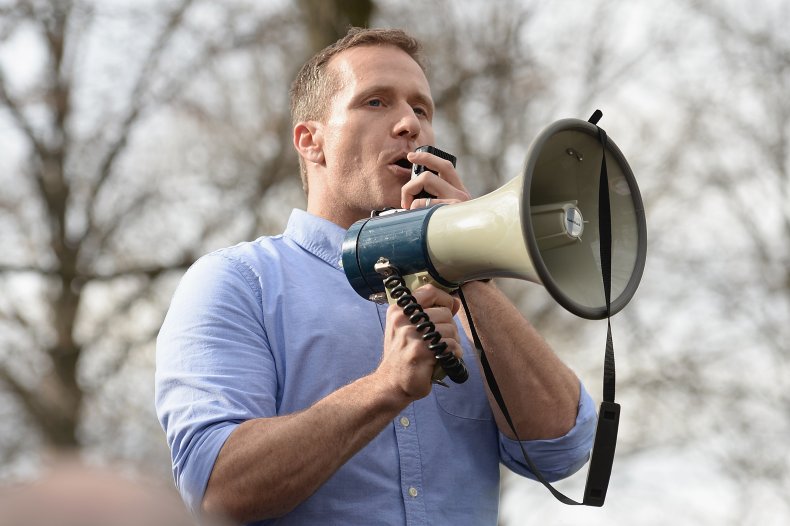 She added that he allegedly threatened multiple times that he would use his political influence to accuse her of child abuse and win custody of their children, and to get her fired from her job as a professor at the University of Texas, according to AP.
She also accused him in the affidavit of buying a gun and not telling her where he stored it, threatening to kill himself "unless I provided specific public political support."
In a statement sent to Newsweek, Greitens' press team said the allegations are false and "politically motivated," and accused Sheena Greitens of having a "documented history of mental illness and emotionally abusive behavior," calling her a "deranged individual."
"The fact is that Eric has maintained, and will maintain custody of his children," the statement said. "His ex-wife is engaged in a last-ditch attempt to vindictively destroy her ex-husband. Though she knows that the press will viciously repeat her false allegations, Eric has always been a great dad, who loves his boys and has always put them first, and that is why he is filing for full custody of his children."
Sheena Greitens did not immediately respond to Newsweek's request for comment.
Update 3/21/22, 1:41 p.m. ET: This story was updated with additional information.