Eric Greitens: Missouri Governor Resigns After Making 'Fair and Just' Deal on Pending Charges
Missouri Governor Eric Greitens, embroiled in a sexual misconduct scandal, resigned after the St. Louis prosecutor said the Republican reached a "fair and just" deal over the "pending charges" against him, though no details were given.
Greitens, 44, was accused by an unnamed woman with whom he had an affair of sexual assault, using nude photos of her for blackmail, and violence. He admitted the affair with the woman, who was his hairdresser, but denied any criminal wrongdoing.
The married former Navy SEAL faced a charge of felony invasion of privacy over the alleged nude image. He also faced a separate charge of felony computer tampering relating to the alleged misuse of a donor list belonging to his veterans charity, The Mission Continues.
"I have been in contact with the Governor's defense team over the past several days," St. Louis Circuit Attorney Kim Gardner said in a statement on Tuesday. "We have reached a fair and just resolution of the pending charges. We will provide more information tomorrow."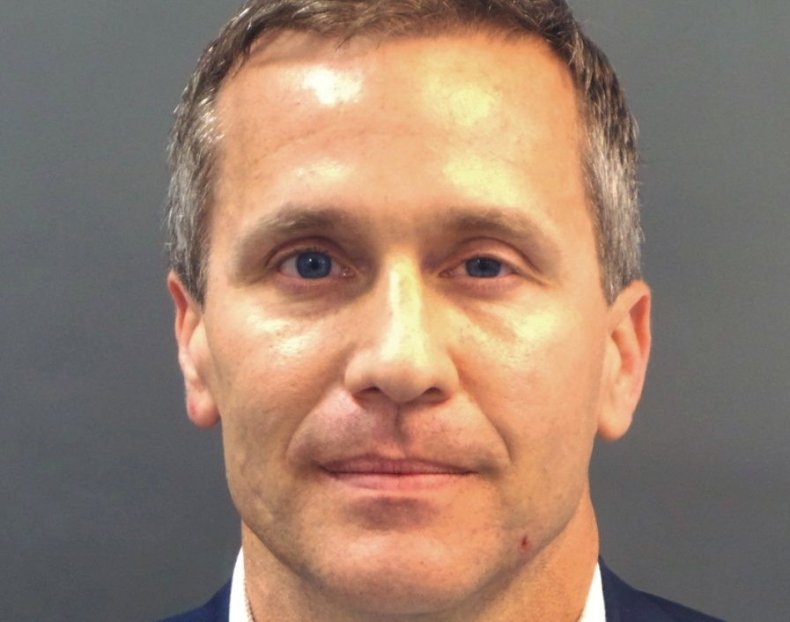 Greitens was under intense pressure from both Democrats and Republicans to resign the governorship he secured in 2016 after the scandals emerged. But Greitens, who denies all but the affair with the woman, stood firm—until now.
"The last few months have been incredibly difficult for me, for my family, for my team, for my friends and for many, many people," Greitens said in a speech on Tuesday, announcing that he will resign as of Friday at 5 p.m.
"It's clear that for the forces that oppose us there is no end in sight. I cannot allow those forces to continue to cause pain and difficulty to the people that I love.
"I know, and people of good faith know, that I am not perfect. But I have not broken any laws or committed any offense worthy of this treatment. I will let the fairness of this process be judged by history."
Greitens had faced trial in early May on the invasion of privacy charge. But Gardner withdrew the charge when she could not avoid being called as a witness, making her position as prosecutor in the trial untenable. She made plans to have the charge filed again and asked Jackson County Prosecutor Jean Peters Baker to take over the investigation.
And that investigation is ongoing, despite the deal made between Gardner and Greitens.
"In the interest of pursuing justice to its fullest lengths, we will continue until our work on the case is completed," Baker said in a statement.
"Specifically regarding any deals we made with Governor Greitens' attorneys, no deals were made by my office. Our review of this case, as I have stated before, will be pursued without fear or favor. My office will not make any further comments on this case."
The accuser's disturbing allegations were detailed in a report by a Special Investigative Committee on Oversight of the Missouri House of Representatives.
She claimed Greitens taped her hands to pull-up rings in his basement and then blindfolded her before he took an unauthorized picture on his cell phone.
However, she also admitted that she did not see him actually take a photograph, and that she may have been "remembering it through a dream," though it is not clear what she meant by that.
The report's authors acknowledge that the "committee does not possess any physical or electronic evidence of a photograph or its transmission."
The woman alleges that after Greitens took the photograph, he said: "You're not going to mention my name. Don't even mention my name to anybody at all, because if you do, I'm going to take these pictures, and I'm going to put them everywhere I can. They are going to be everywhere, and then everyone will know what a little whore you are."
She also claims Greitens coerced her into giving oral sex, and at a second sexual encounter, smacked her and shoved her to the floor.
Greitens denies the allegations.