Eric Munchel, Capitol Rioter With Zip Ties, and His Mother Charged With Conspiracy
Authorities have charged Eric Munchel, the Capitol rioter carrying zip ties, and his mother with conspiracy after footage of the January 6 insurrection showed the duo with a mob of President Donald Trump supporters.
Munchel and Lisa Eisenhart were charged with "knowingly and wilfully conspiring with persons known and unknown," according to an FBI filing in the U.S. District Court for the District of Columbia. The FBI said video footage taken from inside the Capitol building "captures Eisenhart and Munchel in the vicinity of a mob of individuals that are physically attacking two Capitol Police officers guarding entry into the Senate chambers."
In one video, officers being chased by a mob of rioters can be seen running past the mother-son duo, prompting them to join behind the group, the FBI explained. Another clip of the incident shows Munchel and Eisenhart among the mob "inside the Senate chambers, having entered through the very area that the officers were guarding before the assault."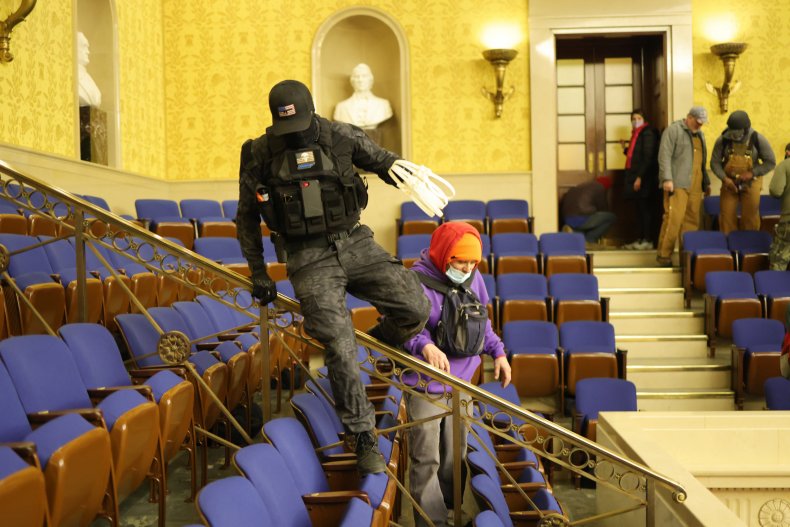 The official Twitter account of the U.S. Attorney's Office for the Middle District of Tennessee announced that Eisenhart was taken into custody by FBI Agents in Nashville on Saturday "on charges relating to the U.S. Capital riots... that include conspiring with her son, Eric Munchel to violate federal statutes."
Munchel was arrested in Tennessee last Sunday and charged with "one count of knowingly entering or remaining in any restricted building or grounds without lawful authority and one count of violent entry and disorderly conduct on Capitol grounds," according to a Department of Justice statement.
Photos from Getty Images of a suspect wearing black riot gear and carrying zip ties have widely circulated on social media in the aftermath of the attack, prompting concern that protesters may have planned to take lawmakers hostage.
Munchel was later identified by authorities as the zip tie-carrying suspect. "Photos depicting his presence show a person who appears to be Munchel carrying plastic restraints, an item in a holster on his right hip, and a cell phone mounted on his chest with the camera facing outward, ostensibly to record events that day," the DOJ said.
The FBI also arrested Anthime Joseph Gionet, a far-right activist nicknamed "Baked Alaska," on Friday and charged him with two federal crimes in relation to the Capitol riot. Nicole Miller, an FBI agent, said Gionet had recorded a nearly 30-minute video that showed him saying, "We are in the Capitol," and chanting, "Patriots are in control."
Newsweek reached out to the Department of Justice for further information.