Eric Swalwell Expects Mark Meadows to Comply With Subpoena Following Bannon Indictment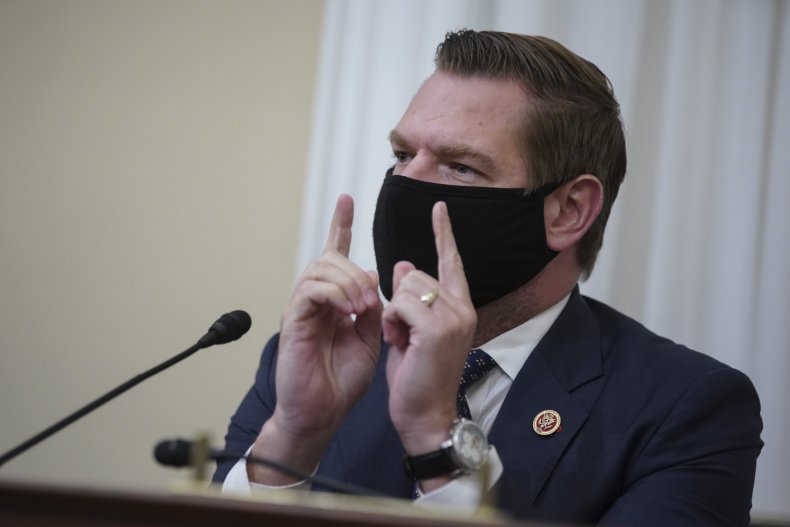 Representative Eric Swalwell (D-Calif.) has predicted that Mark Meadows, former aide to ex-President Donald Trump, will ultimately comply with his January 6 Committee subpoena after criminal charges were filed against Steve Bannon.
Swalwell made the remarks during an interview with MSNBC's Nicolle Wallace shortly after Bannon, Trump's former White House chief strategist, was indicted by a federal grand jury on contempt charges for defying his own subpoena from the committee. Meadows did not appear at a scheduled private hearing with the House panel at 10 a.m. Friday and could be the next to face criminal contempt charges.
"Mark Meadows is gonna realize he doesn't look good in orange and that he, like many others, are gonna come forward and want to cooperate," Swalwell said. "The Department [of Justice] has shown that there is no other path. Maybe Mark Meadows thought that the years of lawlessness would continue under Joe Biden. Well, they're not."
"Not coming forward will be perceived by the commission as a consciousness of guilt—that he would only say something that incriminates the president and his conduct," he continued. "They would draw a negative inference towards his silence."
Representative Bennie Thompson (D-Miss.), chair of the House Select Committee to Investigate the Attack on the U.S. Capitol, told Meadows that there was "no valid legal basis" for his "continued resistance to the Select Committee's subpoena" in a letter on Thursday.
The letter, addressed to Meadows' lawyer George Terwilliger, warned the former Trump aide that the committee would view his "failure to appear at the deposition, and to produce responsive documents" as an act of "willful non-compliance." Terwilliger's office told Newsweek that Meadows was locked in a "sharp legal dispute with the committee."
Bannon said that he defied his subpoena on the advice of Trump's legal team. The former president had promised to "fight" the committee's subpoenas by invoking executive privilege. President Joe Biden, who currently wields executive privilege as the sitting president, rejected Trump's claim.
In addition, a federal judge earlier this week ruled that Trump could not prevent the National Archives from supplying the committee with materials on the basis of executive privilege. The judge wrote that executive privilege did not continue "in perpetuity" before noting that "Presidents are not kings and [Trump] is not President."
Thompson and committee Vice Chair Representative Liz Cheney (R-Wyo.) issued a joint statement on Friday warning Meadows that legal consequences could be on the way after he failed to appear at his scheduled hearing.
"Mr. Meadows's actions today—choosing to defy the law—will force the Select Committee to consider pursuing contempt or other proceedings to enforce the subpoena," the statement reads. "If his defiance persists and that process moves ahead, the record will reveal the wide range of matters the Select Committee wished to discuss with Mr. Meadows until his decision to hide behind the former President's spurious claims of privilege."
"It's unfortunate that Mr. Meadows has chosen to join a very small group of witnesses who believe they are above the law and are defying a Select Committee subpoena outright," it continues. "Mr. Meadows, Mr. Bannon, and others who go down this path won't prevail in stopping the Select Committee's effort getting answers for the American people about January 6th."
Newsweek reached out to Terwilliger for comment.