Trump Says He'll Invoke Executive Privilege to Block 1/6 Committee Subpoenas of His Advisers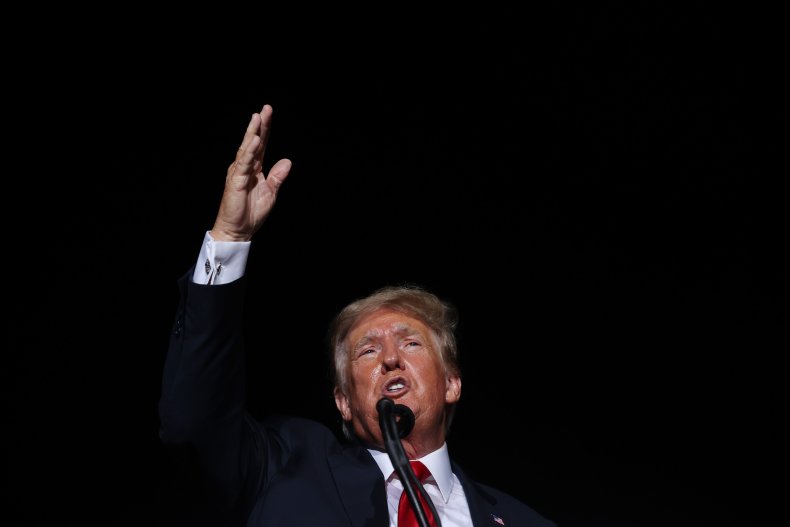 Former President Donald Trump has vowed to invoke "executive privilege" to block subpoenas issued to four of his ex-advisers by the House Select Committee to Investigate the January 6 attack on the U.S. Capitol.
The committee on Thursday issued subpoenas to former Trump adviser Steve Bannon, former Trump White House Chief of Staff Mark Meadows, former Department of Defense official Kash Patel and former White House Deputy Chief of Staff for Communications Dan Scavino.
Trump promised to use powers he once wielded as president to "fight" the subpoenas, while suggesting that the 1/6 committee should issue subpoenas to "Antifa" and Black Lives Matter—two loosely organized, decentralized groups that were not involved in the January 6 insurrection.
"We will fight the Subpoenas on Executive Privilege and other grounds, for the good of our Country, while we wait to find out whether or not Subpoenas will be sent out to Antifa and BLM for the death and destruction they have caused in tearing apart our Democrat-run cities throughout America," Trump said in a statement shortly after the subpoenas were issued.
"Hopefully the Unselect Committee will be calling witnesses on the Rigged Presidential Election of 2020, which is the primary reason that hundreds of thousands of people went to Washington, D.C. in the first place," he added. "Let the people of the United States see the real facts, which cannot happen because the Fake News refuses to write about them. The Witch Hunt will never end!"
Although Trump has repeatedly claimed that massive fraud prevented him from being officially declared the winner of the election, he lost to President Joe Biden by 74 Electoral College votes and more than 7 million popular votes, and there is no credible evidence to back up claims of any significant voter fraud.
Trump issued a statement on Wednesday complaining that the "Lamestream" media does not report massive fraud "no matter how much evidence they see," while simultaneously suggesting that "proof" of the fraud is yet to be released by insisting that when "the information becomes public, people will see that it wasn't even close."
The former Trump administration officials were each sent letters by committee Chairman Rep. Bennie Thompson (D-Miss.) on Thursday and given until October 7 to comply with the subpoenas by producing documents related to January 6 and the days leading up the breach of the Capitol. Depositions for all four men were scheduled for October 14 and October 15.
Although a legal battle is nearly certain to take place, it is not clear that Trump has any executive privilege since he is now a former president, with the privilege currently belonging to Biden and those serving in the executive branch under him.
Newsweek reached out to Thompson's office for comment.