Eric Trump Calls Out Joe Biden for Spending Time Away From White House
Eric Trump has criticized President Joe Biden for spending time away from the White House during times of national crisis.
The son of former president Donald Trump made the comments during a discussion about the ongoing supply chain crisis on Fox News's Hannity on Monday night.
Eric Trump criticized Biden for going to his home in Wilmington, Delaware, during the withdrawal from Afghanistan and accused others in his cabinet of fleeing Washington, D.C., at critical moments instead of "getting to work" to solve problems.
"The other thing that really bothers me, Sean, about this situation is, where is everybody during this crisis?" he asked host Sean Hannity. "Every crisis that Biden has and every single day there's another one, whether it be Afghanistan or the border, right, the leaders leave."
He went on to allege that Transportation Secretary Pete Buttigieg is "nowhere to be found" and accused Vice President Kamala Harris of avoiding traveling to the U.S.-Mexico border after the arrival of thousands of mostly Haitian migrants at a camp in Del Rio, Texas.
"So Pete Buttigieg during this whole crisis is nowhere to be found," Eric Trump said. "He's on paternity leave, right, but then you add Kamala Harris when you have this massive border crisis and where does she go? She goes nowhere near the border in fact she goes to South America to not solve that problem and she goes overseas to Asia to again not work on that problem.
"When Afghanistan is falling, guess what? You have President Biden who is in Delaware not solving that problem. Why is it that every person in the Biden cabinet flees and runs away every single time there's a problem as opposed to actually putting their head down, getting to work and solving the damn problem?"
A brief clip that featured Trump's comment about Biden went viral after it was posted on Twitter by journalist Aaron Rupar.
"Eric Trump criticizes Joe Biden for spending time at his personal property instead of the White House," Rupar wrote. "Irony is deader than dead."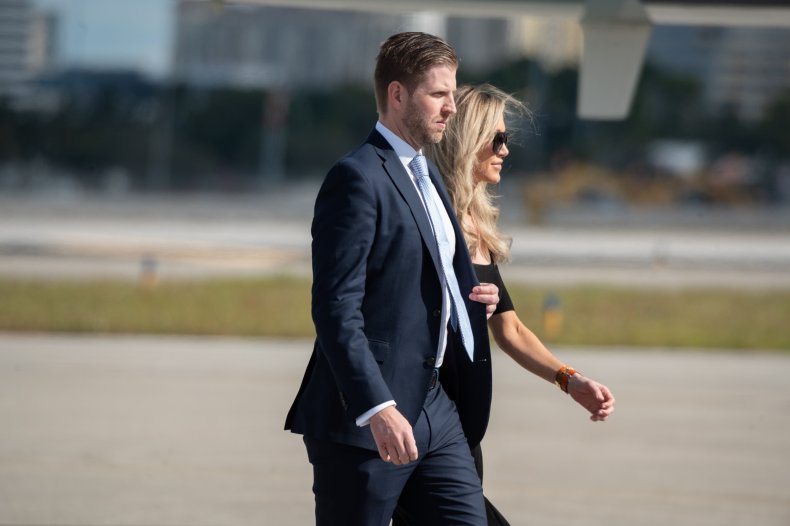 Others also pointed out the hypocrisy of the comment, pointing to the frequent visits Donald Trump took to Trump-branded properties and golf courses during his presidency.
"Maybe Eric will accuse Biden of nepotism while he's at it," one user quipped.
Another joked: "Imagine what the Trumps would say if Biden was caught on a golf course!"
According to the Citizens for Responsibility and Ethics in Washington (CREW), Donald Trump made about 550 visits to Trump-brand properties and at least 328 visits to his golf clubs during his term despite telling reporters during his candidacy that he would "rarely leave the White House" as president.
The White House and the Trump Organization have been contacted for comment.