Eric Trump: Republican Party Is Now the Trump Party
Eric Trump has said that the GOP is the party of his father, following Representative Liz Cheney's resounding primary defeat in Wyoming.
Analyzing the aftermath of Cheney's defeat to Harriet Hageman, Eric Trump touted the influence that his father had on the GOP.
Hageman benefited from the former president's backing, which followed Cheney's condemnation of Donald Trump and her role in investigating the riot at the U.S. Capitol on January 6, 2021.
Following the result in which Hageman took at least 66.3 percent of the vote, to Cheney's 28.9 percent, the former president's second eldest son was asked on conservative channel Newsmax whether the Republican Party was now the "party of Trump."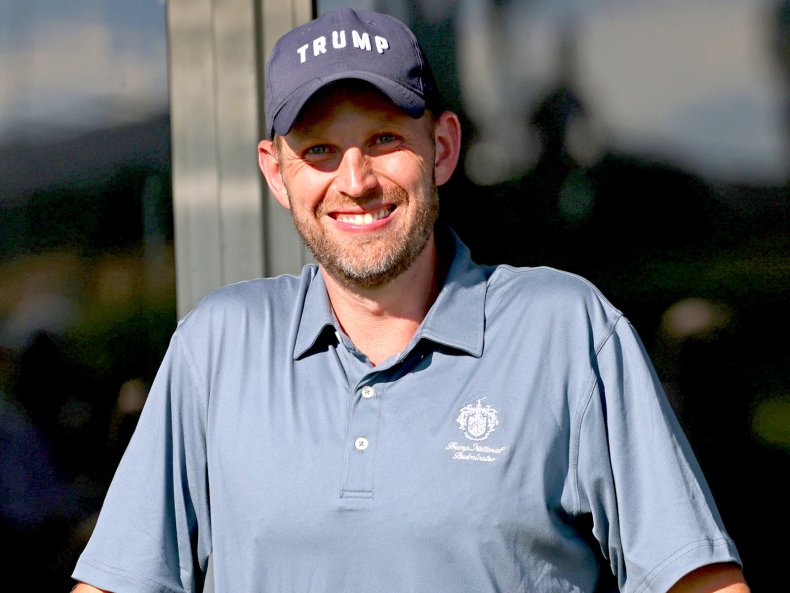 "There's no question. I mean, it's not even the Republican Party. I'd say it's actually the Trump party," he said on Wednesday.
He praised his father's endorsement rate which he said was "incredible." According to Ballotpedia, ex-President Trump has had a 92 percent success rate in 2022—or 183-17—in endorsing primary candidates. This was lower than the figure Eric Trump gave Newsmax of "176 to six."
"Most of the time, endorsements are worth absolutely nothing. No one cares about endorsements," Eric Trump said, describing how his father had brought in Latino and Black voters.
"My father has literally brought in a whole new party from the RINO [Republican in name only] class of the Republican Party," he said.
"He literally brought in a whole new party that stands for something totally different than the wider class of the Republican Party ever stood for," he said. "My father's really redefined what the party is, how the party speaks to its constituents and I think it's exactly why you have this overwhelming support in all of the people he's endorsed."
Some experts agreed that the former president has influence in the GOP as he purges it of dissenters like Cheney and others who have defied him, ahead of the midterm elections in November.
"There's no doubt that the GOP remains thoroughly Trumpified, and supporting Trump and at least giving lip service to the 'Big Lie' have become litmus tests for Republicans making serious bids for state and local office," said founding director of University College London's Centre on U.S. Politics, Thomas Gift.
"If there's one lesson from Cheney's lopsided defeat, it's how difficult it is to run as a Republican who doesn't embrace the former president with the level of toadying fealty he expects," he told Newsweek.
"Even candidates who don't win Trump's coveted endorsement continue to throw everything but the kitchen sink at voters in an effort to prove they're in Trump's good graces," he said. "That proves how much sway Trump continues to exert over the party."
Of the 10 House Republicans including Cheney who voted to impeach Trump for inciting the Jan. 6, 2021 insurrection, only two remain candidates for re-election. The others have bowed out or have lost to Trump-backed challengers.
"It's just a party of Donald Trump's fever dreams," Mark Salter, a former Republican aide to the late Sen. John McCain told the Associated Press. "It's just Donald Trump's club."
The anti-Trump political action committee (PAC), Lincoln Project, said that Cheney's defeat marked "the end of the Republican Party."
"What remains shares the name and branding of the traditional GOP, but is in fact an authoritarian nationalist cult dedicated only to Donald Trump."
Columnist and author Brian J. Karem tweeted: "There is no GOP any more. Just Trump and those modeled after him, many of whom are ready to fight for control of the party once Trump leaves."
Newsweek has contacted the Republican Party for comment.