Video: Eric Trump Says 'Radicalized' Democrats Push 'Anti-American' Message—'We'd Become Venezuela'
President Donald Trump's son Eric Trump accused the Democrats of becoming "radicalized" and seeking to turn America into crisis-stricken Venezuela.
Trump, executive vice president of the Trump Organization, made an appearance on Sean Hannity's Fox News show Tuesday night.
He took aim at the Democrats over a range of popular policies in the party, such as standing against the president's southern border wall, higher taxes for the top earners, and free healthcare for all American citizens.
"The Democrats are not the party of JFK. They've become so radicalized," Trump said.
"They don't want law and order. They want to tax people to death. They want to get businesses out of this country. They want to let anybody in to this country. They want to bankrupt the system through free healthcare for all.
"How do you pay for this stuff? We would become Venezuela...It doesn't work. That's not what America's about. America's about hard-working people. America's about capitalism. America's the greatest country in the world because people work for that American dream."
Trump continued: "It's insane. And they've become so radicalized. It's not gonna work. They've become crazy. The message doesn't even make sense anymore. It's almost an anti-American message."
Venezuela, which for the past two decades has been governed by a radical socialist regime, is in the grip of a political and economic crisis. Many of its people are starving and millions of Venezuelans have fled the poverty, violence and tyranny to seek refuge elsewhere.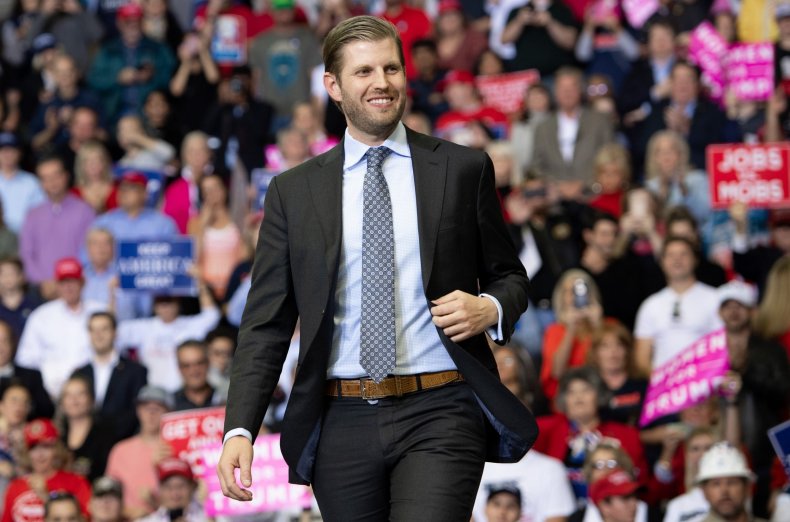 Trump also called his father "the greatest guy in the world" and said the president is doing a "damn good job."
Since the shutdown debacle over funding for his wall, President Trump's approval rating has worsened sharply. According to FiveThirtyEight's poll tracker, Trump began December with 42.4% approving of his presidency and 52.7% disapproving.
Now, just 39.8% of Americans approve of his presidency and 55.8% disapprove of it. He shouldered most of the blame for the weeks-long federal government shutdown after saying he was "proud" to close the government "for border security."
Democrats, who hold a majority in the House, refused to approve a budget with any of the $5.7 billion Trump demanded to fund his wall along the Mexico border, arguing it was expensive, ineffective, and a political gimmick. Trump eventually caved and reopened the government.
But he has threatened to declare a national emergency over the border issue, which Trump claims is a crisis, to bypass Congress altogether and secure the money he needs to build the wall. Such a move would likely face multiple legal challenges.
"I want him to declare an emergency," Eric Trump told Hannity. "He said, you know what, I'm going to open up government, and let's see if [Democrats] were actually being truthful.
"That once government was reopened, that they would come to the table and negotiate something that's fair.
"And honestly, if they don't, declare the emergency, build the wall with the United States military because that's what people in this country want. And then redouble your efforts on legal immigration.
"Get great people in this country because that's what America wants, that's what America needs."
The president's middle son also claimed the Democrats had "become the party of obstruction and nonsense and investigations because they have nothing else."
President Trump's 2016 campaign is under investigation by special counsel Robert Mueller over suspicions of collusion with agents of the Russian government to undermine American democracy.
One strand of that investigation is whether Trump has obstructed justice by seeking to interfere with or disrupt Mueller's probe.
There are over a dozen investigations involving President Trump, according to Business Insider, related to either his political campaign, his businesses, or his charitable activity.