Erika Jayne Responds to Jennifer Lawrence's 'Evil' Jibe in Cutting Swipe
The Real Housewives of Beverly Hills star Erika Jayne has responded to Jennifer Lawrence calling her "evil," taking a swipe at the Oscar-winning screen star's personality.
While attending the Toronto International Film Festival recently, Lawrence, 32, made clear her feelings about reality star Jayne—and the current season of the show.
"My biggest problem with this season is that it's just been boring and I think that Erika is evil," Lawrence, a "superfan" of the show, told Variety. "I would go as far as to say, she needs a publicist ASAP."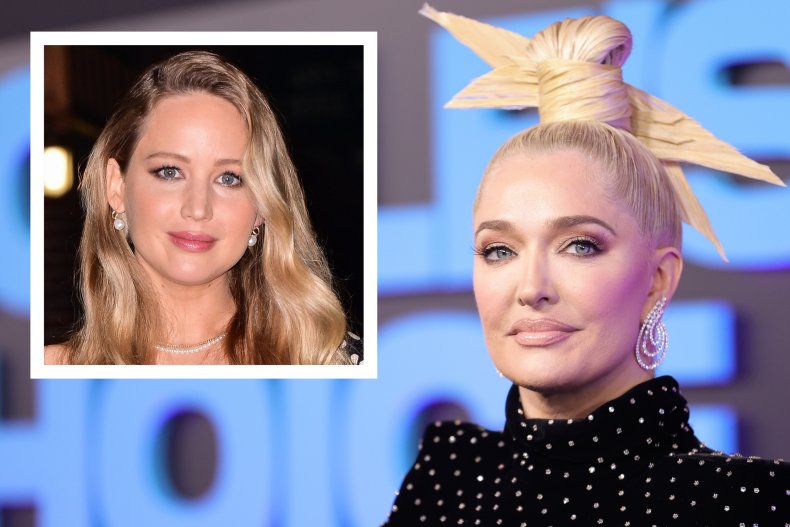 On Wednesday's installment of Watch What Happens Live, host Andy Cohen asked Jayne, 51, for her thoughts on Lawrence's comments.
Jayne responded: "Well, you know, it's easy to label people when they are at their absolute lowest going through something in real time on television."
"But anytime that she would like to come on down and mix it up with us, I'm sure that we could unmask the ugly parts of her personality, as well," Jayne added.
Jayne has been at the center of a series of controversies on and off the screen, including confrontations with her co-stars and allegations of racketeering.
She faces allegations in a lawsuit including racketeering, conspiracy to commit racketeering, unlawful business practice and deceit and more.
Edelson PC, which filed the lawsuit, alleges that Jayne and her estranged husband, Tom Girardi, "routinely misappropriated client settlement money to project an image of wealth and to prop up a lifestyle made for reality TV."
"Tom and Erika Girardi purposefully portrayed themselves to the public as an extremely wealthy Beverly Hills power couple," the suit continued, claiming Erika's company EJ Global, in particular, "was created for the purpose of funneling money from Girardi Keese to benefit Erika."
This is not Jayne's first legal headache. In August 2021, it was reported that she had been sued for $25 million by the trustee handling the Girardi Keese bankruptcy case.
Although Jayne has not spoken out about the allegations, her lawyer, Evan C. Borge, previously defended his client.
"I can't say enough that based on the evidence and law, Erika does not have liability for any of the claims against her," Borge told Us Weekly in September 2021. "All the claims against Erika amount to efforts to blame her for the actions of others, including Girardi Keese and Tom Girardi."
Meanwhile, Lawrence's love of the Real Housewives reality franchise goes back several years. The Don't Look Up star told Vanity Fair in 2014: "I do love my Real Housewives ... New York Housewives, and Beverly Hills, New Jersey and Atlanta Housewives. I mean, I love them all, but Miami—oh, my God!"
"Miami is really special," continued Lawrence, who is married to art gallerist Cooke Maroney. "Basically, what I'm saying is all I need in a relationship is somebody to watch TV with me."