Video of 'Real Housewife' Erika Jayne Being Served With Lawsuit Goes Viral
A video of Erika Jayne being served a $50 million lawsuit after stepping off a plane in Los Angeles is going viral.
The clip, posted by the @bestofbravo Instagram account, shows The Real Housewives of Beverly Hills star leaving Los Angeles International Airport as a woman approached her with two stacks of paperwork.
"I just wanted to give you these documents," the woman can be heard saying. "This is a summons and complaint to serve you."
"Thank you very much," Jayne replied.
The 51-year-old looked casual in a cream-colored sweatsuit with a T-shirt underneath. She wore her blonde hair in a bun and used a face mask while exiting baggage claim. The Bravo star had been on vacation with her castmates Lisa Rinna and Diana Jenkins.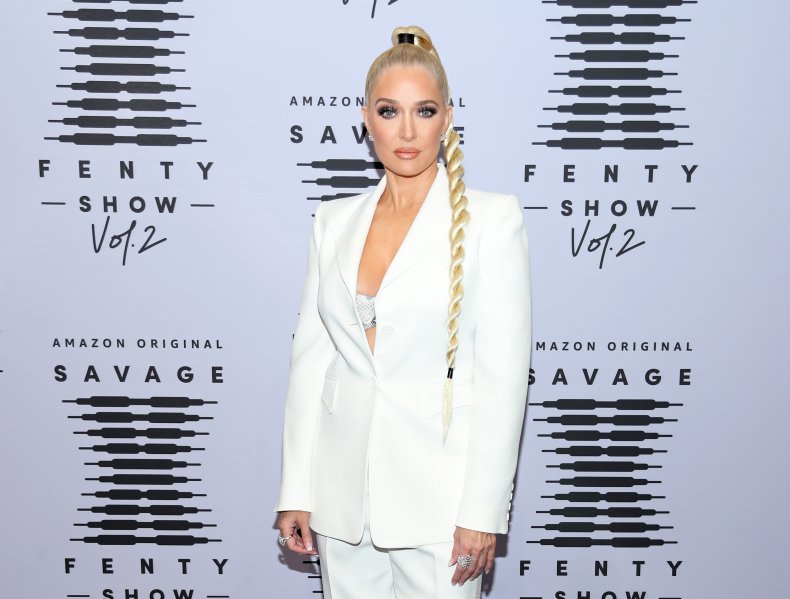 Fans were quick to comment on the post, with one person writing: "That's one way to return from vacation lol ... I mean it's always pretty bad coming home after a trip but probably not 'getting-served-with-50-million-lawsuit' bad."
Another person, who noticed Rinna made a brief appearance in the clip, added: "Rinna already on her phone giving the tea to the group chat."
Meanwhile, Entertainment Tonight correspondent Lauren Zima said: "Googles 'racketeering.'"
At the time of publication, the video garnered 6,455 likes and nearly 300 comments. Other Instagram accounts like @therealhousewiveszone, @allaboutrh and more have also posted the clip, and it's been making the rounds on Twitter as well.
Page Six reported Jayne is accused of nine charges including racketeering, conspiracy to commit racketeering, unlawful business practice and deceit and more.
Edelson PC, who filed the lawsuit, alleges that Jayne and her estranged husband, Tom Girardi, "routinely misappropriated client settlement money to project an image of wealth and to prop up a lifestyle made for reality TV."
"Tom and Erika Girardi purposefully portrayed themselves to the public as an extremely wealthy Beverly Hills power couple," the suit continued, claiming Erika's company EJ Global, in particular, "was created for the purpose of funneling money from Girardi Keese to benefit Erika."
This is not Jayne's first run-in with the law. In August 2021, it was reported that she was being sued for $25 million by Girardi Keese, the trustee handling Girardi's firm's bankruptcy case.
Additionally, one month after she filed for divorce in November 2020, Jayne and her ex were accused of embezzling funds intended for the families of plane crash victims.
Although Jayne has not spoken out about the allegations, her lawyer, Evan C. Borge, previously defended his client.
"I can't say enough that based on the evidence and law, Erika does not have liability for any of the claims against her," Borge told Us Weekly in September 2021. "All the claims against Erika amount to efforts to blame her for the actions of others, including Girardi Keese and Tom Girardi."
Newsweek reached out to Jayne's legal team for comment.