'Erratic' American Airlines Passenger Arrested for Making 'Alarming Statements' During Flight
A passenger who exhibited "erratic behavior" and made "alarming statements" onboard an American Airlines flight to Philadelphia has been taken into custody over the incident.
Philadelphia police said the incident took place at approximately 9:18 a.m. on Thursday while American Airlines Flight 2392 was making its way to Philadelphia International Airport (PHL) from Orlando International Airport in Florida.
Police sources told NBC News in a statement that the man, who was not publicly identified, approached the cockpit area of the plane and told a flight attendant on board that he wanted to speak to the pilot.
A passenger on the plane told NBC Philadelphia the man had not been wearing a face mask and allegedly said "Where's my parachute?" as he had moved towards the flight deck.
Police initially stated the passenger had tried to enter the cockpit, but a preliminary investigation determined the man did not in fact attempt to break into the area.
"The subject allegedly told one of the flight attendants that he wanted to speak with the pilot upon approach, approximately 80 miles out from PHL—and then subsequently ran back to his seat," police said.
"One male flight attendant and one male passenger sat with this subject until landing. At no point did the subject attempt to leave his seat for the duration of the flight."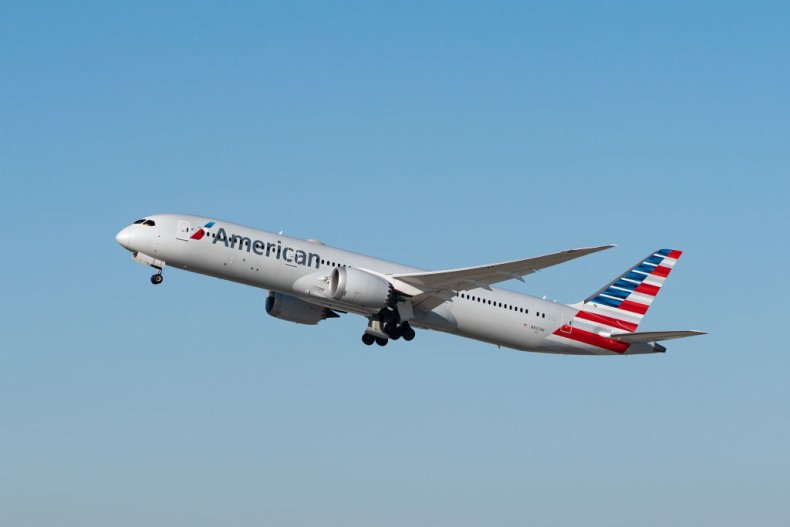 Other passengers onboard also reportedly assisted crew members by protecting the airplane's exit doors as the man had approached the flight deck.
American Airlines said in a statement that flight crew had become aware of a passenger "exhibiting erratic behavior and making alarming statements" during the journey.
The airline confirmed the man did not "actively attempt" to breach the door leading into the cockpit area, however, and added that the cabin crew took "precautionary measures" amid the disturbance.
No one was injured in the incident, police said, with the man taken into custody after the plane landed, as planned, in Philadelphia. He was later taken to a nearby hospital.
Officers also stated the man had not been carrying any weapons and confirmed no charges were filed against him.
Newsweek has contacted American Airlines for comment.
The incident on Thursday came after months of disruption for the airline industry across the globe, with passenger numbers slashed dramatically amid the ongoing coronavirus pandemic.