Escalating Rhetoric, Confusion Threaten Stimulus Bill as Democrats Reject Two GOP Offers
Tensions between congressional leaders escalated to levels not seen since before the election within the course of 24 hours on Tuesday and Wednesday, potentially jeopardizing the chances of reaching a coronavirus relief deal in the coming days.
In addition, confusion is swirling on Capitol Hill, as Republicans and the White House have put forward dueling proposals that clash with ongoing negotiations among a bipartisan and bicameral coalition of lawmakers.
In a new turn of events, Senate Majority Leader Mitch McConnell on Tuesday suggested that the two sticking points preventing a deal—state and local governmental aid and liability protections—be excluded from any package and focus solely on his "targeted" $500 billion bill. That legislation focuses on unemployment insurance, small-business relief and vaccine funding.
Hours later, the White House made a separate offer, costing $916 billion. It's the only offer that includes one-time direct payments for Americans—to the tune of $600, half the amount of the CARES Act's $1,200 checks—but excludes a weekly jobless benefit.
The new offers came despite a congressional group's continued efforts to reach a bipartisan agreement for a $908 billion package. However, they've yet to hash out a final deal on state and local aid, as well as the liability shield, according to the group's latest proposal outline that was obtained by Newsweek. (It can be viewed at the bottom of this story.)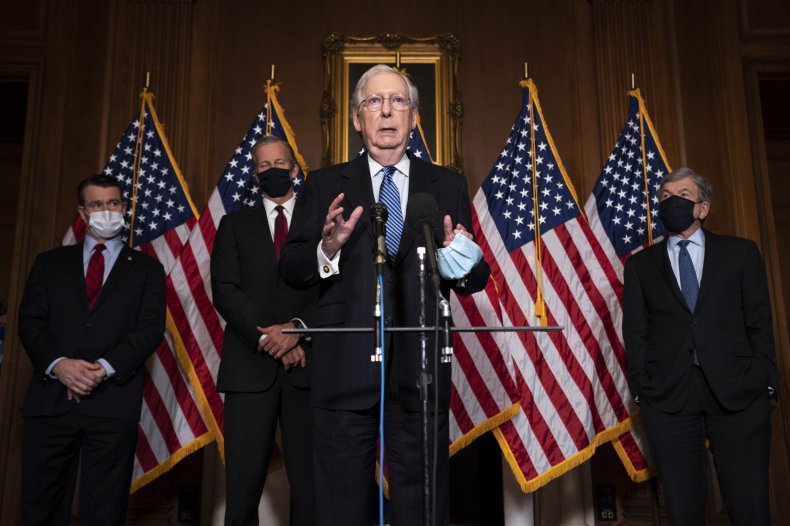 Democrats were quick to reject both GOP offers, arguing that Congress' best chance is to get behind the bipartisan plan, though its text is still unavailable just days before lawmakers are slated to leave for the Christmas break.
Senate Minority Leader Chuck Schumer (D-N.Y.) and House Speaker Nancy Pelosi (D-Calif.) accused McConnell of "sabotaging" the bipartisan talks and labeled the White House's offer "unacceptable" because it excluded supplemental unemployment money.
The rejections prompted outrage from McConnell, who called the Democrats' rebuff of the White House's plan "bizarre and schizophrenic."
"At every turn, they have delayed, deflected, moved the goalposts and made the huge number of places where Congress agrees into a hostage of the few places we do not," the Kentucky Republican said on the floor. "Can anyone point to a single sign, from April through now, that Democratic leaders have seriously wanted another bipartisan deal to become law?"
Whether rank-and-file Republicans, in addition to leaders like McConnell, will get on board with the final bipartisan plan remains to be seen. The latest outline shows that the group still needs to find a suitable compromise on liability protections and aid to state and local governments.
The two lawmakers spearheading the liability language, Senators Lindsey Graham (R-S.C.) and Angus King (I-Maine), said Tuesday that they were close to an agreement that will hopefully "equally dissatisfy both sides."
Under state and local funding, the bipartisan plan's outline states that there is an "agreement in principle to provide $160 billion as the basis for good faith negotiations."
"[People] need the House and the Senate to stop chasing our tails and make law," McConnell said. "But we can't do a thing unless the Democrats decide they want to make law."