The Escalation in Gaza Was Predictable—and Avoidable. Why The Tragic Cycle Never Ends | Opinion
The images coming out of my home, Gaza, are devastating: Neighborhoods decimated. People lying broken and bloody on the streets. Children, lying dead, two of them in a single hospital bead; their bodies were too small to have a whole bed each, and there's no space left in an already overcrowded emergency room.
Israeli airstrikes followed promptly after Hamas, the armed group that rules Gaza, fired a barrage of projectiles into civilian neighborhoods on the Judean Hills near Jerusalem, in response to far-right settler parades and Israeli police brutality against Palestinians in East Jerusalem; the police violence included brutal incursions into Islam's third holiest site, Al-Aqsa Mosque, during the year's holiest month of Ramadan.
And like so much of the Israeli-Palestinian conflict writ large, so much of the current spate of attacks was avoidable. Monday's tragic, blood-soaked events have all been part of a vicious cycle entrapping Palestinians and Israelis for far too long. It's one that's all too easy for us Palestinians to predict and anticipate, and yet the decision-makers on both sides seem incapable of learning any lessons from these tragedies, like how to avoid them next time.
This would have been the perfect time to learn such a lesson. The first three months of 2021 have been the least violent for Israel in the last three decades. There were almost no rockets fired from the blockaded Gaza Strip and no successful lone wolf attacks across the occupied West Bank and East Jerusalem. Stability, albeit one resting on shaky foundations, seemed to be prevailing.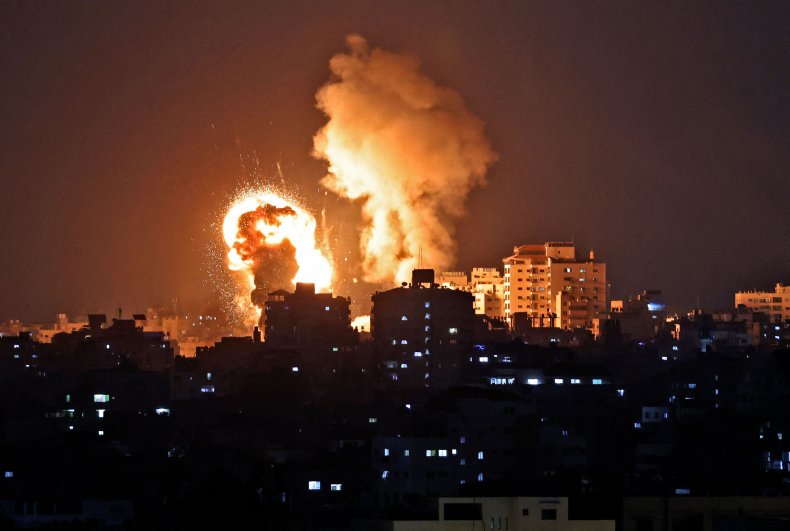 But in the midst of this calm, Israel pushed us further into a corner. It continued to build its settlements in Givat Hamatos and Har Homa; it imposed strict restrictions on Muslim worshippers' access to the al-Aqsa mosque during Ramadan. It installed barriers at the Damascus gate. And it worked to forcefully evict Palestinian families in Sheikh Jarrah.
So it's not surprising that, taking their cues from the state, settlers and hard right Israeli politicians, including Israeli Prime Minister Benjamin Netanyahu's new partners, the Kahanists, feel emboldened. Accompanying the state's provocations has been a surge in settler attacks on Palestinians and their farms and properties across the West Bank in recent months. And it all culminated in a riot in Jerusalem on April 22 when Israeli extremists, led by the far-right anti-miscegenation group Lehava, cried "Death to Arabs!" and beat up a number of Palestinians. Palestinians fought back, in some cases violently with attacks of their own, and Israeli police responded, leaving 100 wounded.
This saga continued for weeks. Every day throughout Ramadan, we were treated to daily scenes of wounded protesters, humiliated worshippers, and people Israel was trying to evict from their homes begging not to be cast out on the street. Palestinians felt humiliated and powerless—and enraged.
And it's in the context of this rage that Hamas's credibility grows. It's in this context, as Israeli police invaded one of our holiest sites, that Palestinians in the al-Aqsa Mosque called for help from Gaza via loudspeakers.
It is in these despairing moments that the Palestinian community, long suspicious of Hamas, begins to see marginal advocates of violence as their only hope. It's in this context that the claim that Israelis only understand force and "Might makes right," gains force.
Hamas's violent rhetoric, which is unjustifiable and antithetical to peace, becomes palatable and even compelling to Palestinians in times of despair, crisis, and pressure; it's never as weak as it is in times of peace and progress.
Hamas, of course, knows this. For the last week, Hamas has been issuing daily statements of condemnation, pledging to strike if the situation in Jerusalem continues. Monday was the opportune moment for Hamas to deliver on its promises, with Israeli police invading and throwing stun grenades and tear gas inside the Al-Aqsa Mosque, and with plans for the yearly Israeli "Flags March," organized by extremists and fundamentalists, which passes through the Muslim quarter in Jerusalem (it was canceled at the very last minute).
Many have rightly pointed out that today's Hamas rockets are not only unnecessary but do a great disservice to the Palestinian uprising in Jerusalem; it shifts the gaze of the international community from a David and Goliath scene of praying Palestinians in Jerusalem to a militant escalation that stirs little sympathy or solidarity.
And at the end of the day, the victims are always the civilians who pay the price for the cynicism and cowardice of those political calculations; the death toll in Gaza at the time of this writing was 20, while an Israeli civilian has been wounded, too.
Palestinians and Israelis both deserve better. There's a pathway there for anyone willing to seize it and see the other side of this conflict for who they are: fellow humans.
Muhammad Shehada is a writer and civil society activist from the Gaza Strip and a student of development studies at Lund University, Sweden. He was the PR officer for the Gaza office of the Euro-Med Monitor for Human Rights.
The views expressed in this article are the author's own.