Esper Flipflops and Leaves Troops in DC as Trump Spars With Mattis
Active duty military personnel deployed to Washington, D.C. in response to individuals protesting the Minneapolis death of George Floyd were expected to be sent home on Wednesday. That decision was reversed by U.S. Secretary of Defense Mark Esper, leaving troops on standby in case demonstrations in the area became violent. Meanwhile, both Secretary Esper and President Donald Trump drew criticism from former defense secretary James Mattis for their response to the protests in the district.
On Monday, Trump said he was sending "thousands and thousands of heavily armed soldiers, military personnel and law enforcement officers" to Washington. By claiming that action was possible, Trump seemed to be referring to the Insurrection Act of 1807, which would give the president the power to use active-duty soldiers as law enforcement officers.
"If a city or a state refuses to take the actions that are necessary to defend the life and property of their residents," Trump said, "then I will deploy the United States military and quickly solve the problem for them."
Secretary Esper said Wednesday that he did not believe the situation in D.C. was severe enough to support that decision.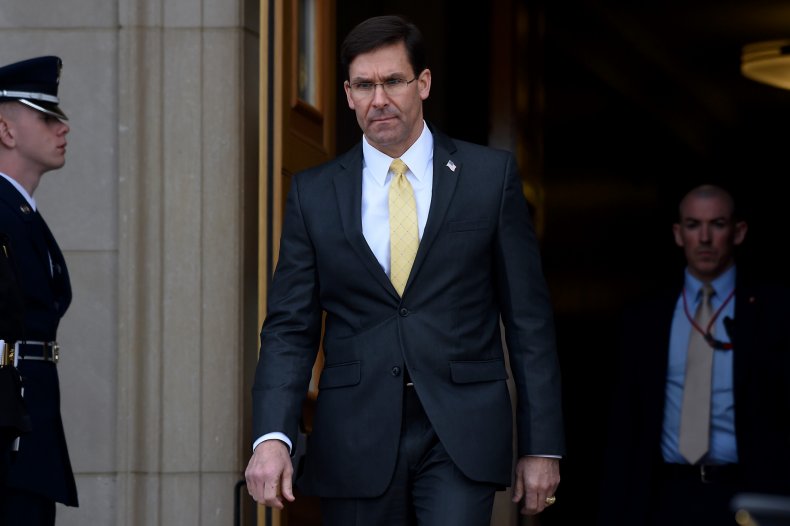 "I do not support invoking the Insurrection Act," Esper said at a Wednesday press conference. "I've always believed and continue to believe that the National Guard is best suited for performing domestic support to civil authorities in these situations in support of local law enforcement." Esper added that using active military personnel to enforce laws was a "last resort."
The decision to keep troops near D.C. for an extra 24 hours came after Esper had a meeting with White House officials. It has not been confirmed that Esper spoke directly with President Trump. Army Secretary Ryan McCarthy told the Associated Press on Wednesday that the situation in D.C. was "dynamic" but that it was "prudent to have the reserve capability in the queue, on a short string."
According to information sent to Newsweek by a Department of Defense official, the decision was made to keep the active forces ready "based on information concerning additional large protests. Military leaders are continuously monitoring this dynamic situation."
White House Press Secretary Kayleigh McEnany told reporters during a Wednesday news briefing that Trump could still make the decision to use military forces. "At this time he's relying on surging the streets with National Guard," McEnanay said. "It's worked with great effect."
Although active duty troops have been ready to intervene in case of violent protests, they have not been utilized.
Many observers, including Trump's former defense secretary General James Mattis, think using U.S. forces against Americans would be a poor decision. In a statement published by The Atlantic magazine, Mattis criticized Trump's photo opportunity at St. John's Episcopalian Church on Monday.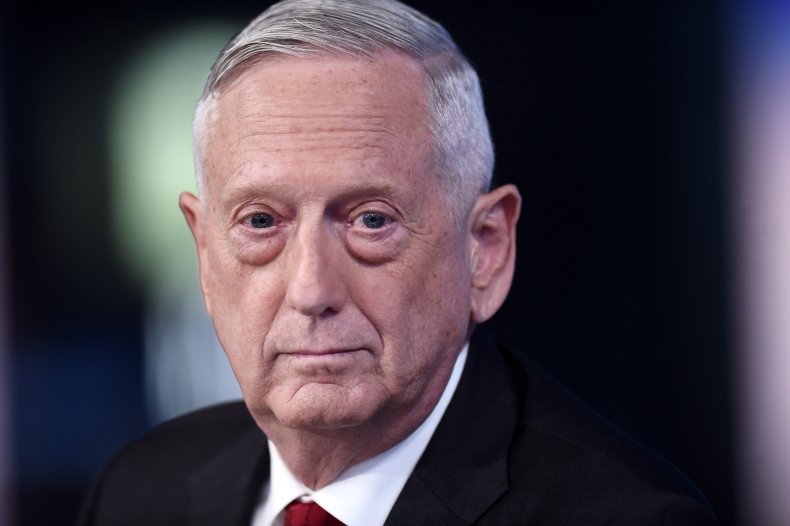 Protesters were cleared out of nearby Lafayette Park by U.S. Park Police and the U.S. Secret Service prior to Trump's arrival at the front of the church. Reports circulated that tear gas was used to dispel the protesters. Acting Chief Gregory T. Monahan of the United States Park Police has denied those claims.
"We know that we are better than the abuse of executive authority that we witnessed in Lafayette Park," Mattis wrote. "We must reject and hold accountable those in office who would make a mockery of our Constitution."
Trump responded to Mattis' statement on Twitter Wednesday night. Trump said firing Mattis was the only thing he had in common with President Barack Obama. Obama removed Mattis as commander of Central Command in 2013.
Trump referred to Mattis as the "world's most overrated General" Wednesday. "I asked for his letter of resignation, & felt great about it," Trump wrote.
"I didn't like his 'leadership' style or much else about him, and many others agree," Trump added. "Glad he is gone!"
Updated 12:09 a.m. 6/4/2020: This story was updated to include information from the Department of Defense.