ESPN Reporter Says 'If No NFL Team Called Colin Kaepernick Again, I Don't Blame Them' Following His Workout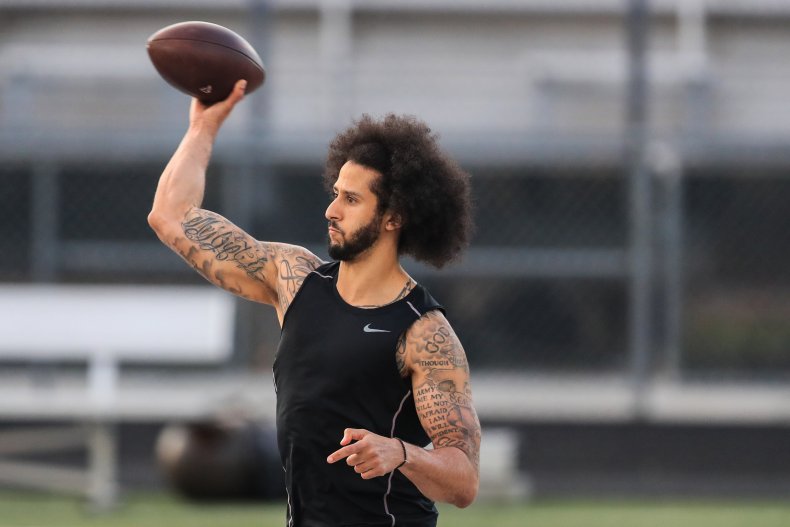 While appearing on ESPN's Get Up on Monday morning, Stephen A. Smith expressed his views on the former NFL quarterback Colin Kaepernick and the outcome of his controversial workout on Saturday.
"If no NFL team ever called Colin Kaepernick again I don't blame them," Smith said. "That's not to say I don't want him in the NFL, I think that he was blackballed, I think that it was unfair what has been done to him. Obviously he should be in the National Football League based on his talent, but that's separate in part from what transpired on Saturday."
Smith's comments referenced Kaepernick's decision to relocate his workout from the Atlanta Falcons training facility to a high school approximately 51 miles away only 30 min prior to the start of the invitation only event. Following the NFL's announcement of the workout on November 12, 25 teams were set to attend but the relocation led to just six teams attending.
Since his workout, Smith, as well as the NFL, have expressed their views on Kaepernick's decision to set his own location and move the planned workout.
"We are disappointed that Colin did not appear for his workout. He informed us of that decision at 2:30 p.m. today along with the public," the NFL said in a statement on Saturday.
Prior to his comments Monday, Smith took to Twitter on Saturday to express his immediate reaction.
"He doesn't want to play, he wants to be a martyr," Smith said in a video. "You don't wanna work, you just want to make noise and you want to control the narrative."
Following Kaepernick's relocated workout and Smith's comments, a number of people have come out to express their views on both sides of the situation.
Former NFL defensive lineman and host of ESPN's Golic and Wingo, Mike Golic talked about how he felt Kaepernick's decision to move the workout cost him a job.
"If he was so invested in saying I've been working out for the last three years playing football, work out in front of 25 teams," Golic said. "If your goal was to play football, in my opinion, you cost yourself by not performing in front of 25 teams."
While some feel that Kaepernick's decision to move the workout was part of a publicity stunt, others feel that it had nothing to do with a potential signing of the quarterback.
"Also understand that all 32 NFL teams have had three years to contact Colin Kaepernick about a workout. That some of them are pump-faking like the schedule change was a determining factor is a lie. They were never serious in the first place," Jemele Hill of The Atlantic wrote on Twitter.
Former NBA guard and host of ESPN's Jalen and Jacoby, Jalen Rose also expressed his support of Kaepernick despite the workout relocation.
"I have no problem with him changing the workout location," Rose said. "The ultimate goal was to have something take place that hadn't taken place in three years, thats for him to have an opportunity to work out in front of NFL personnel."
Despite six teams attending his workout, Kaepernick remains a free agent as of Monday.