Ethiopia's Feyisa Lilesa Fails to Return From Rio After Oromo Protest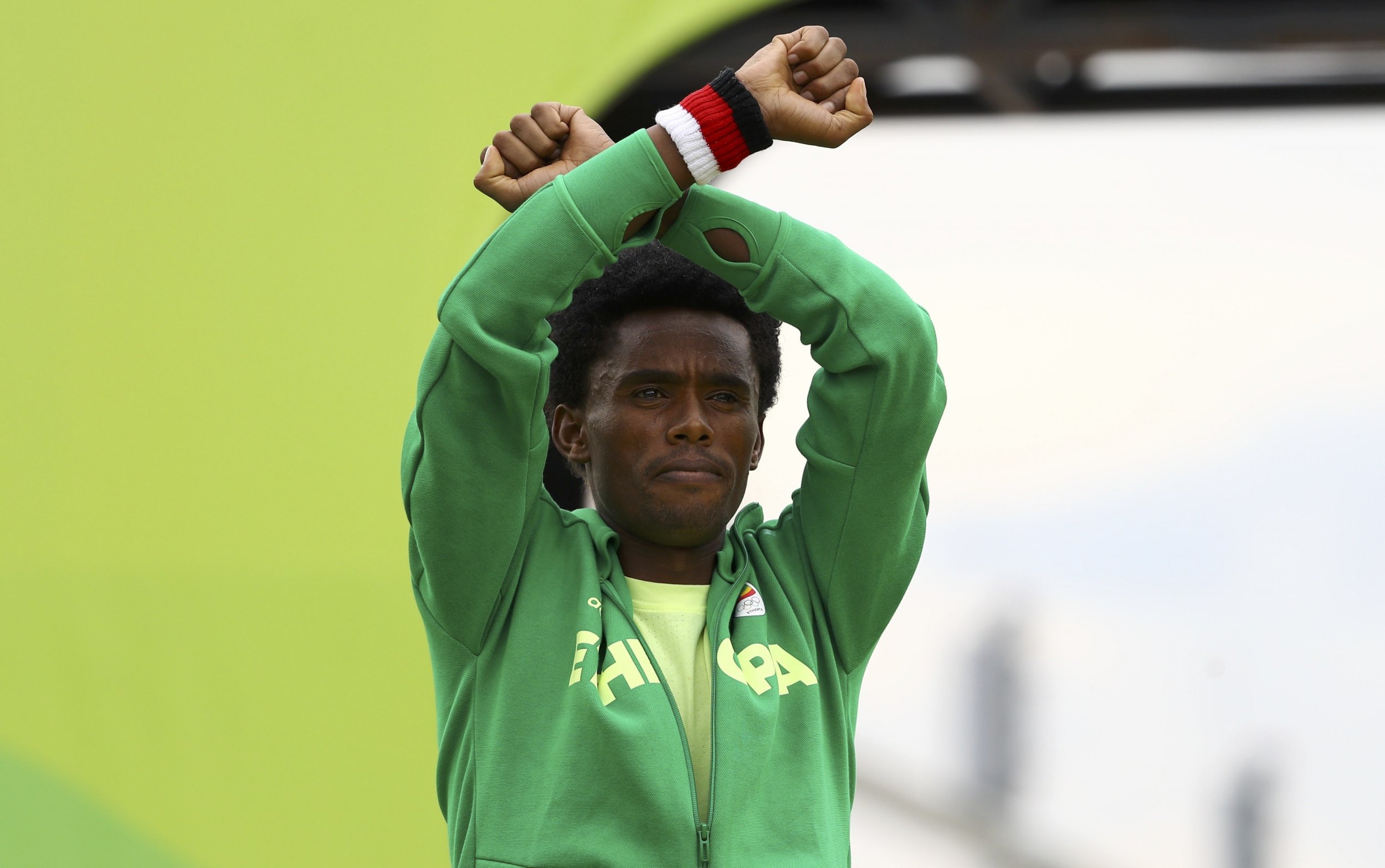 Ethiopian athlete Feyisa Lilesa has failed to return to his home country after making an anti-government demonstration following his silver medal in the Rio 2016 Olympics.
Lilesa finished second in the men's marathon in Rio de Janeiro on Sunday and, as he was passing the finish line, crossed his wrists above his head. The gesture was in solidarity with protesters in Oromia, a region of Ethiopia, who have been involved in deadly clashes with Ethiopian security forces in recent months.
The athlete made the gesture again on the podium during the medal ceremony and said that he feared he would be killed or detained if he returned to Ethiopia.
More than 400 people have been killed during protests by members of the Oromo ethnic group, Ethiopia's largest ethnicity, which began in November 2015, according to Human Rights Watch. The Ethiopian government has disputed the death toll. Lilesa is himself an Oromo and claimed that members of his family have been detained.
Lilesa did not board the plane that left Brazil carrying Ethiopia's Olympic team on Monday night, AFP reported. Ethiopian state broadcaster Fana Broadcasting Corporation reported on Wednesday that the Olympic team was welcomed back by senior government officials, including sports minister Redwan Hussein, but made no mention of Lilesa's absence. Government officials reportedly refused to answer any questions about the athlete. Newsweek contacted the Ethiopian Embassy in London on Monday for a comment on Lilesa's demonstration but is yet to receive a response.
The 26-year-old runner, who said that he has a wife and two children in the Ethiopian capital Addis Ababa, has indicated that he might try to seek asylum in the United States. A crowdfunding campaign set up to support Lilesa has raised almost $120,000 in just three days after being set up on Sunday.
Lilesa's agent Federico Rosa told AFP on Monday that he didn't think there was "any way" that his client would return to Ethiopia, but said he did not know where the runner was planning to go next. Newsweek contacted Rosa for a comment but had received no reply at the time of publication.
Unrest in Oromia began in response to government plans to expand Addis Ababa, which protesters said would result in farmers being forcibly evicted and their land seized. But the demonstrations turned violent and human rights groups alleged abuses by the Ethiopian security forces. The government said that "anti-peace forces" were to blame for the protests, at one point blaming neighboring Eritrea for sponsoring the unrest.
The Addis Ababa expansion plan was scrapped in January and Ethiopian Prime Minister Hailemariam Desalegn apologized for the deaths of protesters in March. But further demonstrations in Oromia and the Amhara region of Ethiopia in August resulted in almost 100 deaths, according to Amnesty International, and the United Nations demanded that international observers be admitted to the country to investigate the incidents.