EU Chief Warns China of 'Negative Consequences' Over Hong Kong Security Law
European Commission President Ursula von der Leyen said that China would face "very negative" consequences if it pressed ahead with imposing its new security law on Hong Kong.
The EU Chief issued her warning after a video summit with Chinese President Xi Jinping and Premier Li Keqiang on Monday that covered trade, the coronavirus outbreak and human rights issues.
Speaking at a press conference after the talks, von der Leyen said the meeting had been "very intense" and "very frank," but claimed to have expected "nothing less" from the summit.
Asked what actions the EU was prepared to take in the event of the Hong Kong national security law being implemented, von der Leyen said: "We were very clear in our conversations that Beijing's imposition of a national security on Hong Kong does not conform with the Hong Kong Basic Law, nor with China's international commitments."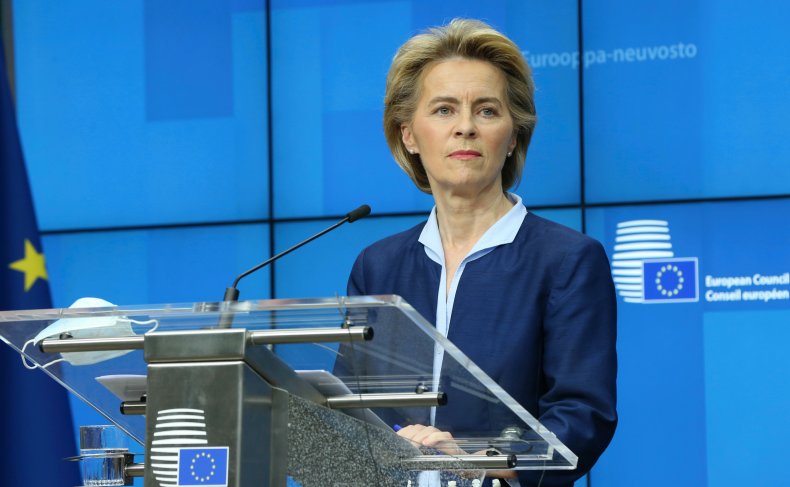 After saying that the EU wished to see the "one country, two systems" principle remain in place, the European Commission president added: "We conveyed that China risks very negative consequences if it goes forward with imposing this law."
She did not specify what the threatened "negative consequences" for China would look like if it were to go ahead with the national security law.
"For the European Union, human rights and fundamental freedoms are non-negotiable," von der Leyen said. "We always raise our concerns—that was the case today too—and insist on having our view on these topics."
Newsweek has contacted the Chinese Ministry of Foreign Affairs for comment, and will update this article with any response.
Under the new national security law rubber-stamped by the Chinese parliament at the end of last month, dissent against China will be criminalized in the city, which witnessed mass pro-democracy protests last year.
The law expected to be implemented this year sets out new rules aimed at secession and subversion, as well as terrorism and foreign interference in the region.
Earlier this month, the Chinese Foreign Ministry spokesperson Hua Chunying said the new law would target "only a narrow category of acts that gravely jeopardize national security."
U.S Secretary of State Mike Pompeo called the bill a "death knell" for Hong Kong's relative freedoms under the "one country, two systems" principle that his been in place since the U.K. handed the former colony over in 1997.