Hong Kong's Victoria Park will be largely empty today—unlike last year, and the year before that, and the 28 years before that. Usually on June 4th the park is thronged with crowds commemorating the 1989 Tiananmen Square massacre, perhaps the most infamous single atrocity committed by the Chinese Communist Party since the death of Mao Zedong nearly a half-century ago.
Hong Kong and Macau—the two semi-autonomous regions of China—are the only places in the country that have been allowed to mark an event the Party has tried to scrub from the national memory: the killing of hundreds, perhaps thousands, of pro-democracy activists by Chinese soldiers. But this year, for the first time, Hong Kong authorities refused permission for the Victoria Park event. They cited concerns about the coronavirus. For pro-democracy activists, though, the cancellation is a portent of Hong Kong's dark future, one in which Beijing extends ideological control over the former British colony despite mass protests and international condemnation.
Democracy advocates already foresee the end of a Hong Kong with (relatively) free speech and free trade. Just last week, Chinese legislators approved draft national security legislation that would effectively criminalize anti-Beijing dissent in the restive territory.
Members of China's rubberstamp National People's Congress burst into applause in Beijing as the legislation was approved at the Chinese Communist Party's annual meeting. Hong Kongers took to the streets once again to continue their long, losing battle against encroachment from the mainland.
The implications of Hong Kong's plight are far-reaching. China-skeptics are coalescing in the face of Beijing's unapologetically authoritarian march to superpower status, warning that what Hong Kong faces now is what others—Taiwan, among the first—may face in the future.
The national security law—expected to be introduced before September—will target secession, subversion, terrorism and foreign interference in the city, following a year of anti-government unrest and pro-democracy agitation. Opponents say it marks the end of the "One country, two systems" agreement that has afforded Hong Kong more political freedom than the mainland.
The Sino-British Joint Declaration that governed the 1997 colony's handover said Hong Kong's way of life and capitalist system would remain unchanged until 2047. But the national security law is set to greatly curtail that timeline.
Nathan Law—the 26-year-old chair and co-founder of the pro-democracy Demosisto organization and one of the leaders of the 2014 Umbrella Movement—told Newsweek that the national security law will "basically destroy 'One country, two systems.'" It represents Beijing's effort "to squash all the dissidents," he said. "And if we're in Hong Kong and they're applying the same effect, that would be the end of Hong Kong's freedom.
"We'll be stepping into a 'One country, one system' Hong Kong," Law said, where freedom of speech, freedom of assembly and freedom of thought are no longer protected.
Under Article 23 of Hong Kong's Basic Law—its de facto constitution—local lawmakers are required to adopt legislation prohibiting treason, secession, sedition and subversion against the CCP. The territory's Legislative Council, known as the LegCo, tried to do so in 2003 but mass protests forced lawmakers to shelve the plan.
The controversy ultimately claimed Chief Executive Tung Chee-hwa, who stepped down in 2005 amid criticism of the failed national security bill and his administration's mishandling of the SARS pandemic.
Now—under the cover of the COVID-19 pandemic—the CCP is circumventing local representatives. Alvin Yeung, a member of the LegCo and the leader of the pro- democracy Civic Party, told Newsweek that Beijing's approval of the bill marks "the beginning of the end" for free Hong Kong.
In a letter to Hong Kongers on May 29, Hong Kong Chief Executive Carrie Lam said the territory "has become a gaping hole in national security, and our city's prosperity and stability are at risk."
Asked to comment on concerns around the national security proposal, Lam's office pointed Newsweek to her suggestion on June 2 that the "very legitimate" legislation being enacted is to "protect national security and also by doing so to protect Hong Kong."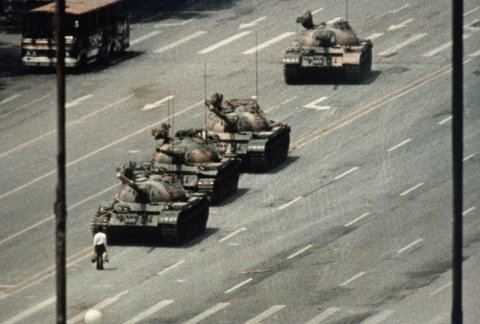 'Nobody can say no to Beijing'
The Chinese embassy in Washington, D.C. did not respond to Newsweek's requests for comment. After the National People's Congress approved the proposal, Chinese Premier Li Keqiang said the bill was designed with "Hong Kong's long-term prosperity and stability" in mind.
But speaking from inside the LegCo building—which was stormed and ransacked by protesters during last year's protests—pro-democracy leader Yeung said the legislation "will take away the most precious thing of Hong Kong: that's freedom."
The LegCo's pro-democracy minority is more or less helpless, Yeung said. "Nobody can say no to Beijing when it comes to imposing this law. The LegCo has basically no role to play here."
It's not entirely clear what the Trump administration will say to Beijing, given President Trump's complicated and contradictory relationship with President and party leader Xi Jinping. Trump has framed himself as tough on Beijing and employed the rhetoric and tariffs to match, and blamed China for the COVID-19 pandemic—after first complimenting its handling of the disease—while also proudly declaring that Xi is his "friend."
Trump initially praised the Chinese response to the Hong Kong protests as "relatively non-violent." Xi, the president said, had acted "very responsibly." Months later Trump said his administration stood with the Hong Kong activists, and his administration signed legislation defending the human rights of those marching against the CCP.
The U.S. has long given Hong Kong "special status" that enabled its growth as a global business center, and U.S. companies depend on the territory as an easy place to do business and as a bridge to mainland China. If Washington, in response to Beijing's move, revoked Hong Kong's special status, the territory's economic vitality could be endangered, along with the $38 billion of annual trade between Hong Kong and the U.S.
But U.S. pressure has done nothing to dissuade China from cementing control of Hong Kong. The new legislation, said Jacques deLisle, a professor at the University of Pennsylvania Law School and an expert in Chinese law and politics, is "an extreme version of something we've seen time and time again over more than 20 years.
"[It's] a qualitatively worse development in what has been a long trend toward erosion of Hong Kong autonomy and its distinctiveness from the mainland," deLisle said. Whether evidence of Xi's growing confidence or fear that Hong Kong unrest could threaten the CCP, the law "is bad news for 'One country, two systems' and for democratic and liberal values in Hong Kong," he said.
It is also bad news for the diplomats, business leaders and others who invested in a decades-long effort to bring China into the family of nations. The law has "finally taken down the myth of this idea that China is somehow changing," Samuel Chu, the managing director of the U.S.- based Hong Kong Democracy Council, told Newsweek. "This is the mark of the end of the pretension."
'It might be our last fight'
CCP approval of the national security legislation prompted fresh protests in Hong Kong streets, which for many weekends last year were blanketed in clouds of smoke and tear gas amid battles between riot police and protesters. The demonstrators who gathered in large numbers this past week despite the pandemic were again met with mass arrests and violence.
The local government and the regime in Beijing have rejected almost all the demonstrators' demands. Authorities have branded them "terrorists" directed by foreign actors, seeking to delegitimize their grievances and justify tough prosecution, both to a domestic and international audience.
Some anti-government protesters adopted their own violent methods in response to police brutality, though they remain a tiny minority of the millions who marched peacefully. More extreme activists may take the national security law as proof that violence is now their only option. "Nothing can be ruled out," Yeung said, "especially when Hong Kong people have been pushed to the edge."
Heavy-handed policing may reduce the number of marchers, Law predicted, but is likely to radicalize those who remain.
Law himself has already spent time in Chinese prisons for his work. Some activists have fled abroad to the U.S., Europe or Taiwan to escape persecution, raising the possibility that the anti-Beijing movement may have to go abroad to survive, as after the Tiananmen Square protests.
But protest abroad carries less weight than at home. The CCP's fearsome censorship system controls what its citizens see and hear. Displaced Hong Kong activists might make international headlines--but their compatriots won't see them.
"Democratic activists like us will be the first wave of the ones that are being prosecuted," Law said, though he stressed, "I'll definitely stay in Hong Kong."
Agnes Chow, 23, is another Demosisto co-founder who came to prominence during the Umbrella Movement. She was among those arrested last year and like Law, would be high on the target list once the national security law is adopted.
"There is actually a very strong sense of desperation," Chow said, telling Newsweek that many Hong Kongers were likely to try to leave. Indeed, the day after the national security law was announced, Google searches for "Emigration" and "Taiwan" jumped significantly in the territory.
But Chow is not among those looking elsewhere. Even if she wanted to, she is banned from travelling abroad after her arrest last year. "It's never easy to fight against such a strong and powerful regime," she said. "But I really want to stay here and do something... It might be our last fight."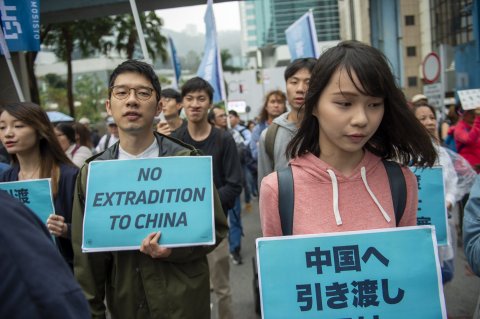 The most recent pro-democracy movement was decentralized by design, with protesters adopting Bruce Lee's "Be Water" philosophy, coined by his martial arts teaching character Li Tsung in the 1970s television series Longstreet.
"Be formless, shapeless, like water," the instructor told his student. "Now you put water into a cup, it becomes the cup. Put it into a teapot, it becomes the teapot. Water can flow, or creep, or drip or crash. Be water, my friend."
The strategy allowed leaderless groups to be mobile and adaptable, responding quickly and unpredictably to police action with crowdsourced decisions made spontaneously on secure messaging apps like Telegram.
This made it impossible for police to decapitate the unrest by arresting specific leaders. Such flexibility may help the pro-democracy movement survive China's crackdown, which Chu predicted will be "immediate and swift."
The comparative freedoms afforded Hong Kong have stimulated an active civil society, with freedom of speech and an independent judiciary supporting a dynamic commercial sphere where companies and investors are keen to do business. The national security law could undermine these freedoms and therefore the value of Hong Kong. That would hurt China, too.
Hong Kong offers mainlanders schooling, leisure and economic opportunities they cannot get at home. More than 27,000 children cross the border for school each day, to study in a system more akin to the British than Chinese education system, for example.
Four in every five tourists visiting Hong Kong come from the mainland. Chinese shoppers come for luxury international items like expensive watches and high fashion, plus everyday Hong Kong products like baby formula, which has long been considered safer than mainland brands. (Baby formula is so popular, Hong Kong authorities had to introduce a limit on how much visitors could take home.)
Despite last year's unrest, mainland investors poured nearly $20 billion into Hong Kong's stock market in less than six months, though Chinese buyers have been disappearing from the region's real estate market in recent months amid a slowing Chinese economy, the coronavirus pandemic, trade tensions with the U.S. and now the prospect of more instability in Hong Kong.
Hong Kong's distinctiveness clearly has appeal for the mainland—but Beijing has decided it values conformity more, Yeung says. "They no longer treasure this beautiful international city," he said.
"It took more than one and a half centuries to build up this reputation. And freedom, of course, is the foundation of everything. And now if you try to take away any part of this most precious freedom, if the international community no longer trusts Hong Kong's uniqueness, then Hong Kong will be gone."
The city is a much less significant part of China's economy than it was when the British handed over control in 1997, so Beijing can more easily absorb the loss. Then, Hong Kong's economy was equivalent to 18 percent of the mainland's. Now, the figure is closer to 3 percent. Still, it remains one of the leading financial centers on the planet, something that Tim Summers—a senior fellow at Chatham House think tank based in Hong Kong—said "is not easily replicable."
"Hong Kong definitely is something that is genuinely valuable to China, and I think the Chinese leadership do realize that," he said.
The national security law may spook businesses and investors who have been happy to bring their money to Hong Kong, their fears about dealing in China soothed by the promise of "One country, two systems." But Deutsche Bank Asia-Pacific Chief Economist Michael Spencer has not yet seen any worrying signs. He told Newsweek that despite a tumultuous year, "people have not—I think—in large numbers decided that the political situation was enough of a disincentive for them to want to leave Hong Kong, and I haven't seen institutions leaving.
"I don't think there's an immediate threat," Spencer said. But if people begin to feel "constrained in being able to talk openly about companies, about economies, then investors will go elsewhere for that information.
"The heart of this question of Hong Kong's future as an international financial center is at what point do people think that the free flow of information and market information is impaired, and they start to take their business elsewhere," Spencer said.
Reduced foreign investment means less money for the territory as a whole and fewer prospects for those living there. It would also mean Hong Kong is less important to global business and the international community, making it less likely that other nations would continue to advocate on its behalf.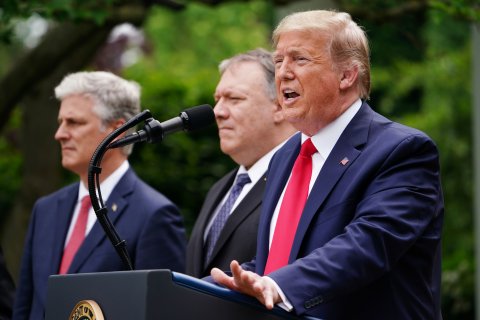 Hong Kong today, Taiwan tomorrow?
In Beijing's ideal world, the CCP would be able to put Hong Kong politics back in its box while still allowing the city to flourish financially. To do nothing risks allowing the opposition to become entrenched, or allowing the pro-democracy movement to become a U.S. weapon in what some are already terming a new Cold War.
President Trump has already said the U.S. no longer considers Hong Kong autonomous, opening the door for restrictions on trade and even sanctions. He has not detailed any planned changes or a schedule for them to take effect.
Washington will have to tread delicately—not a word normally associated with the Trump administration—between punishing China and hurting Hong Kongers. "Hong Kong will suffer proportionally much more than China as a whole," Summers said. Indeed, trade action over Hong Kong might even push the territory closer to China and deepen its dependence on the mainland.
U.S. companies might also suffer. An American Chamber of Commerce in Hong Kong survey released this week found that more than 80 percent of 180 American companies surveyed in the territory are either "very" or "moderately" concerned about the national security law. Seventy percent, however, still said they had no plans to move elsewhere.
Hong Kong is but one part of China's deteriorating relationship with the West. Repression of Muslim minority groups in Xinjiang, saber-rattling over Taiwan, tensions in the South China Sea, industrial espionage, and the ongoing coronavirus pandemic have all damaged Beijing's standing.
In Washington, D.C. there is now bipartisan consensus that the China problem must be addressed. Former Vice President Joe Biden is trying to bolster his tough-on-Beijing credentials as Trump draws on China-skepticism to recharge his campaign.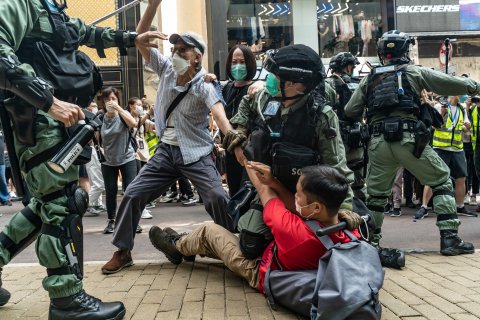 Activists are pleased by growing international criticism of Beijing, said Chu, who described it as "open season on China" in Washington. "We don't think Hong Kong alone is the issue that is going to shift and change China," he said. "We're using it—and have always committed to using it—to connect the dots of how to push and hold China accountable and expose China as much as possible."
For the international community, Taiwan is another pressing concern. The democratic island sits 80 miles off the Chinese coast across the Taiwan Strait. It has remained outside Beijing's control for more than 70 years, having emerged from the last bastion of the nationalist forces defeated by the CCP in the Chinese Civil War. China considers Taiwan a renegade province and has repeatedly vowed to establish Communist Party rule over the island as part of its "One China" policy.
But Taiwan—with significant military support from the U.S. though without an official American recognition of its nationhood—has resisted Beijing's "One country, two systems" reunification offer, warily observing China's subjugation of resistant regions like Tibet and Xinjiang, with Hong Kong heading in the same direction. Taiwan could be next.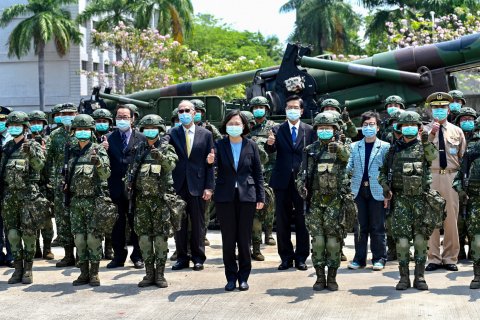 In January, Taiwanese President Tsai Ing-wen—the leader of the liberal and nationalist Democratic Progressive Party—was elected for her second term, to Beijing's chagrin. Taiwan's top diplomat in the U.S., Ambassador Stanley Kao, told Newsweek Hong Kong's experience had proven "One country, two systems" to be "wrong, a total failure, and a flat-out lie."
China has repeatedly vowed to resolve the dispute—militarily, if needed. Chinese general and the chief of the Joint Staff Department Li Zuocheng said last week the military would "take all necessary steps to resolutely smash any separatist plots or actions" on Taiwan "if the possibility for peaceful reunification is lost."
The Taipei Economic and Cultural Office in New York—part of Taiwan's representation in the U.S.—declined to comment on the Hong Kong national security legislation, though noted that in May Tsai tweeted that the island's government and people "are united in our support for Hong Kong & universal democratic values."
The fight over the national security law—and by extension greater Chinese incursion into Hong Kong—appears lost already.
"I'm not blindly optimistic and I think the future is indeed so bleak," Law said. "But if we don't have even a tiny bit of hope, then we won't be here and we won't resist."
Hong Kong activists plan to hold small events today to remember the Tiananmen Square tragedy and to bolster their own resolve for the future. Victoria Park may look empty, but the protestors and their movement have not gone away.
This article has been updated to clarify the name of the Taipei Economic and Cultural Office in New York.