Eugene Goodman, Officer Who Led Rioters Away From Capitol, Receives Highest Congressional Honor
The Senate awarded the Congressional Gold Medal to Eugene Goodman on Friday for his actions as a Capitol Police officer during the violent breach of the U.S. Capitol on January 6.
Goodman, who is currently serving as acting deputy sergeant-at-arms for the Senate, was hailed as a hero after leading the violent mob of rioters away from the Senate chamber following storming of the building. Senate Majority Leader Chuck Schumer (D-N.Y.) proposed bestowing the medal, a rare honor and the highest civilian medal that Congress can award, at the end of a hearing in the second impeachment trial of former President Donald Trump.
"In the weeks after the attacks on January 6, the world learned about the incredible, incredible bravery of Officer Goodman on that fateful day," Schumer said. "In this trial we saw new video, powerful video showing calmness under pressure, his courage in the line of duty, his foresight in the midst of chaos and his willingness to make himself a target of the mob's rage so that others might reach safety."
"Officer Goodman is in the chamber tonight," continued Schumer. "Officer Goodman, thank you."
Goodman remained stoic while a standing ovation erupted as he listened from the back of the chamber, where he was performing his duties as deputy sergeant-at-arms. He joined in a round of applause when Schumer remarked that Goodman was "not alone that day" while praising other "heroic conduct" from the Capitol Police, the D.C. Metropolitan Police and swat teams present on January 6.
"If not for the quick thinking and bravery of Officer Eugene Goodman in particular, people in this chamber may not have escaped that day unharmed," Senate Minority Leader Mitch McConnell (R-Ky.) added. "Officer Goodman's actions reflect a deep, personal commitment to duty and brought even greater distinction upon all of his brave brothers and sister in uniform."
"I'm proud the senator is taking this step forward, recognizing his heroism with the highest honor we can bestow," McConnell continued.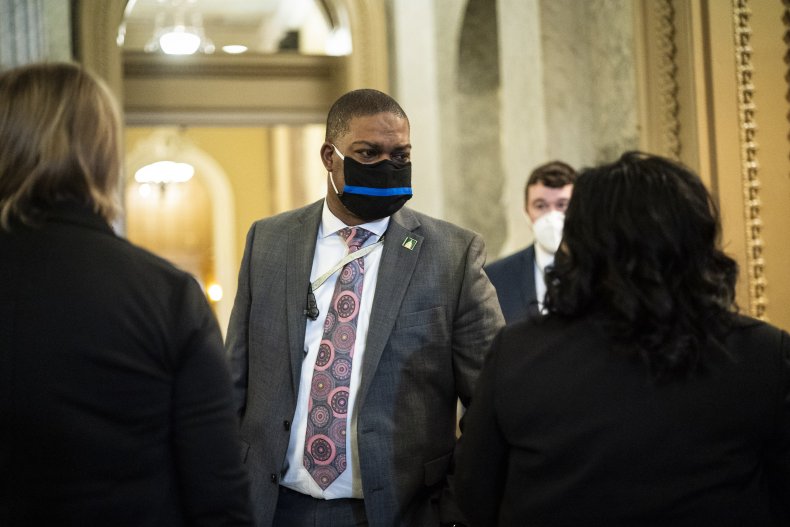 The Senate then awarded the medal to Goodman by unanimous consent. Senators gathered around Goodman to congratulate him after the impeachment session, where Trump was accused of inciting violent breach, was adjourned.
Several senators exchanged fist and elbow bumps with Goodman. Senators Tammy Duckworth (D-Ill.) and Joni Ernst (R-Iowa) saluted Goodman, a fellow military veteran. Sen. Chris Murphy (D-Ct.) told reporters that it was "a really nice way to end the night," saying the unanimous decision was "a nice reminder that we can still come together on important things."
Video shown during the trial earlier this week showed Goodman helping Sen. Mitt Romney (R-Utah) narrowly avoid a violent gang of rioters who were headed his way following the breach, possibly saving the senator's life. Romney told reporters Thursday that his family had not previously been aware of how close he was to "real danger" and were "surprised and very, very appreciative of Officer Goodman."
"To have our police officers' bravery acknowledged at a time when they're experiencing tremendous emotions and exhaustion is a gift," acting Capitol Police Chief Yogananda Pittman said in a statement on Thursday, after Speaker of the House Nancy Pelosi (D-Calif.) announced that she planned to introduce a bill to award the medal to law enforcement officers who safeguarded the Capitol.
"We have too many heroes to count and we are humbled Congress may recognize them in this way," Pittman added. "From the cards and letters of support we've received from around this great country to this incredible award, we are deeply humbled and appreciative."
Newsweek reached out to the Capitol Police for additional comment.