Euro 2016: What We Learned From Sunday's Knockout Games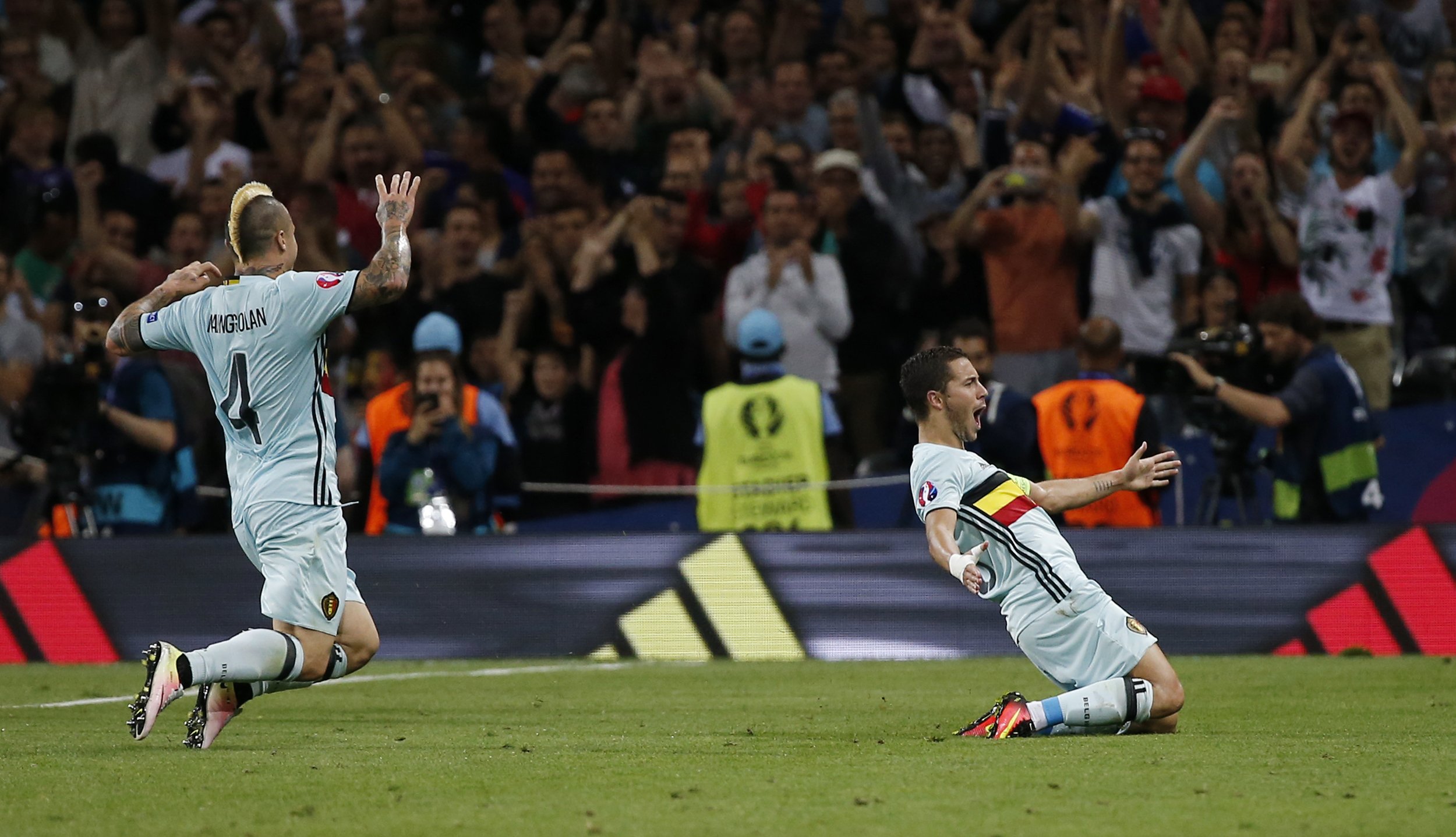 If Saturday's UEFA Euro 2016 games were disappointing, then Sunday's felt electric by comparison.
The host, France , had to sweat and heave past Republic of Ireland; Germany was predictably elegant and efficient against Slovakia; and Hungary put up a terrific fight against Belgium but was undone by a more terrific Belgian performance.
But what did we learn for the next stages of the tournament? Newsweek draws its conclusions as the last 16 stage nears its conclusion.
France can win Euro 2016 with courage
His team was callow in the first half against the Republic of Ireland, so France coach Didier Deschamps chose the brave, perhaps the only, option, sacrificing one half of his defensive pivot in N'Golo Kante for Kingsley Coman.
Immediately, France appeared enlivened where before it had been listless, pushing the Republic back. Blaise Matuidi was given more license to attack, too, driving forward and preventing the Irish full backs from progressing as they had in the opening 45 minutes.
It got its reward, too, with two goals from the excellent Antoine Griezmann. And those were symbolic of a wider point for the French: When they throw the proverbial kitchen sink, they can scare any defense. Ireland was unable to cope; better sides will experience the same.
The knockout rounds come alive
Saturday's last 16 games were generally dire; not for the first time in the tournament, though, the Republic of Ireland woke everyone up, propelling France into action and stunning the home crowd in Lyon with that early, early penalty from Robbie Brady.
That cliche about early goals making games? It's only true, of course, and France had to react positively to save its tournament.
Germany found life far easier against Slovakia, but again, it deserves commendation for going for goals early on. Belgium and Hungary, meanwhile, put on a flawed, barmy classic, where defending was all but forgotten.
Perhaps, then, there is no pattern to the style of football at Euro 2016. Rather, excitement just depends on two teams willing to throw caution into the Mistral and attack each other. Simple.
Reasons to hope for England
Starting with the caveat that Roy Hodgson's team makes it past Iceland, as it really should, on Monday night, it needs to fear France's attack but perhaps not its defense.
Adil Rami appears accident-prone, and while France has shown nothing like the over-emotional mawkishness that so irritated about Brazil during the 2014 World Cup, and eventually led to its downfall, it still has the potential to crumble under the pressure of the host, and favorite.
The full backs, Patrice Evra and Bacary Sagna, have 68 years between them; if Raheem Sterling can find his form, England can cause problems for France as much as the other way around. France will start as favorite next Saturday, but only just. England's strength is in its attack; France is softest at the back. That adds up to potential fascination.
Eden Hazard grabs Euro 2016 by its scruff
But before that, you felt, Hazard had to grab his own scruff and remind it of his undoubted talent. Once he did, he was superb, with possibly the finest individual performance of the tournament so far. Firstly, the run and perfect cross to set up substitute Michy Batshuayi; then the horizontal run across the penalty area and powerful finish.
Hazard was off form for Chelsea for much of last season, leading, even, to questions over his temperament. It was revealing then that he chose such an enormous game to come alive and show his talent. If he and Kevin De Bruyne keep dovetailing together, Belgium can stroll to overall victory. But that is, despite Hazard's form, a big 'if'.